Over the past fifteen years there have been numerous trials to determine optimal antiplatelet therapy and duration for patients post coronary revascularization with drug eluting stents (DES). First generation DES trial data showed an improved rate of re-stenosis compared to bare metal stents (BMS) but within a short period of time clinical trial data demonstrated increased risk of stent thrombosis. This resulted in the adoption of lengthy courses of DAPT to mitigate this risk. More recently, clinical trial data has demonstrated that a lengthy course of DAPT can have negative clinical outcomes for patients with high bleeding risk (HBR). As many as 30% of patients undergoing PCI have HBR; however, these high-risk patients are not well represented in the guidelines to inform clinical practice.
In this webcast, experts will discuss the history of DAPT duration for patients undergoing PCI with DES, review the contemporary data supporting shorter term DAPT duration for patients with HBR, translate the data into clinical practice and identify what gaps still exist, including what is the best monotherapy agent once DAPT has been terminated.
CME ACCREDITATION AND DESIGNATION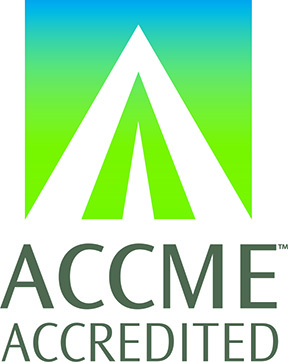 The Cardiovascular Research Foundation is accredited by the Accreditation Council for Continuing Medical Education to provide continuing medical education for physicians.
The Cardiovascular Research Foundation designates this activity for a maximum of 0.5 AMA PRA Category 1 Credits™.  Physicians should claim only the credit commensurate with the extent of their participation in the activity.
Physicians should claim only the credit commensurate with the extent of their participation in the activity. Documentation of awarded credit is provided for participants in exchange for completed activity evaluations. Evaluation by questionnaire will address content, presentation effectiveness, possible bias, and future educational needs.
To obtain CME credit for this activity, participants must review all CME information, view all presentations in their entirety, and complete the Activity Evaluation Form. If you have any questions, please contact Joe Heard at jheard@crf.org .
By the end of this program, participants should be able to:
• List the factors that allow for shorter DAPT duration in the clinical setting
• Determine best DAPT duration based on bleeding risk
• Describe monotherapy options and patient characteristics that guide selection
This educational activity is designed for interventional cardiologists, clinical cardiologists, and other healthcare professionals involved in the management of patients with coronary artery disease.
It is the policy of the Cardiovascular Research Foundation to ensure balance, independence, objectivity, and scientific rigor in all of its sponsored educational activities. Commercial support from industry does not influence educational content, faculty selection, and/or faculty presentations, and therefore, does not compromise the scientific integrity of the educational activity.
Discussion of off-label product usage is made at the sole discretion of the faculty. Off-label product discussion and usage is not endorsed by the Cardiovascular Research Foundation or the course directors of this activity.
All Planners (Directors, Co-Directors and Chairs) and Faculty participating in continuing medical education activities sponsored by the Cardiovascular Research Foundation are required to disclose to the activity audience any real or apparent conflicts of interest related to the content of their presentations. Anyone in noncompliance with this policy is not permitted to participate in this activity.
KEY: (G/R) Grant Support/Research Contract (C/H/S) Consultant Fee/Honoraria/Speaker's Bureau (E/S/O) Equity/Stock(s)/Options (R/I) Royalty/Intellectual Property Rights (S) Salary/Salary Support (O) Other Financial Benefit
Planner
David E. Kandzari, MD – (G/R) Medtronic, Biotronik, Boston Scientific Corporation, Abbott Vascular; (C/H/S) Medtronic, Biotronik.
Faculty
Elvin Kedhi, MD – (G/R) Institutional grants and lecture fee: Abbott, Medtronic, Meril, High Life, Aortic Lab; (E/S/O) Electroducer, R3 Vascular.
Ajay J. Kirtane, MD – (G/R) Institutional funding to Columbia University and/or Cardiovascular Research Foundation from Medtronic, Boston Scientific, Abbott Vascular, Abiomed, CSI, Philips, ReCor Medical.
Personal: CME/conference honoraria and travel/meal reimbursements only.
Content Reviewer(s)
Gary S. Mintz, MD – Nothing to disclose
Joe Heard, MHA – Nothing to disclose
Colleen Whelan – Nothing to disclose
This program is sponsored by the Cardiovascular Research Foundation and supported through an unrestricted grant from Medtronic. The Cardiovascular Research Foundation ensures that its programs are educational and meet the needs of the target audience. This program was developed without influence from commercial supporters.