ACC 2018, Day One: Live From Orlando! The ODYSSEY Begins
Death. That was the most important topic of today's opening showcase, featuring ODYSSEY and VEST.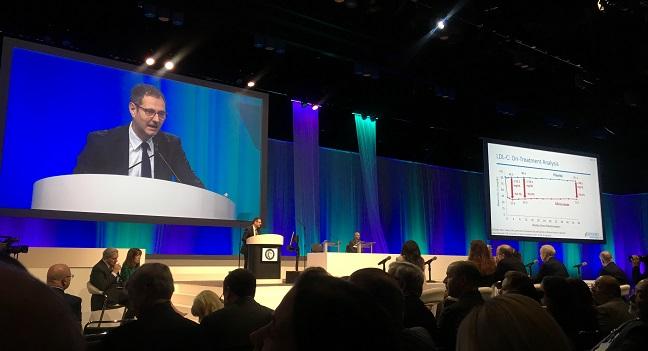 5:00 PM – Check out some of the TCTMD news teams' coverage from the Featured Clinical Research session, tucked away in a corridor on the third floor of the Orlando convention center.
Caitlin Cox reported on a cost analysis by Manesh Patel, MD (Duke University Medical Center, Durham, NC), which showed that using instantaneous wave-free ratio (iFR) to guide decisions on whether or not to revascularize intermediate lesions is, by 1 year, cheaper than using fractional flow reserve (FFR).
But as Patel told Caitlin, iFR coming out ahead isn't what matters most.
I myself wrote up the NOTION 5-year results, presented by H. Gustav Horsted Thyregod, MD, PhD (Copenhagen University Hospital, Denmark). At 5 years, there are no differences in all-cause death, stroke, myocardial infarction, or all of these combined between low-risk, elderly patients treated with transcatheter or surgical aortic valve replacement. Important differences emerged in rates of paravalvular leak and in pacemaker implantation rates, which passed 40% in the TAVR group. Read the full results—and their implications for ongoing trials—here.
Yael Maxwell covered a poster presentation looking at 30-day hospital readmissions among patients who develop perioperative MI after undergoing noncardiac surgery. Read why experts say this patient group is being underestimated, or ignored.

10:00 AM - After ODYSSEY: Dressed for Success in a VEST?
[UPDATE: Read TCTMD's full story on VEST here.] 
Jeffrey Olgin, MD (UCSF Medical Center, San Francisco, CA), presented the VEST trial immediately following ODYSSEY. Conducted at 100 sites in four countries, VEST enrolled over 2,000 patients who had LVEFs of 35% or less after admission and treatment for myocardial infarction. Patients were randomized to 90 days of wearing the LifeVest or to conventional care.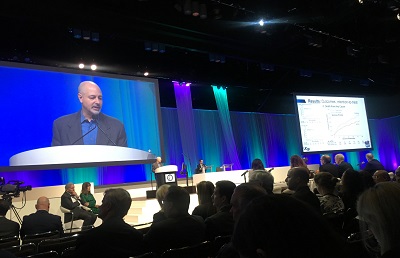 In another befuddling mortality finding, VEST failed to meet its primary endpoint of reducing sudden deaths or deaths from ventricular tachycardia among post-MI patients, but it did demonstrate a significant reduction in total mortality among patients wearing the device.
"There are several potential explanations," Olgin said during his late-breaking presentation today. "It's possible that sudden deaths were misclassified by the adjudicators. This would reduce power for sudden death, but not for total mortality." There's also the possibility that the device results in earlier care for bradycardia, nonsustained ventricular tachycardia, or aborted shocks, he continued. Reduced anxiety or increased medication compliance are also possible confounders, he added.
"Nonetheless, more analysis will need to be done to understand these differences," he concluded.
Polled at the end of the presentation whether VEST would change their practice, audience members responded with a resounding "No."
VEST trial data at #ACC18. No improvement in sudden death. Not too surprising given that they included mostly NYHA class I pts and patient compliance was poor. pic.twitter.com/tPC7JA53FX

— Zachary Hale (@zhalemd) March 10, 2018
9:30 - ODYSSEY Begins
[UPDATE - Read full ODYSSEY coverage here.]
Death is no small thing to wish for, but in the case of ODYSSEY, mortality was the one thing observers were most hoping to see—not mortality itself per se, but a mortality difference between patients treated with alirocumab and those treated with placebo. This morning in the opening "showcase" they got what they wanted. Sort of.
ODYSSEY is the second major PCSK9 inhibitor trial to demonstrate a difference in hard outcomes in patients with high LDL cholesterol levels who took the new injectable drug on top of maximal statin therapy. Like FOURIER last year, ODYSSEY, with almost 19,000 patients demonstrated a modest, albeit significant reduction in the primary endpoint. For ODYSSEY, this was a 15% reduction in coronary heart disease death, MI, stroke, and hospitalization for unstable angina. In patients with LDL levels of 100 mg/dL or higher, the primary endpoint reduction was 24%.
And in the finding that will intrigue and befuddle the most, alirocumab also reduced death from any cause by a significant 15%, a number that rose to 29% among that higher-risk/higher-LDL group.
The P value for this finding was "nominal," said P. Gabriel Steg, MD (Hôpital Bichat, Paris, France), who presented the results this morning. Keep in mind, a mortality benefit eluded evolocumab last year. No differences were seen, however, in deaths from coronary heart disease or cardiovascular disease more broadly among the PCSK9-inhibitor group in ODYSSEY.
"Now that we have two trials that consistently show benefits from PCSK9 inhibitors, and given the mortality benefit that we are reporting here for the first time, I think these results may change the equation for these drugs," Steg said in a statement provided to the press. "We're not just talking about preventing nonfatal events such as heart attacks but actually preserving life."
TCTMD's Michael O'Riordan is covering this story in depth—check back for the full story. 
Reduced all cause death! With alirocumab compared to placebo. Nominal p-value #Odyssey pic.twitter.com/Jdb2MHabDv

— Roxana Mehran (@Drroxmehran) March 10, 2018
Oh and don't be distracted by the CHD or CV death issue.

-Adjudicating how someone dies is still hard.

-Adjudicating that someone is actually dead is still not hard

— Ethan Weiss (@ethanjweiss) March 10, 2018
Steg stressed that there are important differences between ODYSSEY and FOURIER. The ODYSSEY trial tested ACS patients, while FOURIER tested stable atherosclerotic disease patients. Intensity of background therapy was truly maximal in ODYSSEY, and follow-up was slightly longer in ODYSSEY: 7 to 8 months longer than the mean follow-up in FOURIER.
The final disparity is that while both trials showed a significant difference in MACE, ODYSSEY suggests a reduction in all-cause mortality.
Valentin Fuster, MD (Mount Sinai School of Medicine, New York, NY), asked if the message here is that LDL in ACS patients should be lowered to 50 mg/dL or lower?
"I believe this is the key," Steg replied. "PCSK9 inhibitors achieve dramatic and sustained LDL reduction, and that's how they work. Further analyses are forthcoming . . . but my prediction is that, indeed, as you point out, getting patients to a new target below 50 will be key to improving outcomes."
 
9:00 - The Journey
Nanette Kass Wenger, MD, gave the Simon Dack Keynote lecture to open the ACC 2018 meeting, tracking the "journey" of cardiovascular disease care in women. As she reminded her audience, it's not too long ago that CVD was considered a man's disease. Women? They weren't a subject of study. Their role—in a nutshell—was to make sure they cooked healthy meals for their husbands to foster heart health.
Only in the last few decades has gender-specific CVD research been focused on outcomes in women, Wenger said.
"WISE [in 2006] just changed our thinking," helping to focus attention on the importance of microvascular disease in women as well as the importance of nonobstructive CAD in women, she commented. "There are two areas under active investigation still today."
Much more work is still left to do, she said. "A word to the journal editors," many of whom were sitting in the audience: "Require clinical trial outcomes to be presented separately for women and men."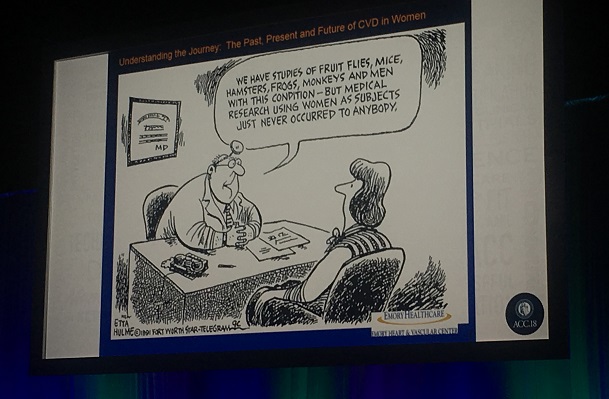 Shelley Wood is Managing Editor of TCTMD and the Editorial Director at CRF. She did her undergraduate degree at McGill…
Read Full Bio