ACC Releases Guidance on CV Issues With COVID-19
"Unfortunately, long COVID is not going away and COVID does not seem to be going away," one of the co-chairs said.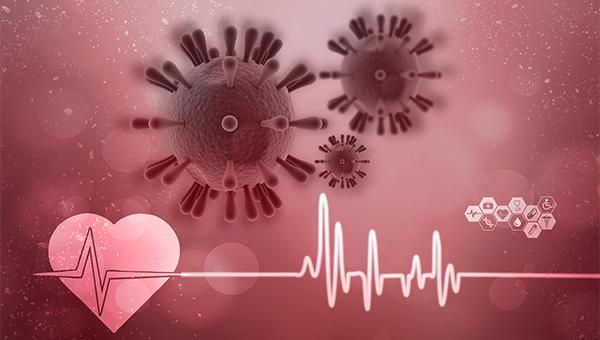 Much has been learned about the cardiovascular consequences of SARS-CoV-2 infection since the pandemic began about 2 years ago, leading the American College of Cardiology (ACC) to bring together experts to provide in-depth advice on what to do about some of the major issues.
The result is a new expert consensus decision pathway on managing heart problems in adults with COVID-19, with a specific focus on myocarditis and other myocardial involvement, postacute sequelae of SARS-CoV-2 infection (PASC), and a return to sports and exercise. It was published online Wednesday in the Journal of the American College of Cardiology.
The process started back in May 2021 with an ACC roundtable attended by representatives from patient advocacy groups and professional societies, as well as content experts, but the guidance incorporates evidence up to the beginning of 2022, according to Nicole Bhave, MD (University of Michigan, Ann Arbor), who is one of the co-chairs of the writing committee along with Ty Gluckman, MD (Providence St. Joseph Health, Portland, OR).
We want to drive home the point that patients who are not feeling well really deserve continued evaluation and management. Nicole Bhave
Though some key papers have been published since then, the findings are similar to those used to develop the recommendations included in the final document, Bhave told TCTMD. "So I don't think that we're missing a lot of important new data in this paper," she explained. "With that said, we're definitely leaving the door open for potentially updating it as new guidance is written."
There was a question, she added, about whether the information would be obsolete by the time the document came out, but that's not the case. "Unfortunately, long COVID is not going away and COVID does not seem to be going away."
Practical Advice for Evaluation and Management
Early on during the pandemic, it became clear that the cardiovascular system would take a major hit from the virus, with studies showing abnormalities on cardiac testing (including imaging and lab tests) and complications that included myocardial injury, thrombosis, and arrhythmias. In many patients, CV symptoms—such as chest pain, shortness of breath, fatigue, and palpitations—linger for weeks or months after patients recover from the acute infection. Moreover, both COVID-19 and some of the vaccines designed to combat it have been tied to a greater risk of myocarditis.
"Recognizing that COVID-19 may have short- and long-term impacts on multiple organ systems, recommendations made in this expert consensus decision pathway are restricted to some of the more-common cardiovascular sequelae in adults," the authors write. "Evaluation of cardiovascular symptoms after SARS-CoV-2 infection is imperative, and this document focuses on conditions that clinicians may struggle to diagnose and manage—myocarditis and PASC—while providing guidance on return to play."
There is little clinical trial data on which to base recommendations, and the document "is intended to provide practical guidance related to evaluation and management," they add.
Myocarditis and Other Myocardial Involvement
The pathway is divided into three main sections, with the first covering potential mechanisms underlying myocarditis and other myocardial involvement as well as the evaluation and management of affected patients. This includes a discussion of vaccine-associated myocarditis, which has mostly been associated with the mRNA-based shots from Moderna and Pfizer/BioNTech.
Vaccine safety has received a lot of media attention, but Bhave downplayed the worries. "While myocarditis can be a serious consequence of vaccination, particularly with mRNA vaccines, it's still exceedingly rare and it usually has a good prognosis," she said. "And so we generally don't feel that concern about myocarditis should be keeping people away from getting vaccinated for COVID."
A figure in the paper illustrates the estimated risks and benefits of mRNA vaccination in the group most at risk for related myocarditis, males ages 12 to 29. In a hypothetical cohort of 1 million individuals in that age group receiving a second vaccine dose, there would be an estimated 39 to 47 more cases of myocarditis more than balanced out by 560 fewer hospitalizations, 138 fewer ICU admissions, and six fewer deaths.
As for patients with suspected myocarditis or other myocardial involvement associated with the virus itself, Bhave said Figure 3 in the document is useful for showing the pathway to follow for evaluation and management. It could really apply to any patient admitted with COVID-19, she said, as it's based on the initial suspicion of a cardiac problem. "If the suspicion is low [and] it's a patient with minimal oxygen requirement and they're improving well, then you might not do any testing," she explained. "But if they have very high heart rates or they're very short of breath or they're having any chest pain, then you would go down this route of doing triad testing"—with ECG, echocardiography, and troponin measurement—"and then further evaluation based on your clinical suspicion."
A key takeaway for patients with myocarditis or other myocardial involvement "is that these people really should be managed at centers with advanced heart failure capability," Bhave said. "If you're really worried that this patient is not going to do well, then have a low threshold for transferring to an advanced heart failure center."
PASC, or Long COVID
For the section on PASC, the experts divided the group in two. Those with PASC-cardiovascular disease have conditions with a definitive diagnosis, things like myocarditis, pericarditis, new or worsening ischemia due to obstructive coronary disease, microvascular dysfunction, nonischemic cardiomyopathy, thromboembolism, and arrhythmia. Patients with PASC-cardiovascular syndrome, in contrast, have test results—from ECG and echocardiography, for instance—that are either normal or are unable to explain the symptoms that persist several weeks after recovery from COVID-19.
There still is not much evidence from large studies to guide the management of these types of patients, "and so we thought that having expert consensus on the best means of evaluating and treating them would be really useful guidance to the cardiology community, and also to primary care docs."
In general, the recommendation for patients with PASC "is absolutely go and be evaluated at a minimum by your primary care physician, have basic lab testing and EKG and echo [performed]," Bhave said. "If any of those things are abnormal, you should absolutely see a cardiologist, or if your symptoms are prolonged for many weeks and they're really impacting your quality of life, it's probably still worth seeing a cardiologist so we can offer some advice as to how to improve your symptoms."
Often these patients can't perform upright exercise, and an option for relieving symptoms is recumbent or semirecumbent exercise—rowing, recumbent bicycling, and swimming, for example. Patients should start at a low level of activity and gradually work their way up as the body gets used to it, Bhave advised. Some medications may be beneficial in patients with lingering symptoms, but evidence to support their use in PASC is limited, she noted.
PASC is a huge quality-of-life issue that requires serious attention, Bhave underscored, saying, "We want to drive home the point that patients who are not feeling well really deserve continued evaluation and management." Sometimes these patients do not have their symptoms taken seriously because there are no abnormal test results, but they should continue to seek help from their primary care physicians and, if needed, a specialist, she stressed.
Return to Play
Another area that has received extensive media attention during the pandemic is the potential cardiovascular impact of COVID-19 in athletes, including when it's safe to return to action.
"At one point there was a lot of trepidation about young athletes and myocarditis risk, and now a good deal of research has shown that for the vast majority of active people, it's safe to go back to exercise once you're asymptomatic with the caveat that if you've had cardiac symptoms, you might need some further evaluation," Bhave said.
The authors recommend triad testing. "If those are all normal and you're starting to feel better, then you can gradually resume your exercise," Bhave said. "But if there are any abnormalities there, then cardiac MRI is usually helpful to see if you have any evidence of heart muscle inflammation."
Performing cardiac MRI on every athlete who has had COVID-19 isn't warranted, she stressed. "We now know that the incidence of serious abnormalities on those studies is very low, and it's generally low yield to do those tests unless the patient has symptoms or some abnormality on the more-basic testing."
ACC experts have weighed in on the return-to-play issue throughout the pandemic, and Bhave said the recommendations in the decision pathway do not represent a major change from what has been released previously.

Todd Neale is the Associate News Editor for TCTMD and a Senior Medical Journalist. He got his start in journalism at …
Read Full Bio
Disclosures
Bhave and Gluckman report no relevant conflicts of interest.