ACC Survey: More Than One in Four Cardiologists Report Burnout
A 2015 survey undertaken by the College also shows that burnout is significantly higher in women. But changes are "controllable," authors say.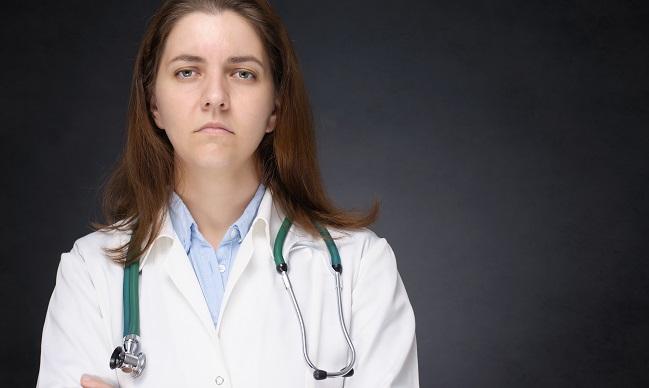 ANAHEIM, CA—A first-of-its-kind survey conducted by the American College of Cardiology (ACC) suggests that more than one-quarter of US cardiologists report feeling "burnout," with women reporting burnout more frequently than men.
The findings, say investigators, need to be taken seriously by the ACC and incorporated into its mission, particularly given their implications for patient care.
"Burnout leads to poor quality of care and that's key," lead investigator Laxmi S. Mehta, MD (Ohio State University, Columbus), told TCTMD. "So what we need to really look at is, how do we work on burnout as an organization, as a medical community, and as a hospital organization so that we can reduce it? We always talk about the triple aim: lower cost, improved quality of care, and better outcomes. But what we actually need to have is the quadruple aim, where the well-being of the provider is incorporated, if we really want to make strides in healthcare."
Mehta and colleagues reported the results last week at the American Heart Association 2017 Scientific Sessions.
The Burnout Spectrum
The ACC's "professional life survey" was conducted in 2015 and included a mix of questions related to job satisfaction and burnout, the latter drawn from the validated "Mini Z' burnout assessment. In all, 964 women and 1,349 men completed the 10-question survey. Burnout was defined as reporting one or more symptoms of burnout, constant feelings of burnout, or "complete burnout" feelings.
What we actually need to have is the quadruple aim, where the well-being of the provider is incorporated, if we really want to make strides in healthcare. Laxmi S. Mehta
The overall prevalence of burnout in the survey was 27%, with women reporting more burnout than men (31% versus 24%, P < 0.05). By contrast, the prevalence of cardiologists reporting "no burnout" was more than 25% for men, but fell to 20% in women. The most frequent predictors of burnout were feeling stressed, having no control over workload, a hectic work environment, value misalignment, family responsibilities, negotiating for support staff, and insufficient time for documentation.
All of these triggers seem to have a dose-response effect, senior investigator Pamela S. Douglas, MD (Duke University Medical Center, Durham, NC), pointed out to TCTMD. "From no burnout to complete burnout, each of these things gets more and more prevalent," she noted.
Importantly, however, many of these positive predictors of burnout are controllable aspects of professional life.  For starters, she said, hospitals and other work settings can make sure that their doctors feel valued, that electronic medical record systems work well, that the environment is less stressful, that teams are effective, and that there is ample time for documentation.
"These are not related to inherent stresses associated with being a cardiologist, like making life and death decisions," Douglas observed. "Everyone says cardiology is fast-paced, patients are sick, there's time in the ICU, but that's not the problem here. It's that that the environment is either creating symptoms of burnout and stress or it is creating an environment where people feel that they are under stress and that their contributions don't matter. These are things organizations can control. They can make sure people feel they are being treated fairly, that they don't experience discrimination, and that their contributions matter."
Understanding family responsibilities is an important piece of this, Douglas noted, given the higher reported burnout in women versus men, something also seen in medicine more generally. Burnout related to family responsibilities, for example, is typically reported more commonly by women than men. Women are also more likely to report that they have feelings of discrimination, that they are not being treated fairly, or that they are not being valued in their profession.
These are not related to inherent stresses associated with being a cardiologist, like making life and death decisions. Pamela S. Douglas
Some of these gender-based differences, said Douglas, reflect cultural norms more generally, but importantly the same factors reported by female cardiologists experiencing burnout are cited by men as well. "I think we, as a profession, need to make it clear that we value the whole person, that it's not the traditional stereotype of a cardiologist always being available, always being on call, that nothing is more important than work, and instead make sure that as a profession we are family-friendly, we support the whole person, that we have policies about these sorts of things: fatigue, harassment, and discrimination."
Of note, Douglas added, career satisfaction was high in the ACC survey, reaching 88% overall and 70% among those reporting burnout or burnout symptoms. That's higher than what has been seen in other areas of medicine, she noted. "So by and large we are talking about making a great profession even better, not doing something different. This is not remedial, this is on the order of being the best we can be, and making sure everybody can practice at the top of their game."
Commenting on the survey results for TCTMD, Roxana Mehran, MD (Icahn School of Medicine at Mount Sinai, New York, NY), called the findings "interesting, but not surprising," adding that she was "proud of the ACC for stepping up and showing these results" publically.
Indeed, said Mehran, the amount of burnout may be even higher than these results suggest, given that burnout symptoms are subjective and definitions are not well standardized.
"Many of us feel stressed and overwhelmed," Mehran acknowledged. "I was not at all surprised to find that burnout was more commonly found in female cardiologists than male, and that for both sexes it was related to negative [experiences] in the workplace and balancing family obligations. That feeling of not doing anything as well as you want is very stressful and difficult for many, not just in cardiology but in other subspecialties as well."

Shelley Wood is Managing Editor of TCTMD and the Editorial Director at CRF. She did her undergraduate degree at McGill…
Read Full Bio
Sources
Mehta LS, Lewis SJ, Duvernoy CS, et al. Burnout and career satisfaction among cardiologists. Presented at: American Heart Association 2017 Scientific Sessions. November 13, 2017. Anaheim, CA.
Disclosures
Mehta and Douglas report no relevant conflicts of interest.