ACE Inhibitors, ARBs Pose No Risk in COVID-19: BRACE CORONA
The RCT evidence is a welcome addition to guide COVID-19 care in a field dominated by observational data, say researchers.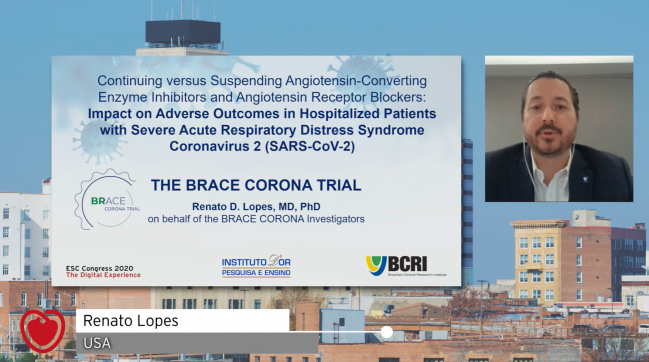 (UPDATED) Hospitalized patients with COVID-19 who continue on their previously prescribed ACE inhibitors and ARBs are not at an increased risk of dying or remaining in the hospital when compared to patients who stop their renin-angiotensin-aldosterone system (RAAS) inhibitors, a new randomized controlled trial shows.
BRACE CORONA provides some of the first "contemporary and high-quality" evidence to guide the care of patients with COVID-19, say investigators.
Renato Lopes, MD, PhD (Duke Clinical Research Institute, Durham, NC), who presented the results of the BRACE CORONA trial during a Hot Line session of the virtual European Society of Cardiology Congress 2020, said that "because these data indicate that there is no clinical benefit from routinely suspending these medications in hospitalized patients with mild to moderate COVID-19, they should generally be continued for those with an indication."
Their results, he added, line up with current recommendations from professional societies. In March, the American College of Cardiology (ACC), American Heart Association (AHA), and the Heart Failure Society of America (HFSA) issued an advisory stating not to preemptively discontinue RAAS antagonists in CVD patients suspected or confirmed to have COVID-19. The ESC's Council on Hypertension also recommended physicians and patients do not stop treatment because of COVID-19 infection. The societies asked for randomized trials, however, given that a lot of patients who present with COVID-19 are hypertensive or have underlying heart disease.  
"I think our results endorse, with reliable and more definitive data, what the societies have recommended, which is basically that you shouldn't stop your ACE inhibitors or ARBs," said Lopes. "This had been the recommendation based on observational data and what the societies came up with was an expert consensus, and I think BRACE CORONA now gives reliable and randomized evidence to support that recommendation."
Dipti Itchhaporia, MD (Hoag Memorial Hospital Presbyterian, Newport Beach, CA), the ACC's vice president elect, said BRACE CORONA highlights the importance of relying on randomized clinical trials for evidence instead of "biologic plausibility" that underpinned some of the earliest concerns about ACE inhibitors and ARBs. These data are even more important in light of the recent Surgisphere controversy where researchers found no risk of in-hospital mortality with RAAS inhibition in nearly 9,000 patients, but that study was retracted and largely presumed to be based on fabricated data.
To TCTMD, Itchhaporia said that early on the in the pandemic when data was hard to come by and things were changing so rapidly, physicians were looking for guidance on how to best manage patients with COVID-19. At that time, the medical societies said to continue with ACE inhibitors and ARBs. She said BRACE CORONA is a nice addition to the field in that it supports some of the earliest recommendations from the ACC, AHA, and other organizations.  
"Our recommendation has been to not stop ARBs or ACE inhibitors and these data help us stand by that clinical guidance we provided," she said. "If anything, it's goes back to knowing that these patients really do have a lot of comorbidities and we really need to do a good job controlling their blood pressure."
Binding to ACE2
Early on in the pandemic, there had been widespread concern about the use of ACE inhibitors and ARBs in the setting of COVID-19 because SAR-CoV-2, the virus that causes the disease, interacts with the renin-angiotensin-aldosterone system by binding to ACE2, an enzyme expressed in the lungs and other tissues. The worry was that use of ACE inhibitors and ARBs would increase the expression of ACE2 in the respiratory tract, which would lead not only to an increased risk of becoming infected, but also an increased risk of complications or death among infected patients.
I think our results endorse, with reliable and more definitive data, what the societies have recommended, which is basically that you shouldn't stop your ACE inhibitors or ARBs. Renato Lopes
Alternatively, some studies suggested the drugs might be protective because they diminish the production of angiotensin II. Some early observational data showed that use of ACE inhibitors and ARBs at least did not lead to an increased risk of infection or more severe COVID-19 disease progression.   
"There has been conflicting evidence about the potential impact of ACE inhibitors and ARBs in patients with COVID-19," said Lopes. "On the one hand, select preclinical investigations have raised concerns about their safety, but on the other hand, preliminary data hypothesized that RAAS inhibitors might benefit patients with COVID-19 by decreasing acute lung damage and preventing angiotensin II-mediated inflammation."
Given the uncertainty, as well as the frequent use of ACE inhibitors and ARBs, Lopes said randomized data has been urgently needed. With that in mind, they launched the multicenter BRACE CORONA trial, a 659-patient study that tested two strategies in hospitalized COVID-19 patients: suspending treatment with ACE inhibitors/ARBs for 30 days or continued use. Designed and completed within 5 months, Lopes said they randomized their first patient in April and the last in June; the final patient follow-up visit was completed in July.
Regarding the primary endpoint, there was no significant difference in the number of days alive/out of hospital at 30 days among patients who stopped ACE inhibitor/ARB treatment and those who continued with therapy. The mean number of days alive/out of hospital for those who suspended and continued treatment was 21.9 and 22.9, respectively (P = 0.09). In total, 91.8% of patients who had RAAS inhibition suspended were alive and out of hospital at 30 days compared with 95.0% of who continued with ACE inhibitors/ARBs. There was no difference in mortality among those who stopped or continued with treatment (2.8% vs 2.7%, respectively). The results were consistent across multiple subgroups, including people with and without obesity.  
With respect to secondary outcomes, Lopes said they observed no significant difference in the risk of cardiovascular events, as well as no difference in the risk of COVID-19 disease progression, such as the need for intubation, mechanical ventilation, or vasoactive drugs.
Patients Quite Young, Relatively Healthy 
The patients included in BRACE CORONA were relatively young—mean age 56 years—although the two study groups were well matched in terms of baseline characteristics. Approximately 40% of study participants were women. Lopes noted that 52% of patients were considered obese (mean BMI 31 kg/m2). In terms of medication use, ARBs were more commonly prescribed for patients, all of whom had hypertension, with just 15% of patients treated with ACE inhibitors. The mean duration of ACE inhibitor/ARB use was 5 years. 
Following the Hot Line presentation, Gianfranco Parati, MD (University of Milan-Bicocca/San Luca Hospital, Italy), said the evidence is a welcome addition, congratulating the researchers for conducting the randomized trial during the height of the pandemic. Parati also noted that the study included young patients with only mild-to-moderate COVID-19—patients with severe disease were excluded from BRACE CORONA—and said the primary endpoint might be too short to determine a definitive mortality effect of stopping/continuing treatment. Mortality rates were very low in the trial, with just nine deaths in each arm.
Nonetheless, the study appeared to suggest an advantage with continuing treatment given that 95% of patients were alive and out of hospital at 30 days. For that reason, Parati said it would be worth studying older, higher-risk patients with more comorbidities to see if the benefit of continuing treatment is more pronounced. "This is an important study because of its randomized design, but it's probably not telling us the last word because it could be difficult to translate into daily practice" when taking into account individual patients' age and relative overall health, he said.   
Although the patients were young, Itchhaporia said, extrapolating the data to older patients is possible. The initial concern was that the drugs were harmful, though that hasn't proven to be the case. Older patients often have more hypertension and cardiovascular disease, so the drugs would be even more important in that setting and physicians should continue to keep older patients on ACE inhibitors and ARBs if they have an indication.
To TCTMD, Behnood Bikdeli, MD (Brigham and Women's Hospital, Boston, MA, and Yale University School of Medicine, New Haven, CT), who has studied COVID-19 and its thromboembolic complications, said physicians have been hungering for randomized trial evidence given the dearth of solid data in this area. While the present study reassures, he awaits the publication of BRACE CORONA to sort through its details. For example, he would like more information on the use of concomitant medications, subgroup analyses, protocol adherence, and power calculations for the primary and secondary endpoints.  
"This study could be the best source of information for us so far," he said, crediting the researchers for launching and completing the trial so rapidly. Bikdeli also acknowledged that BRACE CORONA only recently wrapped up and researchers will likely address all his questions when the paper is published: "For now, I think I feel a little bit more reassured, but I'd still love to see more information." 

Michael O'Riordan is the Associate Managing Editor for TCTMD and a Senior Journalist. He completed his undergraduate degrees at Queen's…
Read Full Bio
Sources
Lopes RD, et al. Continuing versus suspending angiotensin-converting enzyme inhibitors and angiotensin receptor blockers: impact on adverse outcomes in hospitalized patients with severe acute respiratory distress syndrome coronavirus 2 (SARS-CoV-2): the BRACE CORONA trial. Presented at: ESC Congress 2020. September 1, 2020.
Disclosures
Lopes reports research grants/contracts with Amgen, Bristol-Myers Squibb, GlaxoSmithKline, Medtronic, Pfizer, and Sanofi-Aventis; consulting for Bayer, Boehringer Ingelheim, Bristol-Myers Squibb, Daiichi Sankyo, and Portola, and funding for educational activities from Pfizer.
Parati reports no conflicts of interest.