AHA, AMA Make Call for Enhanced Efforts to Control Americans' BP
The scientific statement highlights existing barriers and lays out steps that can be taken to reverse declining control rates.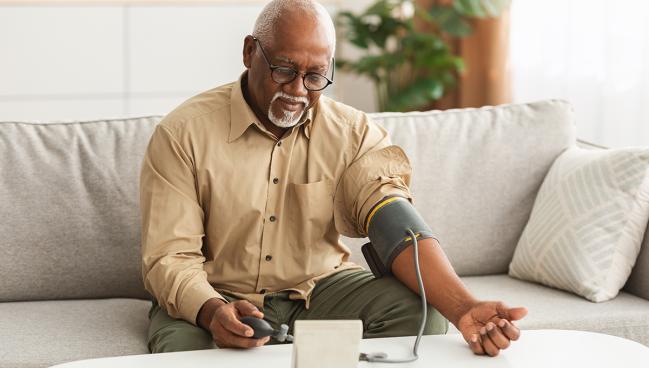 To reverse declining rates of blood pressure control in the United States, a longer-term trend that was exacerbated by the constraints of the COVID-19 pandemic, the American Heart Association (AHA) and the American Medical Association (AMA) have put the spotlight on implementation of effective strategies for treating hypertension in a new scientific statement.
Marwah Abdalla, MD (Columbia University Irving Medical Center, New York, NY), lead author of the statement and vice chair of the effort, told TCTMD that national survey data showed that the proportion of Americans who had their BP controlled, or who were even aware that they had hypertension, was falling even before the pandemic.
That's despite the fact that there are many guidance documents focused on managing high BP and an array of safe and effective medications—used in conjunction with lifestyle modification—for that purpose, highlighting an implementation gap.
"It's clear that we need to be doing a better job at managing hypertension. It's a treatable disease and obviously if left untreated it's linked to strokes, heart disease, and death," she said. "So we're really now in sort of a crisis in hypertension control, as well as awareness, and that's what really spurred the release of this statement."
The document was published in Hypertension, with Daichi Shimbo, MD (Columbia University Irving Medical Center), serving as chair of the group and senior author.
Many Barriers, Many Possible Solutions
There are a range of obstacles preventing effective implementation of BP control interventions across individual, organizational, community, and policy levels, with the impact of social determinants of health, including structural racism, felt throughout, the statement notes.
Some examples, Abdalla said, include a lack of sufficient coverage for medications and validated BP measurement devices that are key components of hypertension treatment, as well as limited reimbursement rates for healthcare professionals, at the policy level. Affecting patients and communities are challenges with access to healthy food, safe places to exercise, and healthcare services. Within healthcare organizations, there remains a lack of standardization in how BP is measured and suboptimal use of protocol-driven care.
The authors review several key strategies to addressing these issues, touching on antiracism efforts; accurate BP measurement; team-based care; policies and programs to boost positive lifestyle changes; standardized treatment protocols that incorporate team-based care; improvement of medication acceptance and adherence; continuous quality improvement efforts; and financial strategies to support implementation of effective treatments.
Overcoming the obstacles to BP control has to incorporate multiple strategies, Abdalla said. Patients must have access to basic needs like validated BP measurement devices and medications, and healthcare professionals must adhere to validated protocols for lowering BP, she noted.
"Whether you're a policy maker, whether you're at the community or organizational level, or [whether you're] an individual patient or healthcare professional, I think we all have an ability to contribute positively," Abdalla said. "And so that's why we say that it has to be a multifactorial approach."
Many of the community-level barriers are rooted in economic and social inequities, and addressing these will help contribute to better treatment of hypertension, she added. Studies conducted over decades have demonstrated that perceived racial discrimination and institutional racism have been linked to higher levels of blood pressure, she pointed out.
"To combat hypertension, antiracism efforts have to be at the core of all these strategies in order to be most effective," Abdalla argued.
'A Call to Action'
With this statement, "we wanted to highlight the fact that hypertension is still a critical disease to focus on," said Abdalla. "But really we wanted to provide a practical outline that offers the evidence-based strategies that have been shown to improve blood pressure control and say, 'Hey, here are all the levels [at which] you can impact it. Try to start and engage on one level, and move down the line.'"
The release of the paper and dissemination of the advice within represents the first step in a process to boost BP control among Americans, Abdalla said. The next focus will be on identifying key partnerships that can be improved or expanded upon to meet that goal.
"We still need to do a lot of work in this field," she said.
In a commentary in the AHA's Professional Heart Daily, Jennifer Cluett, MD (Beth Israel Deaconess Medical Center, Boston, MA), says that "in their identification of the critical implementation and dissemination gaps, the authors call attention to seventeen different areas for future investigation. These touch upon wide-ranging aspects of our country's socioecological framework, from school lunches to self-measured blood pressure and from urban planning to protocol-driven medication intensification."
Undoubtedly, "we need more rigorous research and advocacy," Cluett writes. "Nevertheless, without a specific and actionable plan and clear responsible parties, even the best implementation strategies are at risk to fail. Our declining hypertension control rates (and the downstream cardiovascular events that they no doubt herald) should create a true burning platform for change. This AHA statement is a call to action for medical professionals of all types and the community of individuals with hypertension to demand better care."

Todd Neale is the Associate News Editor for TCTMD and a Senior Medical Journalist. He got his start in journalism at …
Read Full Bio
Disclosures
Abdalla, Cluett, and Shimbo report no relevant conflicts of interest.