Aortic Dissection: What's Next in Endovascular Therapy
At ISET 2018, Michael Dake summed up the unmet clinical needs for type A and chronic type B dissection, as well as for cases with arch involvement.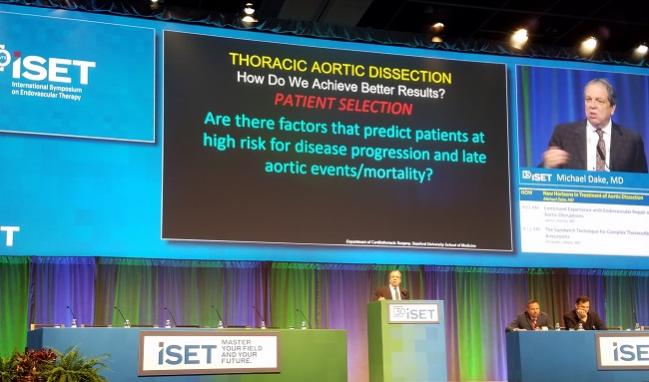 HOLLYWOOD, FL—Aortic dissection continues to vex clinicians, but creative approaches to treatment are on the horizon, according to one expert in the field.
Michael Dake, MD (Stanford University, CA), who gave a rundown of what's coming next at the International Symposium on Endovascular Therapy 2018 here, said that while the US Food and Drug Administration broadly approved thoracic endovascular aortic repair (TEVAR) for use in all type B dissections back in 2013, such "'blanket approval' comprises a number of different distinct entities associated with type B dissection—complicated, chronic, uncomplicated—all these things."
Chronic type B dissection "stands out," Dake said, as a poor fit for TEVAR. Good results are possible but not guaranteed, he continued. There may be continued perfusion and aneurysm degeneration distal to the treated area. Adjunctive false-lumen techniques, from coils to liquid embolics, abound, Dake acknowledged, "but there's nothing definitive . . . that really can take care of this," and branched devices involve "long procedures [with] high radiation and still carry significant frequency of endoleaks and complications."
Instead, converting the type B dissection to aneurysm seems to be the best solution in the near term, Dake said.
Among the type B dissection subsets, "there's a lot of not-so-subtle differences" that must be considered when thinking about "new horizons," he observed. Additionally, there are many unanswered questions and unmet clinical needs, Dake said. For instance, he reported, half of attendees polled at last year's Houston Aortic Symposium said they'd continue medical therapy in a patient with acute uncomplicated type B aortic dissection who was asymptomatic, while 48% chose TEVAR. "That's a flip of a coin. We have complete equipoise here," he stressed.
Over the last decade there's been an attempt to find ways to predict which patients will have disease progression and late aortic events or mortality, in order to "justify a rationale of treating them early" when needed, Dake said. Numerous factors have been identified: aorta and false lumen size, use of calcium channel blockers, gender, age, ulcer-like projections, and the size, location, and number of tears, among other things.
"So, can we predict who is at high risk of expansion or late complications? Yes, we can, but we're just not very accurate, and there's a confusing array of too many predictors," Dake said. Adding a single high-risk factor, specifically aortic diameter > 45 mm, to the scenario posed in the Houston poll tipped the scales, he reported. With that, fully 94% of those present recommended TAVR.
Importantly, though, it's a question not just of who we should treat but also who we shouldn't treat, according to Dake. He suggested that medical therapy is the best route for some patients, such as those with chronic type B dissection, connective tissue disease, or a need for chronic anticoagulation, or in cases where there's unsuitable or unreconstructable access to the aorta. "There are pathology considerations, there are anatomic considerations," he emphasized.
Who Can We Treat Better?
For dissection with arch involvement, another area in need, one potential solution may be the TAG thoracic branch endoprosthesis (Gore), which Dake and others are currently studying in a pivotal trial. He reported that 58 patients with type B dissection have been treated so far, with two strokes occurring (3.4%), both late.
Lastly, for type A dissection, Gore is conducting an early feasibility study to test a dedicated device, he said.
"A little more on the horizon is this idea of a combined valve conduit including the ascending aorta married to an endovascular valve," Dake said. Despite proof-of-concept and first-in-human studies, he added, "it's something that's not ready for prime time."
Until these efforts bear fruit, the "current focus of endovascular dissection management is expanding to include not only who we should treat, but who we should treat better," he concluded. "[For example, the field is moving to increase our prognostic scope beyond how to assess the individual risk to a patient with uncomplicated type B dissection toward how to best predict the risk of disease progression after TEVAR."

Sources
Dake M. New horizons in the treatment of aortic dissection. Presented at: ISET 2018. February 6, 2018. Hollywood, FL.
Disclosures
Dake reports serving as a consultant to Cook Medical and CR Bard Medical as well as receiving grant/research support from Cook Medical, Essential Medical, Novate Medical, and Gore.