Asymptomatic Carotid Artery Stenosis: When to Screen and When to Intervene
Patients weighing an intervention to reduce stroke risk should consider enrolling in the ongoing CREST-2 trial, two experts agree.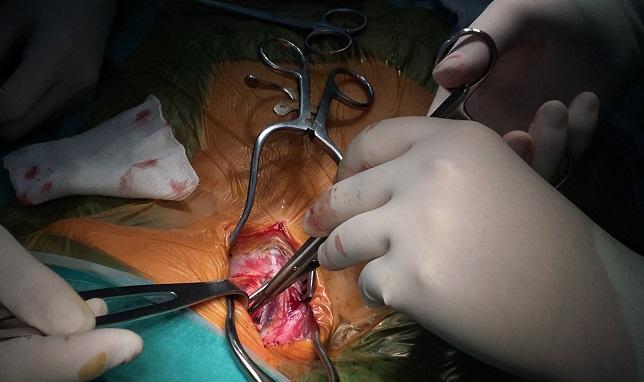 A slightly overweight 74-year-old man with high cholesterol and other comorbidities has previously received multiple carotid ultrasound exams revealing up to 50% stenosis, and he tells you he's mulling the possibility of undergoing a procedure to reduce his risk of stroke. What do you do?
That question was the jumping-off point for a Grand Rounds discussion involving two Beth Israel Deaconess Medical Center physicians—vascular surgeon Marc Schermerhorn, MD, and primary care physician Kenneth Mukamal, MD. And, as discussed in a "Beyond the Guidelines" article based on their conversation published in the October 3, 2017, issue of the Annals of Internal Medicine, there aren't clear answers about what to do in terms of screening for and then treating asymptomatic carotid artery stenosis.
In 2014, the US Preventive Services Task Force recommended against screening for asymptomatic carotid artery stenosis in the general adult population after weighing the potential risks and benefits. The group's assessment was based mainly on three randomized trials of carotid endarterectomy (CEA)—the Asymptomatic Carotid Atherosclerosis Study, the Veterans Affairs Cooperative Study, and the Asymptomatic Carotid Surgery Trial.
A meta-analysis of those trials showed that endarterectomy cut rates of perioperative stroke, death, or subsequent ipsilateral stroke (by an absolute 2.0%) and perioperative stroke, death, or any subsequent stroke (by an absolute 3.5%), with no impact on all-cause mortality. But the authors note that there are harms associated with screening, including the need for follow-up angiography. And complications of surgery include cranial nerve injury, pulmonary embolism, pneumonia, MI, and local hematoma.
So When Do You Screen?
After reviewing reviewed the evidence regarding screening for and treating carotid stenosis, Schermerhorn concludes that screening "may benefit selected patients with multiple cardiovascular risk factors with a low risk for perioperative death or stroke based on patient and surgeon characteristics" and also "provides an opportunity to reduce risk through optimal medical management, even for patients who opt against CEA or carotid stenting."
Mukamal notes that even though carotid stenosis is a reasonable target for screening because there are treatments available and it can be detected in the preclinical stage, it is not commonly found in asymptomatic individuals. Thus, he says, the positive predictive value of carotid ultrasound is poor and the tests needed to follow up on abnormal results substantially increase costs.
"I do not recommend that any asymptomatic patient undergo routine . . . screening," Mukamal says. "Time is better spent discussing intensive management of lipids, blood pressure, and blood glucose; a Mediterranean or DASH diet; tobacco cessation; and regular physical activity."
CREST-2 Looking Into Treatment Benefits
Even when significant carotid stenosis is detected, however, there remain questions about the most appropriate way to treat it.
"For asymptomatic patients with [stenosis of] 50% or greater and extended life expectancies who choose intervention, the best available evidence supports CEA only at high-volume centers," Mukamal says, adding, however, that there is equipoise that supports enrolling eligible patients in the ongoing CREST-2 study. That study is actually two parallel trials randomizing patients with asymptomatic high-grade carotid stenosis to either CEA or carotid stenting versus intensive medical management.
Schermerhorn agrees with the need for more data, noting that advancements in medical therapy since the CEA trials were conducted—which has lowered stroke rates—may eliminate any advantage for intervention with CEA or carotid stenting. "I encourage providers to enroll patients in CREST-2," he says.
As for the 74-year-old patient considering an intervention, "[he] should work closely with his physician to optimize lipid management and consider entry into the CREST-2 trial if stenosis progresses to greater than 70%," Schermerhorn says. "I do not recommend he undergo CEA or carotid stenting at this time."
Mukamal strongly advises enrolling him in CREST-2. "If not, or for patients who cannot enroll or who are not eligible, I recommend repeating his ultrasound at a high-volume center that performs internal validation and overreading, followed by referral if confirmed," he says.

Todd Neale is the Associate News Editor for TCTMD and a Senior Medical Journalist. He got his start in journalism at …
Read Full Bio
Disclosures
Schermerhorn reports receiving personal fees from Abbott, Cook, and Philips not related to this paper.
Smetana and Mukamal report no relevant conflicts of interest.