Bailey Ann Estes
Her grandfather's cardiac surgery led Estes to find her career path and keep chasing goals in CV nursing and clinical research.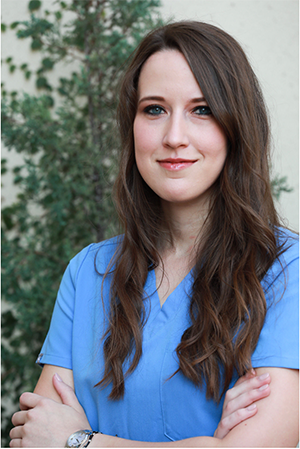 Bailey Ann Estes is a cardiac cath lab nurse and research coordinator at Hendrick Medical Center in Abilene, Texas. 
How did you get your start in nursing?
To be honest, after high school I never planned on being a nurse. Being involved in healthcare was not what I pictured myself doing, although I always knew that I wanted to be involved in something that helped people, that was dynamic, and that was different from day to day. After I had switched majors a few times in college, my grandpa needed open-heart surgery and I was helping out my mom and my grandma quite a bit with his care. One day they both said to me, "You need to go be a nurse. You'd be really good at this." At the time, it didn't sound like the awesome career I was looking for, but after really thinking about it, I realized that my family was right. Nursing ticks all the boxes for me: helping people, dynamic, and different from day to day. So, I started by getting my certified nursing assistant (CNA) training and working at the heart hospital where my grandpa was treated. Of course, there were other areas of medicine that sounded fun, and I was able to get experience in some of them through rotations, but kept feeling pulled back to cardiology. I got my licensed practical nurse (LPN) certification while working on a telemetry floor. That was followed by becoming an RN, at which point I knew that my goal was to work in the cath lab and learn all the different roles, from circulating to monitoring to scrubbing.
What excites you about working in the cath lab?
I knew scrubbing was what I really wanted to be doing, and then it became a question of what can I learn and do in the cath lab in this capacity, because the environment lends itself to so many roles and opportunities for nurses who want to challenge themselves. I went through surgical training so that I could do assists such as nurse-led access and closing pacemaker pockets. From there I pursued an NP program, which I have just completed. That will allow me to continue assisting in the lab, especially with our complex cases, plus manage pre- and postop patients in the acute care setting. I never really imagined myself forging a role that's new for our institution, but it's been a challenging journey and I'm happy where we've ended up.
I think the bottom line for me is that I love the fact that the cardiology space is so quickly evolving. Things have changed drastically even from when I started in the cath lab in 2015. At our institution, we've gone from about 50% radial procedures to 90% in just those couple of years. We've also started doing Impella (Abiomed) procedures and more-advanced structural heart work, and we have a full EP team that's doing all sorts of new stuff, including implanting CardioMEMS (St. Jude Medical/Abbott).
How did you get involved in clinical research?
It was a very grassroots effort on the part of myself and one of the physicians with whom I work. Basically, we had a couple of cases that were unique and that made us consider writing them up as case reports and publishing them. I had no experience with that, but it sounded great, so we worked together and published a couple. Then we considered doing some retrospective studies and attending a few cardiology conferences to network with others and learn more about publishing and presenting clinical research. So, it really just grew out of interest and curiosity, and that was followed by our hospital getting on board with growing the research group. Now we have a full institutional review board and are looking at partnerships with academic centers. For me, being able to still do my hands-on clinical work that I love plus participate in the research is a great combination. I also feel that growing our research here is important because we are a rural, nonacademic hospital and our patient population is underrepresented in cardiology literature. What I've learned from my research experience so far is that it's important to nominate yourself when you see gaps or missed opportunities. Sure, you will spend hours doing free labor, but eventually people catch on and see what you see, and that's when something that wasn't even there before becomes invaluable.
Why do you think more cath labs are integrating NPs?
I think it's becoming more and more recognized that nurses excel at active hybrid roles like this and are ideally situated to improve gaps in patient care, namely continuity of care. In addition to having advanced care skills, the NP in the cath lab has an expanded degree of autonomy with the patient. That means being with them throughout the case, after the case, and following up with them beyond that. The typical situation of a nurse in the cath lab is that unless the patient is a "frequent flyer," we don't usually see them again. As an NP, you develop more of a relationship with your patients because you have this complete clinical picture of them that is so much more than just what occurred during their case in the lab. It's also very beneficial for the patient, because they have you as an additional member of their care team, which helps ease stress plus provides them with a point person they can count on for questions and other areas where they need help.
You are the chair of the American College of Cardiology's CV Communications Committee. How did that come about?
Through my research work I was encouraged to become active in the ACC. I had been a member for a while, but hadn't delved much into its resources. ACC has a member section dedicated to the CV team, but I found that it was a little difficult to navigate and connect with people. I eventually applied for a mentorship program that helped me figure all that out and get more involved in work that the committees were doing. The opening came up on the CV communications committee, and I applied for it because I like social media. One of my goals since then has been to make it easier for CV team members to connect and to see what's going on within the college, because otherwise you are missing out on a lot of education and networking experience. My committee meets just about every month and then there are multiple workgroups within our section that meet on their own. I think the need for virtual meetings that came about due to COVID really increased our ability to be productive, because it normalized meeting virtually and improved interest and attendance in meeting regularly. I encourage CV team members to get involved in the committees we offer, because it can lead to so many opportunities they may not have even thought about.
What is your opinion of Twitter as a professional tool?
Personally, it's put me in touch with many people who I never would have met otherwise. #CardioTwitter has grown so much in popularity in recent years, and I think we all are of the opinion that it helped throughout the pandemic to keep us informed and connected. It also plays a huge role in disseminating research news. It used to be that if you wanted to read an article in a journal you had to subscribe to it or pay for that individual article. Now there's more open access and more sharing from both the authors and the journals themselves on Twitter. I also like seeing the cases and techniques that colleagues post. As with everything, there's a good and a bad side to it. Occasionally people forget to keep things professional, but for the most part, it's an excellent tool to connect and network outside your institution and to share what you're doing, what you're reading, etc. Being on Twitter has enhanced my career and my learning on so many levels.
What are some things you enjoy doing outside of work?
I have two dogs that I like to spend time with, and my family lives just an hour away, so I usually go see them on the weekends. Hanging out with friends and traveling are some other things I enjoy. I'm crafty and love making things, especially working on crochet whenever I can. It's a great way to relax because an hour can go by without even realizing it. I don't make anything complicated, but I can crochet a pretty decent scarf.