Be It Resolved: As Evidence Mounts in Favor of a Brain-Heart Connection, Stress Should Be on the Radar During CVD Diagnosis
This is the third in a series of January 2017 stories looking at common New Year's resolutions and their cardiac implications.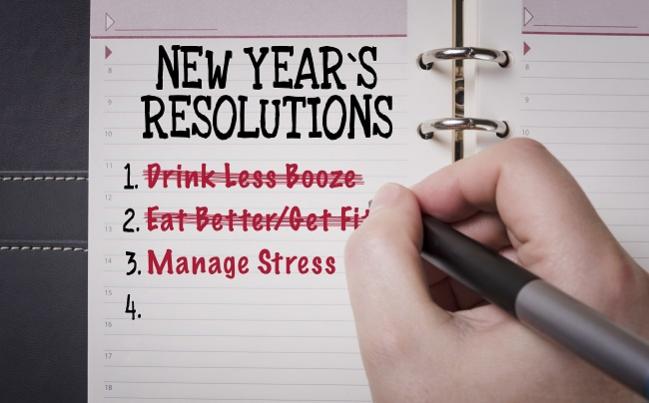 The general goal of managing stress and decreasing anxiety is on many top 10 New Year's resolution lists, accompanied by the familiar images of the office worker with the overflowing inbox or the frazzled mother of three shuttling her boisterous children to school. In rarer cases, however, psychological and emotional stress can trigger serious cardiovascular consequences.
Stress, because of its diverse origins, presentations, and antidotes, has spurred a mystifying cycle of debate among healthcare professionals as to how something so nebulous and subjective can be managed in a clinical setting. But a growing body of knowledge is directly tying brain activity to cardiovascular events.
This is Part 3 of a 4-part series looking at common New Year's resolutions in relation to cardiovascular disease. See also our stories on how 
alcohol
 helps and harms the heart,
lifestyle changes
 in the setting of secondary prevention, and the role of e-cigarettes in smoking cessation.
Takotsubo Cardiomyopathy and Stress
For cardiologists, the most recognizable, if poorly understood, link between stress and the heart is takotsubo cardiomyopathy, named for the affected heart's resemblance to a Japanese pot used for catching octopus. Takotsubo, also called "stress cardiomyopathy" or "broken heart syndrome," often manifests like acute MI or heart failure, typically presents in elderly women, and is frequently brought about by some sort of emotional or physical trigger, according to a 2015 review on the topic in the New England Journal of Medicine.
Deepak Bhatt, MD, PhD (Brigham and Women's Hospital, Boston, MA), who authored a blog post on takotsubo in 2015,  told TCTMD that a sudden surge in the stress hormone catecholamine is believed to be the cause of the myocardial dysfunction seen during takotsubo cardiomyopathy. He described a typical "vignette," wherein "a middle-aged woman hears that her child has died and suddenly has chest pain." A plausible diagnosis here is takotsubo. Indeed, the recent death of actress Debbie Reynolds, who died 1 day after her daughter, Carrie Fisher, was widely speculated to be due to a broken heart, although takotsubo was never confirmed.
But physical stress, for example a hip replacement surgery or bad pneumonia, or even learning good news, can also trigger this syndrome, Bhatt noted. "It's really the suddenness—sudden crying, sudden laughter, sudden joy, sudden sadness—that can do it," he said.
The general awareness of takotsubo cardiomyopathy has increased in the last 10 or 15 years, but it's unlikely that the incidence of the condition itself has really risen, according to Bhatt. "It used to be thought, 'Oh it's pretty harmless. It's not a real heart attack.' But in fact some data . . . [have shown that] those people can have pretty bad outcomes. It's a lot of variability. Some people leave the hospital in a few days almost as good as new. Other people are essentially in shock and need mechanical support to tide them through," he said.
Elmir Omerovic, MD, PhD (Sahlgrenska University Hospital, Gothenburg, Sweden), has a similar view. Prior to 2005, he told TCTMD, it was common for his team to "misdiagnose" takotsubo as acute MI, myocarditis, or heart failure. This was "a real issue with patient safety," he said.
"When we don't know what to do with a patient, we tend to extrapolate from other similar syndromes," Omerovic continued. "But we think that extrapolation is frankly dangerous. It exposes patients to unnecessary risk and can sometimes be life threatening. Beta-blockers, ACE-inhibitors, and catecholamines can actually worsen the patient's condition and lead to fatalities."
Omerovic noted, however, that there currently are no randomized trial data to help clinicians diagnose and treat patients with takotsubo cardiomyopathy. He said his team plans to start a study based on information from the SWEDEHEART registry, which currently tracks the syndrome's incidence in real time across Sweden, "to test the most obvious clinical strategies, because we don't have any evidence base to support one therapeutic approach over another."
Another hypothesis he wants to test is the possibility that the paralytic effects of takotsubo cardiomyopathy might actually be protective in nature, similar to the mechanism of inflammation. "We believe now that takotsubo could be a protective organ response to severe emotional stress, in order not to die suddenly from ventricular arrhythmia," he said. If this is the case, "we should not prevent something that is protective."
Either way, new multidisciplinary research in this field can only "lead us to new discoveries about how the human body works and what the connection is between our emotional life and our bodies," Omerovic added.
The Mind-Body Connection
The future may prove differently, but for now the concept of a brain-heart connection may be a tough sell to many physicians, Bhatt said. "Interventionalists aren't big on mind-body connections, . . . but they're real, they're out there, and they are sometimes fuzzy and hard to characterize.
"I do think there probably are triggers like emotional or physical stress to trigger neurotransmitter release that has effect on the myocardium," Bhatt continued. "It might be things as simple as catecholamines, epinephrine, that sort of thing, [or] norepinephrine. Or more sophisticated sort of neurotransmitter and biochemical pathways that we don't have elucidated at this point in time and that will actually take a fair amount to sort out."
Interventionalists aren't big on mind-body connections, . . . but they're real, they're out there, and they are sometimes fuzzy and hard to characterize. Deepak Bhatt
As previously reported by TCTMD, an imaging study presented at the American College of Cardiology 2016 Scientific Sessions linked stress and the heart by showing that greater activity in the amygdala—the brain's emotional processing center—was associated with elevated bone marrow activity, arterial inflammation, and risk of subsequent CV events in 293 patients. In the study, that was published last week in the Lancet, lead author Ahmed Tawakol, MD (Massachusetts General Hospital, Boston), also showed that perceived stress was associated with amygdalar activity and arterial inflammation.
"In general, this does speak to a brain-heart connection, in this particular case suggesting the presence of an amygdalar-bone marrow arterial axis with inflammatory mediators involved and that this axis plays a role in the subsequent development of cardiovascular disease events," Tawakol told TCTMD.
More broadly, "there are tantalizing pieces of information suggesting that maybe modulating the perception of stress and impacting that part of the brain that receives and processes the stress may lead to downstream reductions in diseases that are associated with stress," he continued.
Tawakol agreed that the potential for physicians to not recognize a brain-body connection as legitimate is "an issue," yet he understands their reluctance for now. "If the mechanism that relates stress to disease is not well understood, and there are plenty of opportunities to say well is it confounded by x, y, or z unmeasured factors," he said, "it's hard to really make any recommendations or pay close attention to that risk factor in general."
Stress as a Risk Factor
It will be the job of comprehensive, multidisciplinary research studies to elucidate the exact roles that stress can play in the body before it can become a commonly recognized risk factor that cardiologists use in their routine evaluations, Tawakol predicted.
Still, "we can, at a minimum, pay attention to stress," and give patient questionnaires to track perceived stress, he added. "It's important not to overpromise the impact of an intervention, and it's important to be very cautious when you recommend even the simplest and seemingly most benign intervention. But I think we're at a stage now where we have enough information to say that it doesn't seem that there would be harm in suggesting that a patient consider a stress reduction approach if they have a high risk of atherosclerosis or atherosclerotic disorder and a high degree of perceived stress."
This approach would differ from patient to patient due to the aforementioned subjectivity of peoples' stress, Tawakol said, but he recommended mindfulness practices and yoga as potential solutions.
While research continues, the message to practicing cardiologists is not to dismiss emotions and psychological strain while making their diagnosis, Bhatt advised. "When a patient complains of chest pain after a stressful event, it may be easy for family members or even physicians to rationalize it as a benign entity that does not deserve worry," he said. "The most important message is to remain vigilant, because that patient can have heart failure or arrhythmia or both in terms of complications and probably still needs good medical therapy."
Yael L. Maxwell is Senior Medical Journalist for TCTMD and Section Editor of TCTMD's Fellows Forum. She served as the inaugural…
Read Full Bio
Sources
Tawakol, A, Ishai A, Takx RAP, et al. Relation between resting amygdalar activity and cardiovascular events: a longitudinal and cohort study. Lancet. 2017;Epub ahead of print.
Disclosures
Bhatt reports serving as a member of the advisory boards of Cardax, Elsevier Practice Update Cardiology, Medscape Cardiology, and Regado Biosciences; and receiving research funding from Amarin, Amgen, AstraZeneca, Bristol-Myers Squibb, Eisai, Ethicon, Forest Laboratories, Ischemix, Medtronic, Pfizer, Roche, Sanofi, The Medicines Company (including for his role as co-chair of the 3 CHAMPION trials). He also lists extensive nonpharma/device roles, some unpaid, among his conflicts.
Omerovic reports receiving research grants from Abbott Vascular and AstraZeneca.
Tawakol reports receiving grants from Genentech and Takeda and personal fees from Takeda, Actelion, AstraZeneca, and Amgen during this study for other research projects.