Big Drops in Blood Pressure With Baxdrostat: BrigHTN Phase II Study
The drug inhibits the enzyme that makes aldosterone and was impressive when added to other meds in resistant hypertension.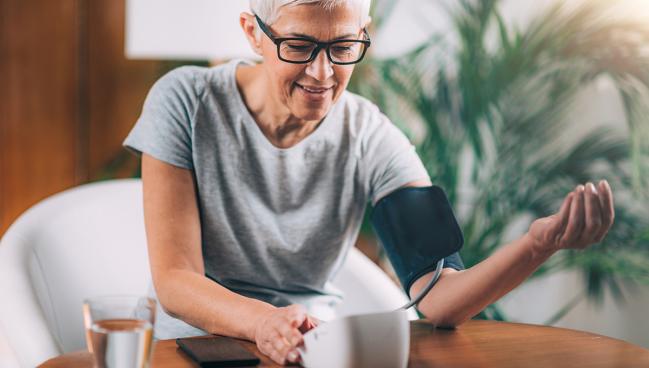 CHICAGO, IL—(UPDATED) An investigational inhibitor of aldosterone synthase successfully lowers blood pressure in patients with treatment-resistant hypertension, a new study shows.
In those with a mean blood pressure of 130/80 mm Hg despite taking at least three antihypertensive medications, including a diuretic, patients treated with the 2-mg dose of baxdrostat (CinCor Pharma) had a more than 20-mm Hg reduction in systolic blood pressure. When adjusted for the reduction observed in placebo arm, the mean reduction in systolic blood pressure was 11.0 mm Hg, report investigators.
Senior investigator Morris J. Brown, MD (Queen Mary University of London, England), said he was impressed by the magnitude of reduction seen in this trial, which was presented today during the final late-breaking clinical trial session at the American Heart Association 2022 Scientific Sessions and published simultaneously in the New England Journal of Medicine.
Putting the results into context, Brown cited an 11,000-patient meta-analysis of 42 trials that looked at reductions in blood pressure with diuretics, ACE inhibitors/ARBs, beta-blockers, and calcium channel blockers. "No other study had double-digit declines in placebo-controlled systolic blood pressure, and that's despite the fact that our mean starting pressure isn't very high," Brown told TCTMD. 
Baxdrostat is the first contender in a new drug class that inhibits the enzyme that makes aldosterone rather than blocking the mineralocorticoid receptor, which is how spironolactone works.
"The challenge with developing this class of drug is that the enzyme that makes aldosterone and the enzyme that makes cortisol are 93% identical," said Brown. "Therefore, developing a drug that would stop aldosterone from being made while having no effect on cortisol has been difficult. There have been other examples of drugs that have gone down this road but failed because the cortisol levels have gone down."
For example, one drug that had been in development, osilodrostat (Isturisa; Novartis), is now being used for the treatment of Cushing's disease, or hypercortisolism. Nonetheless, investigators are optimistic baxdrostat can be successful where others have failed. Brown pointed out that preclinical and phase I studies have shown that baxdrostat has very high selectivity for aldosterone synthase compared with the enzyme required for cortisol synthase.
Eugene Yang, MD (University of Washington, Bellevue), chair of the American College of Cardiology's Prevention of Cardiovascular Disease Council, said that while studies suggest that up to 20% of people could have resistant hypertension, "pseudoresistance" is also quite common. 
"Meaning there are a lot of people who don't have resistant hypertension, but who have high blood pressures because of other factors not evaluated," said Yang. "They might be undertreated, their blood pressures might be measured incorrectly, they might not be taking their medication, or there might be a 'white coat' effect. There are a lot of issues that impact the frequency of resistant hypertension, but it is felt to be quite common."  
Positive Phase II Findings
BrigHTN included 248 patients randomized to placebo or baxdrostat 0.5 mg, 1 mg, or 2 mg. All patients were treated with a diuretic, 91% to 96% were treated with either an ACE inhibitor or ARB, and 64% to 70% were treated with a calcium channel blocker. Use of beta-blockers ranged from 52% to 68% in the four treatment groups. Baseline seated blood pressure was approximately 148/88 mm Hg.
Both the 1-mg and 2-mg doses of baxdrostat resulted in significant reductions in systolic blood pressure compared with placebo.
Change in Blood Pressure From Baseline
 

Placebo

Baxdrostat

0.5 mg

Baxdrostat

1 mg

Baxdrostat

2 mg

Systolic BP, mm Hg

-9.4

-12.1

-17.5*

-20.3**

Diastolic BP, mm Hg

-9.2

-8.6

-11.8

-14.2

* P = 0.003 versus placebo; ** P < 0.001 vs placebo
To TCTMD, Brown said the treatment of hypertension is one of the therapeutic success stories in medicine, but that there are approximately 5% to 10% of patients who don't come down to target despite treatment with optimal medical therapy.
"What's emerged, and I think our study strongly supports this, is that resistant hypertension overlaps with primary aldosteronism, which occurs when the adrenal cells making aldosterone have gone into auto mode and are just churning this out even though the body already has enough salt," he said. "Resistant hypertension is driven by excessive salt and water in the vasculature, which isn't responding to any of the conventional classes of drugs."
Data from the Prevention and Treatment of Hypertension with Algorithm-based Therapy-2 (PATHWAY-2) study supports that hypothesis. In PATHWAY-2, researchers previously showed spironolactone was the most effective add-on drug for patients with resistant hypertension. That study, along with this one, suggests that resistant hypertension is resistant because of aldosterone, said Brown.
"It makes it a natural target for this drug," he said.
To TCTMD, Yang said that if a patient is determined to truly have resistant hypertension, they do have treatment options. After excluding other causes of hypertension, maximizing lifestyle interventions, and ensuring adherence to three antihypertensive medications, it is recommended that physicians add a mineralocorticoid receptor antagonist (MRA) such as spironolactone or eplerenone, according to a scientific statement from the AHA. 
"We do have a treatment for it, which is quite good," said Yang. There are some potential side effects with the MRAs, such as hyperkalemia, and in men a small percentage can develop gynecomastia. "That tends to be the main side effect that precludes its use, but the reality is most people can take it. Most of my patients who have resistant hypertension use spironolactone or eplerenone."
Studies have shown moderate-intensity physical activity in treatment-resistant patients can work wonders, too, said Yang, noting there are data showing at least 7-mm Hg reductions in 24-hour systolic blood pressure with exercise.  
With respect to BrigHTN, Yang said the results are very good and nobody can quibble with the reduction in blood pressure. That said, there are still some very important questions to be answered. To justify the higher cost of the new agent—and this drug will cost significantly more than the currently available generic MRAs—future studies will need to demonstrate that its better, he commented.
"In my opinion, they're going to have to do a head-to-head comparison between this drug versus spironolactone or eplerenone to see if it's more effective or if it has a better side effect profile," said Yang. "To me, it's a good study in that it's potentially a new drug in the armamentarium, but it's going to be very expensive if it comes to market eventually."
Pharmacokinetic Testing 
As part of the study, researchers also measured levels of plasma baxdrostat, serum and urinary aldosterone, and serum cortisol activity. The reduction in aldosterone levels at the end of study ranged from 3.0 ng/dL with the 0.5-mg dose to 4.9 ng/dL with the 2-mg dose. The 24-hour urinary aldosterone levels decreased with all three drug doses, but serum cortisol levels were unchanged.
The drug was well tolerated, with no reported side effects, said Brown. At the 2-mg dose, there was one case of hyponatremia and two patients with elevated potassium levels. In total, there were six patients with hyperkalemia, with potassium levels ranging from 6.0 to 6.3 mmol/L in three individuals and from 5.5 to 5.9 mmol/L in three others. Four of the six patients temporarily stopped treatment but were able to resume taking baxdrostat and complete the study. 
One of the major problems with spironolactone, said Brown, is the rise in potassium levels, so that is a side effect researchers kept an eye on. However, he noted there are genetic models that suggest inhibition of aldosterone synthase won't lead to the same concerns. That said, larger studies are needed to assess the safety of the drug.
"With the enzyme inhibitor of aldosterone, as compared with the receptor blocker, quite a lot of factors suggest this should be a cleaner drug," said Brown. "The enzyme is only made by a very small rim of cells in the adrenal glands—it's not made anywhere else in the body—so you wouldn't expect off-target effects."
Researchers are also evaluating baxdrostat in 249 patients with uncontrolled hypertension who are taking one or more antihypertensive medications. The study has completed randomization and top-line results are expected soon. Baxdrostat was initially developed by Roche, but after they stopped their cardiovascular and metabolic drug development, the company licensed the agent to CinCor Pharma.

Michael O'Riordan is the Associate Managing Editor for TCTMD and a Senior Journalist. He completed his undergraduate degrees at Queen's…
Read Full Bio
Sources
Freeman MW, Halvorsen Y-D, Marshall W, et al. Phase 2 trial of baxdrostat for treatment-resistant hypertension. N Engl J Med. 2022;Epub ahead of print.
Disclosures
Brown reports grants from the British Heart Foundation and serving as a consultant for/holding stock options from CinCor Pharma.