Big Tobacco Bets on Menthol to Hook Youth, Women, and Blacks
The popularity of menthol cigarettes was engineered specifically to entice vulnerable groups, new research makes clear.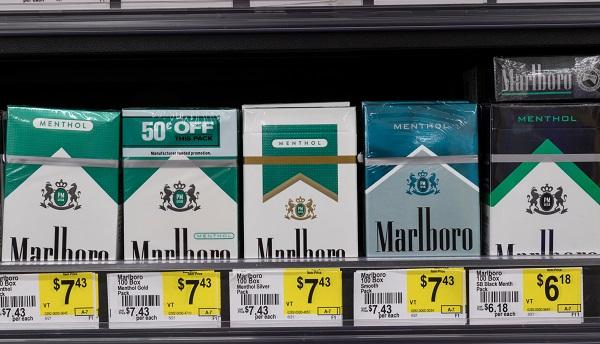 The massive popularity of menthol cigarettes over the past several decades didn't happen by accident, but instead was the express goal of sordid, misleading, and frequently racist advertising campaigns of major tobacco companies, a comprehensive new study shows.
In a new report from the Stanford Research into the Impact of Tobacco Advertising (SRITA) group, which is an offshoot of Stanford Medicine, and the American Heart Association (AHA), researchers lay out a detailed road map—drawing in part on internal documents from the tobacco companies themselves—showing that the steady rise in menthol cigarette use was the result of sophisticated advertising directed at young people, women, and Black Americans.
"The menthol cigarette market was orchestrated by the marketing activities of the major tobacco companies that produce menthol cigarettes," lead researcher Robert K. Jackler, MD (Stanford University School of Medicine, CA), told TCTMD.  
Jeff Willett, PhD, a senior vice president of strategy at the AHA, and one of the study authors, agreed.
"You go back 100 years and menthol cigarettes didn't exist," he told TCTMD. "This isn't something people have a natural inclination for. The industry developed these products and then invested heavily in market research and in learning the aspirations, motivations, etc, that consumers had, with a real focus on the Black community and youth. Our primary motivation is to ensure that the public and policy makers know that the tobacco makers manufactured and engineered the situation we have today." 
Jackler pointed out that this isn't ancient history either and that the manipulative practices of Big Tobacco continue to this day, even as the US Food and Drug Administration is mulling over its proposal to remove menthol cigarettes from the market.
"The thing that's amazing is that they're using all the same tropes and themes today that they did back in the 1950s," said Jackler. While tobacco companies continue to advertise to smokers, or potential smokers, they've adopted new language, pushing marketing campaigns that "greenwash" menthol cigarettes by depicting them as organic, additive-free, and even plant-based. "It's key to contextualize it—the history is important because it's how the market developed and endured—but they're doing it all today," he said.  
Rose Marie Robertson, MD (Vanderbilt University Medical Center, Nashville, TN), deputy chief science and medical officer of the AHA, noted that the association's advocacy around tobacco use stems from the fact that smoking is a major modifiable risk factor for CVD, accounting for roughly one out of every four deaths from cardiovascular causes, according to the US Centers for Disease Control and Prevention. That's in addition to causing a range of cancers, not just lung cancer, said Robertson. Like Jackler, she says the removal of menthol products from the market will be a major win in the fight against tobacco.  
"Menthol is so attractive and so appealing to users, particularly to people who are just beginning to use cigarettes, e-cigarettes, or other products," she told TCTMD. "It appeals to both adults and children and definitively makes it tougher for those who want to quit, to quit. That's a huge percentage of the population who are using cigarettes and e-cigarettes. While some individuals don't want to quit, there are many who do and find that they can't."
In clinical practice, said Robertson, many patients presenting with MI and other atherosclerotic cardiovascular diseases were appropriately frightened but found quitting smoking difficult. "Anything that impairs cessation, we think is a real problem," she said. 
Advertising Made This Market
In April, the FDA proposed new rules prohibiting menthol cigarettes and flavored cigars/cigarillos from the market. The removal of menthol products is intended to reduce the appeal of these cigarettes to youth and young adults and to decrease the likelihood that nonusers would start smoking. Numerous countries, including all of the European Union, United Kingdom, and Canada, have already banned menthol in cigarettes. 
Anything that impairs cessation, we think is a real problem. Rose Marie Robertson
Jackler said the purpose of the SRITA report is to arm regulators and legislators, as well as litigators, with the evidence they'll need to defend against the tobacco industry's lobbying and legal "onslaught" precipitated by the FDA decision.
"We know the FDA wants to do this, but the FDA has a very lengthy process," said Jackler, adding the agency will need to review and address public comments before issuing a final product standard. Major tobacco will almost certainly take the final decision to court, hoping it'll be stayed or overturned. To defend against that, Jackler said the review provides evidence these companies deliberately targeted Black Americans, women, and young people with menthol cigarettes so they would get hooked on these difficult-to-quit products.
In the US, an estimated 18.5 million people 12 and older smoke menthol cigarettes. Smoking is declining in the US, with nonmenthol cigarette smoking down 52.9% from 2000 to 2018, but use of menthol cigarettes is declining less rapidly, down just 26.1% during the same period. Overall, the market share of menthol cigarettes has been steadily growing for the past 20 years. Today, menthol brands make up more than a third of the entire market and are used by 85% of Black smokers. More than half of teen smokers—and more than 90% of Black teens—start with menthol cigarettes.  
"The centrality of advertising is what really drove this market," said Jackler. "It's no accident that young teenage smokers started with menthol cigarettes. It's no accident that urban communities, especially predominantly Black neighborhoods, got bombarded with advertising. We lay that out in a systematic fashion. Our goal was to express it using the voice of the industry."
Using internal documents released following the 1998 Tobacco Master Settlement Agreement, the SRITA researchers show not only how the major tobacco companies, such as Philip Morris, R.J. Reynolds, and British American Tobacco, targeted these populations, but also how effective those marketing campaigns were.    
'Poverty Markets'
Adding menthol or mint to cigarettes hides the unpleasant flavor of tobacco and can soothe the throat, all of which helps the appeal and makes them easier to smoke, especially for young people.   
In the report, the researchers point out that menthol cigarettes were frequently described as "fresh" and "cool," and all the brands targeted young people with these appeals. The Newport "Alive with Pleasure" campaign ran for 44 years, for example, and featured fun, self-confident 20-somethings in social settings or in romantic environments. In the 1980s, the youth market was also targeted during Spring Break campaigns in Florida and Texas, complete with Playboy Bunnies handing out sample packs of menthol cigarettes.
To TCTMD, Jackler said that after the 1964 Surgeon General's report highlighting the harmful effects of smoking, many people tried to quit. With that, the tobacco industry pivoted, turning their attention to previously untapped markets, including the so-called "poverty markets," which was a proxy term for predominantly Black, urban neighborhoods.
Major tobacco companies targeted Black communities with ads on subways and billboards and in stores, and Black newspapers and magazines carried ads for mostly menthol brands. Black professional athletes and singers/entertainers were also recruited to shill for Big Tobacco. The companies even co-opted the imagery and language of the Black Power movement and donated money to the NAACP and Negro College Fund.
"It was extraordinary engineering that went into how best to hermetically envelop inner-city, Black communities," said Jackler. "The industry co-opted the leadership of major black organizations and they painted themselves as supporters of noble Black causes—Black education, Black colleges. They used a tiny sliver of their revenue to paint themselves as great, enthusiastic supporters of the African American community when they're killings tens of thousands every year by selling a deadly product." 
They used a tiny sliver of their revenue to paint themselves as great, enthusiastic supporters of the African American community when they're killings tens of thousands every year by selling a deadly product. Robert K. Jackler
Women were some of the earliest adopters of menthol cigarettes, and campaigns have continued to target them. There are even "female brands"—Virginia Slims, Misty, and Eve, for example—and advertising campaigns have frequently adopted gender-specific tropes and themes aimed at them.    
The advertising used to drive the sale of menthol cigarettes, said Willett, "is one of the most tragic forms of deception that the industry has done in the last century."
Robertson added that "you'd hardly need any words of your own" to describe the appalling mindset of tobacco executives when it came to getting young people, women, and the Black community hooked on menthol cigarettes. "This country, and countries around the world, really suffer from health inequities," said Robertson. "There are real disparities in the burdens of disease and outcomes of cardiovascular disease so things that strengthened that and are done knowingly really do seem appalling." 
More Efforts Needed
In the US, Marlboro sells 11 different types of menthol cigarettes while Camel sells a dozen. Newport, which is the number-one seller of menthol cigarettes, sells seven different menthol variants. These companies have continued to evolve, too, as they now all sell "crushables," which are capsule cigarettes in which a sphere of flavored liquid is inserted into the filter. That sphere is then squeezed for a more-intense flavor. These were permitted on the market by the FDA because they were considered "substantially equivalent" to existing menthol cigarettes.
"I think that was very poor judgement," said Jackler, referring to the FDA's decision. The capsules, though, simply show that the tobacco industry continues to innovate.
Jackler is optimistic the FDA will be able to remove menthol cigarettes from the US market, particularly given the enormous evidence showing that the demand was manufactured. Even if successful, there will be challenges ahead, he said, given the wide availability of non-cigarette tobacco products, such as oral tobacco, snus, and hookah tobacco. There's also been a proliferation of e-cigarettes and oral nicotine delivery systems, and menthol is a common ingredient in these products, he noted.

Michael O'Riordan is the Associate Managing Editor for TCTMD and a Senior Journalist. He completed his undergraduate degrees at Queen's…
Read Full Bio
Disclosures
Jackler reports serving as an expert witness in the State Attorney General's JUUL legal actions.
Willett and Robertson report no relevant conflicts of interest.