Bloodlines: How Far Should Cardiologists Go in Treating Family?
One interventional cardiologist put five stents in her father. Many others said this risks objectivity, ethics, and potentially outcomes.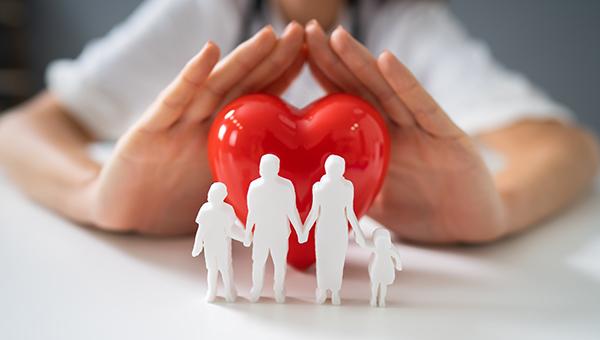 When interventional cardiologist Sarita Rao, MBBS, MD, DM (Apollo Hospital Indore, India), learned that her 85-year-old father had had an MI, she had him flown to her hospital, where he was taken to the cath lab. An angiogram revealed critical triple-vessel disease, with two lesions in the left anterior descending artery, one in the circumflex, and one in the right coronary artery.
CABG was ruled out because of her father's age, so Rao decided to proceed with PCI. At the time, she thought about what she would tell the rest of her family—which includes her three physician sisters—if something went wrong, "but I knew that I was doing what is best for him," she said. "So I switched off my cell phones, I called in my husband, who's also a cardiologist, for backup just in case, and went ahead." The procedure involved implantation of five drug-eluting stents, and her father was discharged 3 days later.
In many parts of the world, treating family members beyond the management of minor ailments is frowned upon except in emergent or urgent situations. But in others, withholding care would defy cultural norms, not to mention the assumptions of the families themselves.
In India, physicians are generally expected to treat their kin if a medical issue falls within their specialty, and refer to a trusted colleague if it doesn't, Rao explained. "The concept is that if you're not good enough to treat your own family, then you're not good enough to treat anyone else." The only way she would not treat a blood relative for a cardiology issue, she said, is if she wasn't around to do so. Even if her father had needed an elective procedure, Rao said she wouldn't hesitate to do it, "because I think I would be giving him the best possible care."
In other regions, however, treating blood relatives or spouses, if not explicitly outlawed by regulatory bodies, is at least discouraged in ethical guidance.
Professional cardiovascular societies, including the American College of Cardiology (ACC), the European Society of Cardiology (ESC), and the Cardiological Society of India, haven't specifically addressed the issue of treating family members, and most countries don't have specific rules regarding this issue.
Regulators in some countries have, however, weighed in. The American Medical Association (AMA), for one, is against doctors providing medical treatment for themselves or their family members as it "poses several challenges for physicians, including concerns about professional objectivity, patient autonomy, and informed consent." Likewise, in the United Kingdom, ethical guidance from the General Medical Council (GMC) states that "wherever possible, avoid providing medical care to yourself or anyone with whom you have a close personal relationship."
Generally, exceptions to this advice include emergency situations and scenarios in which there are no other qualified physicians available at one end of the spectrum and care for minor, short-term problems—an antibiotic prescription for an ear infection, for instance—at the other.
Emotions May Hamper Decision-making
Athena Poppas, MD (Lifespan Cardiovascular Institute and Brown University, Providence, RI), immediate past president of the ACC, told TCTMD that she thinks the AMA "landed in a pretty good place" regarding the treatment of family.
She recounted the time when her own mother had a MI. Poppas was with her that day and drove her to a nearby hospital, only to learn that there were no cardiologists present.
Doctors there asked Poppas what she thought about handling the case herself.
"I thought, 'Oh, no, no, no. This is not the way this should be handled.' And we had her shipped out right away," she said. Once her mother had been transferred to a larger center, "I remember very distinctly thinking, 'Yes, I'm qualified as a cardiologist, but I should not be caring for my mother,'" she recalled. "I gave my opinion as a cardiologist, but I also realized the emotions that were embedded might impede my logical decision-making."
The concept is that if you're not good enough to treat your own family, then you're not good enough to treat anyone else. Sarita Rao
Even in situations like a planned surgical procedure, there could be an inherent tension if the patient is a close family member, Poppas said. A physician's judgment may not be as clear, and the patient may not want to share certain sensitive information that they otherwise would with a doctor who's a nonrelative. "Having unbiased, truly professional care for somebody is ideal," Poppas said.
Indeed, one of the biggest problems seen with providing care within one's own family is the difficulty in maintaining objectivity. As Duk-Woo Park, MD, PhD (Asan Medical Center, Seoul, Korea), put it: "Emotional empathy is much stronger than objective and scientific decision-making."
There may also be added pressures from family members, leading to an effect akin to "VIP syndrome," which has been defined as "a cycle of patient demands resulting in unsound clinical judgment in efforts to meet unrealistic expectations resulting in deleterious outcomes" that occurs when doctors are treating prominent individuals.
Samer Mansour, MD (Centre Hospitalier de l'Université de Montréal, Canada), president of the Canadian Association of Interventional Cardiology, said that when treating a relative, one might order more tests, procedures, or medications than they would for another patient. "You can go extreme and you may induce some iatrogenic complications," he told TCTMD. On the flip side, a physician might downplay symptoms in a family member out of a desire to reassure them, he said, rather than giving the situation full professional medical attention.
Aníbal Damonte, MD (Instituto Cardiovascular de Rosario, Argentina), president of the Sociedad Latinoamericana de Cardiologia Intervencionista, said this is mainly a concern—at least in the realm of interventional cardiology—because of the potential effects on an operator's behavior in the cath lab and whether one can separate emotions from the task at hand. Damonte said he has never treated a close family member but has treated family members of friends as well as close personal friends, and that he's felt comfortable doing so. Once in the cath lab, "you are an interventional cardiologist. It does not matter who is laying in the cath lab. You will treat as any patient," Damonte explained.
He drew a distinction between parents and other close relations, however. When treating a mother or father, it's best to step back and maintain a supportive role for other relatives, Damonte said. "You cannot divide yourself and support your brother, your sister, and the other members of the family and also get involved in the treatment of your own father or mother."
Rao acknowledged that physicians should only agree to provide treatment to a close relative if they're able to keep their emotions in check and not let them muddy decision-making. "If you are going to make the same decision for your family member as you would make for any other patient under your care, then go ahead and treat the patient," she said. "If you can't do that, then don't treat, because emotion cannot interfere with giving them the best care."
Communication and Ethics
Beyond concerns about objectivity, there are other issues that could come into play when a physician is managing a medical issue for a family member.
Communication may suffer, with the physician failing to ask a relative about something because they assume they know the answer, or the family member omitting potentially sensitive information, such as recreational drug use or a sexually transmitted disease. In addition, a patient might not feel as comfortable pushing back on a proposed treatment plan—even if there are reservations—when the treating doctor is a trusted relative.
Yes, I'm qualified as a cardiologist, but I should not be caring for my mother. Athena Poppas
Moreover, there is the possibility that if something goes wrong during treatment—a PCI complication, for instance—the emotional or psychological impact on the physician could be greater if there is the added dimension of close family ties.
"I think objectivity is always key to any of these decisions and taking care of a family member, that's where I think we can lose it, especially in a moment where you're doing a procedure and things can go wrong," said Martha Gulati, MD, president-elect of the American Society for Preventive Cardiology. "I generally stay away from it, because I don't think it's okay to treat your family members." Even when something falls within Gulati's expertise, she said she has no problem referring relatives to trusted colleagues.
Some physicians interviewed by TCTMD raised the specter of potential financial conflicts of interest as well. Günter Breithardt, MD, previously led the department of cardiovascular medicine at University Hospital Münster, Germany, and now chairs the ethics and oversight committee of the ESC. He gave the example of an interventional cardiologist who stood to gain a substantial inheritance, purposefully causing a fatal complication while performing PCI on a parent.
That's an extreme example, but a paper recently published in BMC Primary Care, which describes a survey of German general practitioners about the treatment of family members, provides some reason for caution. Nearly all respondents (96.7%) said they had treated at least one family member in the last year, most frequently involving prescription or dispensing of medication, physical examinations, and the arrangement or provision of lab tests. Fewer than one-third of participants always treated relatives in their practices. The authors conclude: "Frequent at-home treatments and low documentation rates of treatment of relatives could be signs of deviations from the professional routine. Further research on the quality of care in families of physicians is necessary to assess potential risks due to deviations from the routine."
Breithardt said that, in general, "I think most of us have some hesitancy to get directly involved or to accept direct responsibilities" when it comes to treating family members, referring to European physicians. "The more severe the situation may be, the less you should be involved."
It Takes a Team
Just as Rao had her interventional cardiologist husband present for backup when she was treating her father, other physicians interviewed by TCTMD underscored the importance of bringing in either the input or assistance of other colleagues when the decision has been made to treat a family member or someone with a strong personal connection.
Clare Appleby, MBChB, PhD (Liverpool Heart and Chest Hospital, England), honorary secretary of the British Cardiovascular Intervention Society, recently dealt with a situation in which she could not avoid treating a close family friend, who had been admitted to a local hospital with crescendo angina culminating in an NSTEMI. He was referred to Appleby's center and scheduled for angiography on a day when Appleby would be the on-call interventional cardiologist. After a discussion with colleagues, the patient was allocated to a list on the following day, when Appleby would not be responsible for performing angiography. After hours, the patient's condition worsened, however, requiring an immediate trip to the cath lab, when Appleby was on call.
The more severe the situation may be, the less you should be involved. Günter Breithardt
"I called the Associate Medical Director, who is also an interventional cardiologist, to advise of the situation, and the fact that clinically the patient could not wait till the following day. He agreed with my assessment and would be on-site, doing paperwork," Appleby said. After speaking with the patient and his wife to obtain consent, Appleby performed the angiography, which revealed "critical left main stem disease in a left dominant system, in the context of ongoing ischemia and falling BP." After a "mini" multidisciplinary huddle with her colleague and the on-call cardiothoracic surgeon, it was decided that left main PCI was the way to go.
"Fortunately, it went well, and he stabilized quickly," Appleby said. "I felt confident that I had acted according to the GMC guidance and had done my best in the situation in which I found myself. It was, however, much more stressful for me as an individual than had I not personally known the patient! The consequences had he suffered a cardiac arrest, not survived, etc, weighed very heavily, and I was extremely grateful that I had a colleague with me who could 'sense check' my decision-making."
The importance of a multidisciplinary discussion in these situations was highlighted by Giuseppe Biondi-Zoccai, MD (Sapienza University of Rome, Italy), who said he generally wouldn't recommend treating family members—though he'd feel comfortable doing so if needed—but would advise being involved in discussions about treatment.
"In the era of the heart team, I think to have an informed family member who is a physician involved in the decision process is appropriate, is probably beneficial for informed consent, and is also probably beneficial to safeguard the physicians from litigation, because everything would be very explicit and agreed upon," Biondi-Zoccai told TCTMD.
Park said if his father required PCI, he would ask a trusted colleague or another expert in the field to take on the case to avoid making decisions based on subjectivity and emotional stress, but like Biondi-Zoccai, he said it would make sense for a physician family member to participate in a multidisciplinary heart team discussion. "That is one of the most essential parts," Park said.
Why the Global Differences of Opinion?
Physicians' feelings on how far they would go in treating a family member varied, and Rao suggested it could be related to cultural differences between countries.
"There's a very close family structure in India, so if there is a doctor in the family, everybody would go to him for treatment. Anything that they did medically . . . has to be with the consent of the doctor in the family," Rao said. And that goes for aunts, uncles, and others within the extended family. "If there is one doctor in that family of about 40, 50, 100 people, every single person would ask him before he did anything medically," she added. Even if the problem doesn't fall under their specialty, the physician of the family will provide advice and refer to trusted colleagues for further care.
I think objectivity is always key to any of these decisions and taking care of a family member, that's where I think we can lose it. Martha Gulati
In places that have family structures and norms similar to India, it would be more acceptable to provide medical treatment to a close blood relative, whereas in places with perhaps more independence, like the US, it might not be as acceptable, Rao suggested.
Hany Ragy, MD (National Heart Institute, Cairo, Egypt), for one, told TCTMD he's happy that he lives in a country that doesn't have prohibitions against treating family members and where it's commonplace to treat one's blood relatives. He pointed out that he's received dental care from a first-degree relative for his entire life, first from his parents and now from his sister. "For me, the concept of being treated by a very close family member started very early in my life," he said.
That carried through to his professional career as an interventional cardiologist, during which he performed diagnostic angiographies on both of his parents.
His father developed severe angina about 10 years after having a STEMI, which was treated with medical therapy that was standard at the time. Ragy performed the angiography with a friend attending as backup. The procedure proceeded smoothly, revealing severe three-vessel disease, with three chronic total occlusions. His father underwent a successful quadruple bypass operation the next day, survived for many years, and ultimately died of leukemia. "If he had required any kind of angioplasty, I would have been very happy to do it," Ragy said.
Ragy's mother had been on long-term dialysis when she started to experience very severe angina during her dialysis sessions. Ragy recommended an angiogram, and his mother said she'd only do it if he'd be the one to perform the procedure. "She joked and said, 'I treated your teeth as a child, now you treat my heart.' It was the incredible love between mothers and sons," Ragy recalled. He performed the angiography, which revealed only noncritical lesions. As it turns out, his mother had started a new medication to correct an electrolyte disturbance, and one of the listed side effects was angina. She stopped taking the medication, and the issue resolved.
In both of his parents' cases, Ragy said, "I was there because I did not want them to have a complex intervention by another cardiologist. Both times I asked a very good, very experienced interventional cardiologist to be with me, and both times they did not work. They just were there in case I needed support, but they were not needed except for the psychological support."
That said, he acknowledged, "I was very worried about causing a complication and having to live with it."
There might be limits to the types of interventions one would want to deliver to a blood relative, Ragy suggested, raising questions about whether a surgeon would want to amputate a limb, perform a radical mastectomy, or do neurosurgery on a close relative, for example.
And he said he understands the point of view of interventional cardiologists who would not have taken their parents to the cath lab. In Egypt, "we think that's the way it should be," he said. "But on the other hand, we totally understand people who do not want to do it or who have rules against it."
Ragy said his experience with his parents changed the way he practices—a takeaway that echoed what Rao said about being "good enough" to treat non-family members as you would your own kin. For his parents, Ragy "took them from skin to skin," meaning he managed all aspects of the procedure: from administering the local anesthetic before the puncture to applying pressure to the access site afterwards.
"It made me think that I should be offering the same treatment to other patients," he said. "I just feel it's not right that I wouldn't give patients in [my mother's] situation the same kind of treatment. So maybe it made my practice a little bit better."

Todd Neale is the Associate News Editor for TCTMD and a Senior Medical Journalist. He got his start in journalism at …
Read Full Bio