Bystander CPR for Cardiac Arrest Woefully Rare in Black and Hispanic Individuals
Deconstructing and diversifying how CPR is taught may be key to improving the odds, one expert says.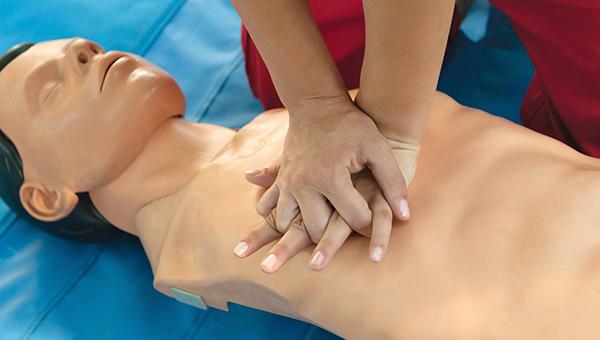 Compared with white individuals, those who are Black or Hispanic are about 25% less likely to receive bystander CPR when a cardiac arrest occurs at home, new data show. They also are 41% less likely to have a bystander attempt CPR on them for a cardiac arrest in public.
"We already know that Black and Hispanic individuals with an out-of-hospital cardiac arrest are less likely to survive to discharge than whites. We also know that individuals who get bystander CPR . . . from loved ones, from random strangers and passersby, doubles or triples the odds of surviving to discharge," said Paul S. Chan, MD (Saint Luke's Mid America Heart Institute, Kansas City, MO). "Differences in bystander CPR rates for cardiac arrests in public does raise additional issues of implicit and explicit bias that need to be better understood."
Chan's study, scheduled for presentation at the upcoming American College of Cardiology (ACC) 2022 Scientific Session, also found that the racial disparities in acting on CPR were not explained by where the cardiac arrest occurred or by income level.
Katie Berlacher, MD (University of Pittsburgh, PA), who moderated a press conference ahead of the ACC meeting, called the findings "somewhat disheartening," agreeing with Chan that the American Heart Association (AHA) and the Red Cross should incorporate implicit bias education into CPR training.
Consistently Lower Aid Rates in Minorities
Chan and colleagues examined data on 110,054 witnessed out-of-hospital cardiac arrests (OHCAs) that occurred in the United States between 2013 and 2019 and were included in the CARES registry. When cardiac arrest occurred at home, 47.4% of white individuals received CPR compared with 38.5% of Black/Hispanic individuals (adjusted OR 0.75; 95% CI 0.72-0.78). Similarly, when cardiac arrest occurred in a public setting, 60% of white individuals received CPR compared with 45.6% of Black/Hispanic individuals (adjusted OR 0.59; 95% CI 0.56-0.63).
Regardless of whether neighborhoods where cardiac arrests occurred were predominantly white, predominantly minority, or integrated, Black and Hispanic people had lower rates of bystander CPR at home and in public compared with whites. Looking at household income ranging from over $80,000 per year to less than $40,000 per year, there again was a consistent pattern of lower likelihood of bystander CPR for Black and Hispanic individuals. Chan and colleagues also analyzed probability of CPR in public locations where cardiac arrests occurred. For each one, bystander CPR favored white individuals.
Likelihood of Bystander CPR by Location
 

Black/Hispanic

White

Adjusted OR

(95% CI)

Workplace

53.2%

61.8%

0.73 (0.67-0.81)

Street/Highway

31.8%

47.6%

0.62 (0.55-0.69)

Gym/Recreational Facility

55.8%

74.4%

0.50 (0.41-0.60)

Airports, Bus Terminals

48.3%

69.6%

0.43 (0.29-0.66)

Chan noted that access to CPR training and dispatcher-assisted aid may be complicated among minority groups by language barriers as well as issues of trust and immigration status concerns. To TCTMD, he said that while there are efforts in the United States to do CPR training in schools, the effectiveness and durability of school-based training is uncertain.
"Even if we were to [train], let's say, 6th, 7th and 8th graders, it's probably going to take a generation or two before we have enough people trained that could be potential bystanders," Chan commented. Another issue is lack of access to CPR training in low-income neighborhoods. "We're not doing them in churches. We're not doing them in Hispanic centers and community centers, and we're not making them free-of-charge for people who don't have the income access."
A Call for Diversity, Representation in CPR Training
Another important way to improve CPR training is by diversifying who is teaching it and on whom it is taught, with Chan noting that most CPR mannequins don't tend to be Black, Hispanic, Asian, or Native American.
"So, we need to do a better job to allow the public to understand that it's not just going to be about white people in terms of training. If we don't do that it may become a challenge for other individuals to overcome those implicit biases," he added.
Adrian Baranchuk, MD (Queen's University, Kingston, Canada), who was not involved in the study, told TCTMD that despite a growing perception of the importance of diversity in training mannequins, most of them are lean, white males. In the recent DIVERSE study, Baranchuk and colleagues surveyed institutions, businesses, and nongovernmental organizations that provide CPR certification in North America and Latin America. They found that more than 80% of the training mannequins in use were white, only 6% were female, less than 1% had a non-lean body composition, and 1% were representative of a pregnant individual.
We know there seems to be a gender, a body shape, and a race segregation of who is going to receive CPR out of hospital. Adrian Baranchuk
"We know there seems to be a gender, a body shape, and a race segregation of who is going to receive CPR out of hospital," he said. "So, we have to deconstruct this and look at the way we teach it. Because how we teach it impacts not only on health practitioners, but also on those in the community who could be the bystanders."
As the DIVERSE results show, at least some CPR mannequins being used in teaching programs are not the traditional white, lean male. According to Baranchuk, Chan's study adds more support for the argument to diversify the mannequins to better reflect members of the community at large and "maintain the chain of survival" that CPR can accomplish.
Baranchuk said one goal of restructuring CPR training might be requirements that a mix of nontraditional mannequins be included in order for individual instruction programs to qualify for AHA or Red Cross certification, for example.
"It's always a big effort after you've been comfortably teaching the same thing over and over again and then you have to change it," he said. "We've highlighted that this is a problem, and we need to attack it with deep policy analysis and strategy."

Sources
Chan PS. Racial and ethnic differences in layperson bystander CPR in witnessed out-of-hospital cardiac arrests. To be presented at: ACC 2022. Washington, DC.
Disclosures
Chan and Baranchuk report no relevant conflicts of interest.