Cancer and CV Disease Care: What's Known? What Lies Ahead for Cardio-Oncology?
The growing field will require multidisciplinary teams, unique expertise, and ongoing research, experts said at SCAI 2019.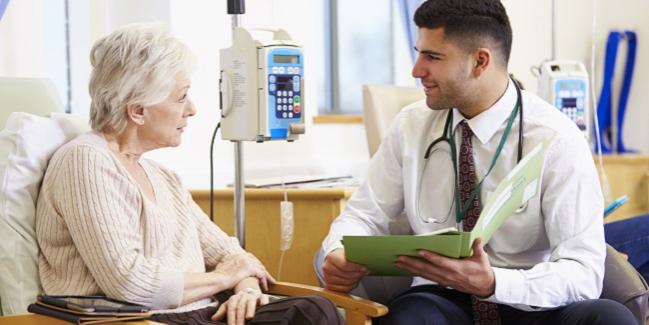 LAS VEGAS, NV—The emerging field of cardio-oncology, which seeks to treat cardiovascular conditions alongside a cancer diagnosis or in patients with a history of malignancy, requires a multidisciplinary team and a fresh approach to practice, according to experts who discussed both challenges and strategies here last week at SCAI 2019.
Only a few years ago, physicians were too concerned about short-term survival among cancer patients to even consider treating their heart, session moderator Cezar Iliescu, MD (University of Texas MD Anderson Cancer Center, Houston, TX), told TCTMD. "But [since] the cancer therapies have evolved to an extent right now [that] every 2 to 3 months we have novel therapies that can be really curative, it's way more important for us to provide the cardiovascular status and health to sustain this hope for survivorship in the end. So we've simplified the approach. Basically, if the patient is fighting and the oncologist is fighting, we completely support cardiovascular care."
Thanks in part to the SCAI expert consensus document on cardio-oncology that was published in Catheterization and Cardiovascular Interventions in 2016, Iliescu said, "the field is evolving and is gaining clarity. More and more people do it and realize the feasibility of it and the value of it in our patients."
Iliescu said the number of cardiovascular procedures performed in cancer patients has grown in recent years, and experts have called for increased training programs to adequately prepare physicians to treat this population. "The results are there suggesting that we improve survivorship [and] we decrease costs, which are both big, big, big issues in the environment right now," he commented. "And then we're looking forward. Obviously the technology is providing us with a new dimension in supporting these cancer patients."
DAPT Duration and Cancer
Speaking on the topic of ACS in cancer patients, Konstantinos Dean Boudoulas, MD (Ohio State University Medical Center, Columbus), said cancer's implications for dual antiplatelet therapy (DAPT) duration following PCI are numerous. Moreover, as the debate rages on regarding DAPT duration in patients without cancer, he noted that randomized data are exceedingly limited for those with cancer, as they are usually excluded from cardiovascular trials. "Cancer is prothrombotic and proinflammatory and associated with a higher-risk of stent thrombosis and stent restenosis, so what is ideal DAPT?" he asked. "Should it be more than 12 months to decrease the risk of stent thrombosis? We're not entirely sure."
Additionally, because some chemotherapy agents are thrombogenic and can delay stent endothelialization, these too can impact DAPT duration, according to Boudoulas. "If you're going to undergo cancer surgery and you have a stent, do not stop aspirin as you can increase the risk of stent thrombosis," he advised. "And be mindful of upcoming noncardiac surgeries and procedures. If the patient can't tolerate DAPT after stenting, then consider balloon angioplasty and maybe stenting after the surgery."
Cancer is prothrombotic and proinflammatory and associated with a higher-risk of stent thrombosis and stent restenosis, so what is ideal DAPT? Konstantinos Dean Boudoulas
For those who do need to discontinue DAPT prematurely, whether it be for a surgery or another cancer-related issue, presenter Konstantinos Marmagkiolis, MD (Pepin Heart Institute, Tampa, FL), advised avoidance of glycoprotein IIb/IIIa inhibitors. This is because they have been shown to cause more bleeding in cancer patients. "If a patient can be sent home, we usually recommend a low-molecular-weight heparin for 5 to 7 days after the discontinuation of Plavix and the patient comes back and has the surgery," he explained. "If the patient has to stay in the hospital, we recommend cangrelor or low-molecular-weight heparin."
Additionally, for patients with ACS who received PCI with stenting and would "normally be on 12 months therapy," Marmagkiolis said he recommends "the PROTECT-OCT approach, meaning we get the patient to the cath lab and we perform [optical coherence tomography]. Based on that, we will make a decision whether we should clear him or do other procedures before we clear for surgery."
Ultimately, cardio-oncology is about individualizing patient care. "Use a heart team approach to come up with the best therapy for your patient," Boudoulas said, adding that "we need to develop more national and international registries to help provide us with valuable information on the diagnosis and management of these patients who have cancer and coronary disease and to better treat this patient population."
Becoming an Expert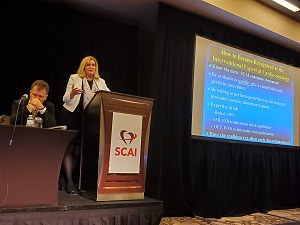 In her presentation, Cindy Grines, MD (Northwell Health, Manhasset, NY), said that interventional cardiologists seeking to play a more active role in the treatment of cancer patients need to be experts in their specialty as well as on the complexities of cancer treatments and how they can affect the cardiovascular system. "Not only are you going to be approached with patients who are in the hospital—have active cancers and receiving chemotherapy—that have problems, but there's also lots of survivors, and these survivors will be quite different than a de novo patient who presents with atherosclerosis," she said.
While some larger academic institutions employ a cardio-oncology team model with the interventional cardiologist being supported by cancer specialists, surgeons, imagers, heart failure doctors, "many of us would be in smaller hospitals and we may not have a cardio-oncologist—that's a relatively new thing," she said. "So you have to perhaps wear two hats. That's why it's important to learn about more than the just the cath lab techniques."
In order to build a proper cardio-oncology practice, Grines recommends first knowing all of the available data. "There are so many differences between these cancer patients that you must know, and I think it would be really important for you to take a look and get to know [the] SCAI expert consensus document," she said, adding that a physician's availability is also key in terms of giving pre-op clearance for biopsies, surgeries, or even chemotherapy. "The patients are obviously very anxious. The physicians are very anxious to get things accomplished, and so you need to try to drop everything and be available to talk them through it and to take those patients to the cath lab if that's what's necessary."
Next, Grines said, a good cardio-oncologist has to "have some guts" in that he or she needs to "really be willing to perform procedures in the setting of very profound anemia and thrombocytopenia, and even give antiplatelet agents in that setting."
Cath lab expertise is also a must. "I think most of us do radial procedures here, but radial really should be performed in at least 90% of these cases if at all possible," Grines advised. "If you need to use femoral, then obviously use small sheath sizes, ultrasound guidance. I personally kind of like closure devices if necessary, but obviously do the double prep, change your gloves, do everything you can to try to prevent the infections."
Also, she said, "you don't have to treat everything—you want to do as little as possible, so that's where [instantaneous wave-free ratio] and [fractional flow reserve] come in handy. . . . The point is that you really want to make sure that stent is expanded, it's fully apposed, there's no edge dissections, and that will allow you to possibly discontinue the antiplatelet therapy earlier than what you might otherwise have done if there's an issue."
If the patient is fighting and the oncologist is fighting, we completely support cardiovascular care. Cezar Iliescu
Risk factors, beyond the traditional ones like age, diabetes, and cholesterol, tend to be more complicated among cancer patients. "It's important to point out what patients might be at risk and how you might be approached to see these patients," Grines said. "Cancer may make them hypercoagulable, and . . . there are several chemotherapeutic agents that can increase the patient's risk of having issues." She recommended keeping a list handy of which ones can cause complications like vasospasm, clotting, thrombosis, and even acute limb ischemia of the legs. "If you know those agents, you could even potentially give your input if the oncologist is willing to talk about which agents should be used in a patient who has risk factors for coronary disease," Grines suggested.
Lastly, "if you want to be an expert, you need to know how to get these cath and interventional referrals," Grines said. "You should really speak at all the conferences, whether they're cardiology, medicine, grand rounds, [hematology/oncology] conferences. Even go so far as to attend the tumor boards and other multidisciplinary conferences. Even if you're not speaking at conferences, if you have M&M or various fellow presentations, chime in. Make sure that everybody knows that you have some expertise in that area and eventually they'll start looking at you to give you the referrals."
The Future of the Field
The kind of methodology Grines described is "very, very rewarding," Iliescu said. "It's different than the traditional approach where you just make decisions on the patient's behalf in the cath lab."
However, because cardiologists are used to interpreting randomized evidence to tell them whether to choose one treatment or another, perhaps the biggest challenge for those in the cardio-oncology world—where those data are lacking—will be learning to treat patients on a more individualized basis, he observed. "It's obviously just [up to] us as a community to get more experience, knowledge, and really kind of fuse that in a more systematic, consensus approach. I think that's going to be the future. We'll probably revisit all the things that we're doing right now and try to identify a more defined and more standardized rather than artistic care that we're providing right now."
Iliescu has advice for someone looking to become more involved in this growing field: just keep learning. "We are having more and more meetings throughout the country to try and disseminate this knowledge and different avenues," he said.

Yael L. Maxwell is Senior Medical Journalist for TCTMD and Section Editor of TCTMD's Fellows Forum. She served as the inaugural…
Read Full Bio
Sources
Boudoulas KD. Acute coronary syndrome in cancer patients. Presented at: SCAI 2019. May 21, 2019. Las Vegas, NV.

Marmagkiolis K. Management of premature DAPT discontinuation during cancer therapy. Presented at: SCAI 2019. May 21, 2019. Las Vegas, NV.

Grines CL. Developing new interventional onco-cardiology practices. Presented at: SCAI 2019. May 21, 2019. Las Vegas, NV.
Disclosures
Iliescu, Boudoulas, Marmagkiolis, and Grines report no relevant conflicts of interest.