Cangrelor After Ticagrelor Pretreatment in ACS Might Be OK: SWAP-5
The study found potent platelet inhibition and no drug-drug interactions, but hard outcome studies are needed, experts say.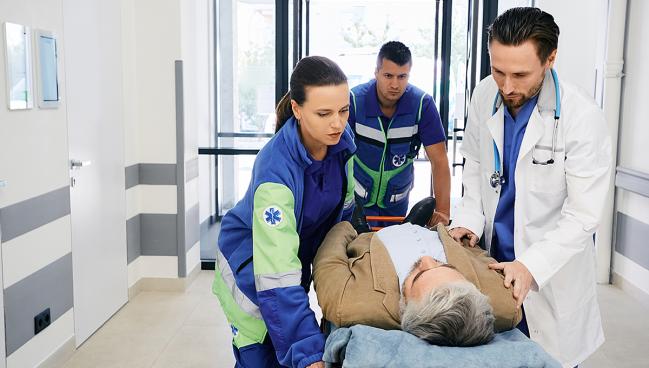 CHICAGO, IL—In stable CAD patients pretreated with ticagrelor, switching to intravenous cangrelor (Kengreal; Chiesi) results in enhanced platelet inhibition with no drug-drug interactions identified, according to the small SWAP-5 trial.
The findings suggest that patients those who develop an acute coronary syndrome needing urgent PCI could safely be bridged with cangrelor following pretreatment with ticagrelor without worrying about a loss antithrombotic protection following discontinuation, investigators say.
The crossover design of this pharmacokinetic and pharmacodynamic study was meant to simulate what might happen in the acute setting, explained senior author Dominick Angiolillo, MD, PhD (University of Florida College of Medicine – Jacksonville). "Our study provides insights that if a patient has been pretreated for a short period of time, . . . cangrelor does provide additional platelet inhibition and we can use it safely without concerns for drug interactions," he told TCTMD.
Commenting on the study for TCTMD, Jennifer Rymer, MD (Duke University Medical Center, Durham, NC), said the results are reassuring especially for clinicians who often face this clinical scenario, as well as the one in which patients come in having been on ticagrelor at home.
"A lot of us are conflicted in the interventional community when a patient comes in," she said. "[We ask,] what do I exactly do? Do I feel comfortable just continuing, knowing that they've been on [ticagrelor] at home and they're telling me that they've been taking it the way it's prescribed? Or am I okay to use an additional agent like cangrelor on top of an agent like ticagrelor to safely perform a procedure and hopefully not have any downstream ischemic risk immediately subsequent to the PCI?"
While the study doesn't offer insight into clinical endpoints, Rymer added that it is "that first step to understand from a pharmacologic standpoint that this is an effective strategy."
Cangrelor, distinguishable from other antiplatelet agents by its very swift onset and reversible effects, was approved in 2015 by the US Food and Drug Administration for use during PCI in patients not pretreated with an oral P2Y12 inhibitor. Prior research has indicated that it might be safe to use in STEMI patients in conjunction with ticagrelor, but studies have been small and performed at a limited number of centers. Other studies have suggested potentially harmful drug-drug interactions between cangrelor and both clopidogrel and prasugrel, because the drugs bind to the same target on the platelet membrane surface that that could increase the risk of thrombosis unless clinicians institute a pause before switching medications.
SWAP-5 was published online last month in JACC: Cardiovascular Interventions and presented as an abstract at the American Heart Association (AHA) 2023 Scientific Sessions by Luis Ortega-Paz, MD, PhD (University of Florida College of Medicine – Jacksonville).
SWAP-5 Results
For the Switching Antiplatelet Therapy-5 (SWAP-5) study, Francesco Franchi, MD (University of Florida College of Medicine – Jacksonville), Angiolillo, and colleagues enrolled 20 patients with stable CAD who had been on low-dose aspirin for at least 1 month. All patients began the study with a 180-mg pretreatment dose of ticagrelor and 1 hour later were then randomized to receive a 2-hour IV infusion of either cangrelor or placebo. After a washout period of between 1 and 4 weeks, patients then crossed over and repeated the process with the other treatment.
Compared with placebo, adding cangrelor after ticagrelor pretreatment resulted in a significant drop in platelet reactivity as measured by VerifyNow P2Y12 reaction units (PRUs) at both 30 minutes (P = 0.001) and 1 hour (P = 0.005). By 2 hours after stopping the infusion, PRU values were low and similar for both those receiving cangrelor and placebo (16.9 vs 12.6), which met the study's criteria for noninferiority.
All pharmacodynamic assays, including light transmittance aggregometry, vasodilator stimulated phosphoprotein, and total thrombus-formation analysis system, showed consistent findings throughout the study. There were also no pharmacokinetic differences observed between the cohorts in terms of ticagrelor plasma and metabolite levels.
While SWAP-5 met its endpoints, "the limitation of the study is that we did not conduct this in the [actual] setting of acute patients undergoing PCI," Angiolillo said. "Obviously, doing this would be somewhat challenging for the predefined objectives of ruling out a drug-drug interaction."
Common practice at his hospital is not to pretreat STEMI patients with ticagrelor, said Angiolillo. But, he added, "the take-home message is if you have a patient who has been pretreated with ticagrelor within a relatively short time frame, cangrelor is able to provide additional platelet inhibition providing adequate antithrombotic coverage, particularly during a PCI procedure and after stopping the infusion of cangrelor. There are no concerns of drug-drug interactions with a natural and smooth transition to oral P2Y12 inhibition."
Clinical Outcomes Needed
Also commenting on the study for TCTMD, Giuseppe Gargiulo, MD, PhD (University Federico II of Naples, Italy), called the findings "robust." In an email, he said "these data suggest that even in ticagrelor-pretreated patients, cangrelor can provide enhanced platelet inhibition with limited high residual platelet reactivity and overcome the gap in platelet inhibition observed with oral P2Y12 inhibitors."
While this small study "poses the basis for designing future studies investigating this topic in STEMI patients, only larger trials assessing the impact of this strategy on clinical outcomes might have the potential of being practice-changing," Gargiulo added.
Rymer, too, said she will wait for more data before changing her practice. "This makes me feel a little bit better when I'm using the strategy, but what I want to know is what are the effects on bleeding. . . . Because what we've answered here is that it's effective. I don't know that we've answered the safety question," she cautioned.
The ongoing CAMEO registry, for which she is the principal investigator, will hopefully answer some of these questions, Rymer added.
However, for now, she would consider using a cangrelor after ticagrelor strategy in a patient with "really high ischemic risk" who potentially has heavy thrombus on angiography or high-risk anatomy.
"Cangrelor is such an important drug, and it's very underutilized," she observed, adding that more observational studies of cangrelor used with oral P2Y12 inhibitors as well as in the cardiogenic shock population are needed. For the latter, "we obviously use it there because patients can't swallow, a lot of time they are intubated, or they have poor GI motility. But we have very little data in that population, and I would love to see more information on the safety and efficacy profile."
Angiolillo confirmed that the ongoing SWAP-6 study will look at the strategy of switching between cangrelor and prasugrel in a population of patients undergoing PCI, with results expected to be released in 2023.

Yael L. Maxwell is Senior Medical Journalist for TCTMD and Section Editor of TCTMD's Fellows Forum. She served as the inaugural…
Read Full Bio
Disclosures
The study was funded by an investigator-initiated grant from The Scott R. MacKenzie Foundation.
Franchi reports receiving payment as an individual for consulting fee or honoraria from AstraZeneca, Bayer and Sanofi; and institutional payments for grants from PLx Pharma and The Scott R. MacKenzie Foundation.
Angiolillo reports receiving consulting fees or honoraria from Abbott, Amgen, AstraZeneca, Bayer, Biosensors, Boehringer Ingelheim, Bristol-Myers Squibb, Chiesi, Daiichi-Sankyo, Eli Lilly, Haemonetics, Janssen, Merck, Novartis, PhaseBio, PLx Pharma, Pfizer, and Sanofi; and institutional research grants from Amgen, AstraZeneca, Bayer, Biosensors, CeloNova, CSL Behring, Daiichi-Sankyo, Eisai, Eli Lilly, Gilead, Idorsia, Janssen, Matsutani Chemical Industry Co., Merck, Novartis, and the Scott R. MacKenzie Foundation.
Rymer reports serving as the principal investigator for the CAMEO registry.
Gargiulo and Ortega-Paz report no relevant conflicts of interest.