Coconut Oil Ups LDL Cholesterol Compared With Other Fats: Meta-analysis
Despite popular belief, coconut oil has no anti-inflammatory or glycemic benefits, leading experts to discourage its consumption.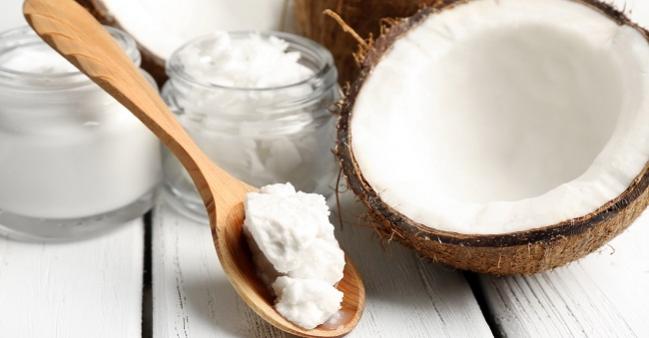 Coconut oil consumption leads to higher levels of LDL cholesterol compared with other vegetable oils, according to a new meta-analysis. In contrast to popular belief, coconut oil also was not linked to lower rates of inflammation, glycemia, or adiposity, leading experts to discourage its use.
"I've always been kind of flabbergasted by this popular culture fascination with coconut oil when it's one of the most fatty substances on the planet, and I think this study confirms some of those things we've seen play out in smaller individual studies as well," Deirdre Mattina, MD (Henry Ford Health System's Women's Heart Center, Detroit, MI), who was not involved with the study, told TCTMD.
The confusion has stemmed from widespread claims that coconut oil has anti-inflammatory properties that are based on smaller studies from geographically isolated populations, she said. "A lot of that we sort of took out of context and from what other components are available in those populations' diets. And then people are just naturally always looking for something that's marketed as being natural or different in processing, so I think they're flocking to those things and maybe misinterpreting what healthy really is."
Senior author Rob M. van Dam, PhD (National University of Singapore), told TCTMD that the researchers embarked on this study because of how widely coconut oil is promoted in the press as being beneficial.
"Given the many claims of health benefits, . . . one would expect there is substantial evidence from clinical trials in humans that supports these claims. From that perspective, it is surprising that this scientific support for these claims is lacking," he said in an email. However, van Dam added, "based on a more detailed understanding of the fatty acid composition of coconut oil and the biology of these fatty acids our findings are not surprising."
Comparisons to Other Oils
For the study, published online this week ahead of print in Circulation, van Dam along with Nithya Neelakantan, PhD, and Jowy Yi Hoong Seah, BSc (both National University of Singapore), included 16 international trials comparing the effects of at least 2 weeks of coconut oil consumption with other nontropical vegetable oils or palm oil on cardiovascular risk factors. In total, eight trials reported on body weight, five on body fat, four on waist circumference, four on fasting plasma glucose, and five on C-reactive protein.
Compared with nontropical vegetable oils, coconut oil significantly increased total cholesterol, LDL cholesterol, and HDL cholesterol but not triglycerides, body measurements, glycemia, or C-reactive protein.
Effects of Coconut Oil vs Nontropical Vegetable Oils in All Trials
| | | |
| --- | --- | --- |
|   | Pooled Estimate | 95% CI |
| Total Cholesterol, mg/dL | 14.69 | 4.84-24.53 |
| LDL Cholesterol, mg/dL | 10.47 | 3.01-17.94 |
| HDL Cholesterol, mg/dL | 4.00 | 2.26-5.73 |
| Triglycerides, mg/dL | 2.39 | -1.13-5.91 |
| Body Weight, kg | -0.23 | -0.82-0.36 |
| Waist Circumference, cm | -0.63 | -2.44-1.19 |
| % Body Fat | 0.03 | -0.33-0.38 |
| Fasting Plasma Glucose, mmol/L | 0.12 | -0.11-0.35 |
| C-Reactive Protein, mg/L | -0.001 | -0.85-0.85 |

The results were maintained in similar analyses excluding nonrandomized trials and weight-loss intervention trials.
Compared with palm oil, coconut oil also significantly increased total cholesterol by 25.57 mg/dL, LDL cholesterol by 20.50 mg/dL, and HDL cholesterol by 2.83 mg/dL but did not impact triglycerides.
Not a Healthy Oil
"The hypercholesterolemic effect of coconut oil intake is probably attributable to its high saturated fat content," the authors write. "Our results on adverse effects of coconut oil as compared with alternative cooking oils on LDL cholesterol concentrations thus align with dietary recommendations to replace saturated fat with polyunsaturated fat."
Indeed, said van Dam, "coconut oil consists of about 90% saturated fat, which is higher than the proportion of saturated fat in butter or lard." Another factor is that lauric acid is highly prevalent; while it is chemically classified as a medium-chain fatty acid—thought to be healthier due to rapid absorption and metabolism—it behaves more like a long-chain fatty acid, he explained. "Furthermore, about a quarter of coconut fat consists of the long-chain saturated fatty acids myristic acid and palmitic acid."
Consuming coconut oil holds no benefits with regards to "body fatness, inflammation, blood sugar, or heart health, van Dam stressed, adding, "In contrast, high coconut consumption increases blood LDL-cholesterol concentrations and may thus increase risk of heart disease."
That said, "limited sporadic use of coconut oil for taste in cooking is unlikely to have a substantial detrimental effect," he acknowledged.
Mattina agreed that coconut oil consumption should be discouraged by physicians. "It is not something that I would recommend for any of my patients who have established coronary disease or even if they're trying to prevent coronary heart disease," she said, adding that virgin olive or canola oils are good replacements when used sparingly.
I've always been kind of flabbergasted by this popular culture fascination with coconut oil when it's one of the most fatty substances on the planet. Deirdre Mattina
In an accompanying editorial, Frank Sacks, MD (Harvard TH Chan School of Public Health, Boston, MA), echoes these recommendations.
"Coconut oil may be viewed as one of the most deleterious cooking oils that increases risk for cardiovascular disease," he writes. "Even in comparison with palm oil, another tropical oil with high saturated fat content, coconut oil increased LDL cholesterol. Replacing coconut oil with nontropical unsaturated vegetable oils, especially those rich in polyunsaturated fat, will have a health benefit. We believe that the results from the present meta-analysis can inform the development of nutrition recommendations and USDA dietary guidelines. In culinary practice, coconut oil should not be used as a regular cooking oil, although it can be used sparingly for flavor or texture."
For van Dam, the next logical step in terms of research is to see whether consuming coconut oil has any link to cardiovascular disease outcomes, not just markers of disease like serum cholesterol.

Yael L. Maxwell is Senior Medical Journalist for TCTMD and Section Editor of TCTMD's Fellows Forum. She served as the inaugural…
Read Full Bio
Disclosures
Neelakantan, Sacks, and Mattina report no relevant conflicts of interest.