Competitive Triathletes Show Evidence of Myocardial Fibrosis
Despite the finding, experts say the long-term significance of myocardial scarring is unknown and athletes shouldn't (yet) needlessly worry.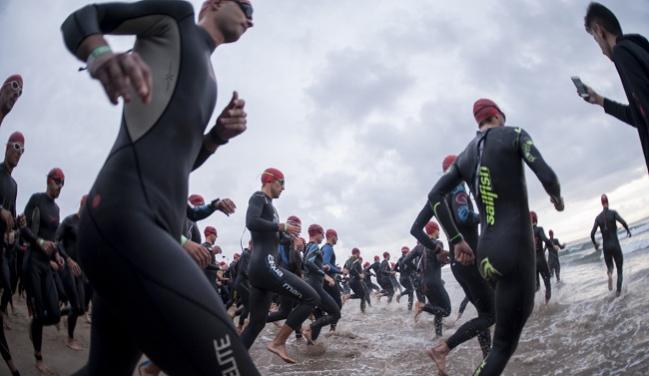 Competitive male athletes who participate in triathlons, specifically those who compete in long-distance events, are at risk of developing myocardial fibrosis, according to the results of a small study.
In a cohort of 54 male and 29 female triathletes who train more than 10 hours per week, nonischemic focal fibrosis was detected by late gadolinium enhancement (LGE) cardiac magnetic resonance imaging (CMR) in nine athletes, all of whom were male. The male athletes with myocardial fibrosis participated in longer races, particularly longer swimming and cycling events, and were more likely to participate in middle- and ironman-distance triathlons, report investigators.
Gunnar Lund, MD (University Hospital, Hamburg, Germany), the study's senior investigator, told TCTMD the long-term clinical relevance of the CMR finding is unknown, but that "one thing we can say is that it's not normal."
Everybody knows of at least one athlete who died suddenly during exercise. It happens all over the world. Gunnar Lund
"It indicates some kind of damage to the heart, but we don't know whether these smaller myocardial scars will have an impact on heart function," he said. "It's an aspect we need to further analyze. We know that patients with fibrosis can develop cardiac arrhythmias and these arrhythmias can result in sudden cardiac death. This is our general concern. Everybody knows of at least one athlete who died suddenly during exercise. It happens all over the world." 
Still, Lund cautioned that longer-term follow-up is needed, particularly since their study raises more questions than it answers. "Now, there are so many new questions about the origin of the myocardial fibrosis, the long-term sequelae, and the question why only male athletes have myocardial fibrosis and not female athletes," said Lund. He hopes it inspires other researchers to study some of these unknowns.
Kevin Harris, MD (Minneapolis Heart Institute Foundation, Minneapolis), who has studied the incidence of sudden cardiac death among US triathletes, said studies such as these are not intended to scare people away from physical activity, but like Lund he noted that the development of myocardial fibrosis is an intriguing finding.
"When you're laying down scar in your myocardium, we usually think of that as a negative," he told TCTMD. "So the fact that triathletes, a group that we'd typically consider quite healthy, are laying down more scar can't be a good thing. It's something we really need to study more."
In an editorial, Aaron Baggish, MD (Brigham and Women's Hospital, Boston, MA), agrees with that sentiment and notes the paradox of cardiac fibrosis developing in the "fittest and most physically capable segment of the human population." Like Lund, Baggish said scarring might be part of the causal pathway leading to malignant arrhythmias or ventricular systolic dysfunction. However, little is known about how to effectively manage asymptomatic athletes with fibrosis detected by CMR.
"While it is possible that such athletes represent the proverbial sudden cardiac death canary in the coal mine, it is far more likely that most cases of incidentally detected scar represent benign evidence of prior cardiac injury," writes Baggish.
The results of the study were published December 13, 2017, in JACC: Cardiovascular Imaging.
Prior Studies Identified Fibrosis in Older Athletes
The study included 83 competitive athletes, mean age 43 years, who regularly participated in triathlons at various distances over the past 3 years. In addition, 36 control subjects were included in the study. These control subjects exercised 1.3 hours per week.
Nonischemic myocardial fibrosis was detected in 17% of the male triathletes but in none of the female athletes. The men with scarring had higher peak exercise systolic blood pressure and larger left ventricular mass indices than the male athletes without fibrosis, although physical-fitness levels did not differ between these two groups. In terms of competition history, the men with fibrosis competed in longer-distance events, including Ironman distance triathlons (3.8-km swim, 180-km bike, and 42.2-km run).
"We were amazed that only the males had this myocardial fibrosis," said Lund. "We still don't understand what the reason is and we can only speculate."   
To TCTMD, Lund said that in previous studies, some researchers believed that the identification of myocardial fibrosis on CMR was an incidental finding in endurance athletes. Their study, however, suggests that the development of myocardial scarring is related to exercise volume. In multivariate analysis, swimming distance and peak exercise systolic blood pressure were identified as predictors of LGE-positive athletes. Long-distance cycling during the triathlon, however, had the best accuracy for predicting LGE (area under the curve 0.876).
"We think [fibrosis] is related to the sports, and we think it's related to the amount of sport," said Lund. "At present, though, we have no data to make any recommendations. We don't want to frighten any athlete, and we don't want to stop them or have them refrain from sports until we have clear information. Right now, it's worth being aware of the problem. Maybe, if you're doing very long distances, like training for an Ironman, it's wise to schedule an MRI to check for fibrosis."
One thing we can say is that it's not normal. Gunnar Lund
However, Lund said that even if myocardial fibrosis is detected by CMR, the researchers can't make any recommendations regarding athletic participation. "It's just too early," he said. "Maybe it's just a little scar on your heart without any impact on your future. It's really difficult to make any good recommendations. I can make a lot of bad recommendations, but we won't." 
Harris told TCTMD that in their USA Triathlon series, which was published in the October 17, 2017, issue of Annals of Internal Medicine, autopsies were performed in 46 of 109 individuals who died participating in triathlons between 1985 and 2015. Of the deceased with autopsies, nearly half had definite cardiovascular abnormalities, such as coronary lesions or cardiomyopathy. Myocardial scarring, he noted, could serve as a substrate to an arrhythmia, although the present study is simply "hypothesis-generating."
"However, it appears there are a subset of individuals who might be at risk," said Harris, noting that scarring was predominantly in those who participated in longer-distance events. In earlier studies, such as a CMR study of healthy male marathon runners from 2009, the prevalence of myocardial fibrosis was 12%. "But it's not an entirely consistent finding in all MRI studies that have looked at marathon runners," added Harris.
Lund pointed out that half of the athletes with fibrosis also had hypertension during exercise, which might be an aspect of health worth managing. If there is evidence of exercise-induced systolic hypertension, competitive athletes participating in long-distance endurance events might be wise to consider antihypertensive medications to lower blood pressure, said Lund.
Interestingly, the researchers showed the myocardial scarring on CMR to all nine athletes in the study, but none said they planned to refrain from future triathlons. For the time being, and given the lack of information about what the fibrosis means, Lund said this is the right call.
"They're ambitious, and they like their sport so much," he said. "We would take away something very important to them if we told them to stop."  

Michael O'Riordan is the Associate Managing Editor for TCTMD and a Senior Journalist. He completed his undergraduate degrees at Queen's…
Read Full Bio
Disclosures
Lund, Harris, and Baggish report no relevant conflicts of interest.