Dapagliflozin Has Benefits Across Heart Failure Subgroups
The SGLT2 inhibitor had a consistent impact regardless of diabetes status, age, and health status.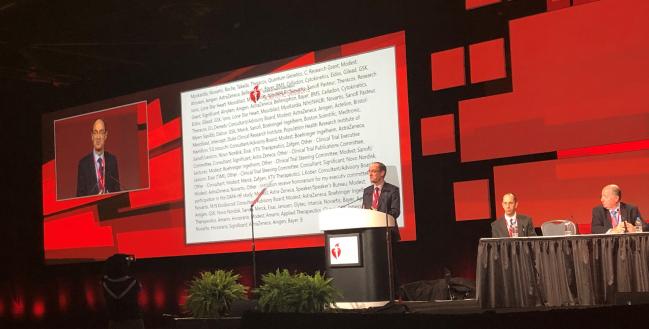 PHILADELPHIA, PA—Dapagliflozin (Farxiga; AstraZeneca), originally developed for the treatment of type 2 diabetes, has a broad, positive impact across various subsets of patients with chronic heart failure and reduced ejection fraction (HFrEF), including those without diabetes, according to new data out of the DAPA-HF trial.
The main trial results, reported in September at the European Society of Cardiology Congress in Paris, France, showed that in HFrEF patients with and without type 2 diabetes, dapagliflozin given on top of standard heart failure therapies improved hard clinical outcomes and symptoms versus placebo. A subgroup analysis indicated that the benefits were consistent regardless of diabetes status.
Now, at the American Heart Association (AHA) 2019 Scientific Sessions here, three new presentations dug deeper into the results in nondiabetic patients and across the spectrums of age and baseline health status.
Dapagliflozin, a sodium glucose co-transporter 2 (SGLT2) inhibitor, was well tolerated and had consistent and clinically meaningful effects across all of the groups studied.
"I've been in the business for a long time. We don't normally see trials that are this clean all across the multiple endpoints with such few side effects," Douglas Mann, MD (Washington University School of Medicine, St. Louis, MO), who was not involved in DAPA-HF, commented to TCTMD. "It's a really compelling story, and the interesting thing is we have no idea about mechanism."
I've been in the business for a long time. We don't normally see trials that are this clean all across the multiple endpoints with such few side effects. Douglas Mann
Finding out how the drug is having such positive effects in heart failure will be important for the development of even more effective medications in the future, but the issue is less important for practicing clinicians, said Mann, a spokesperson for the American College of Cardiology.
"The good news is that there'll be a drug that's easy to give, with very few side effects, and you really don't have to uptitrate it the way you do with sacubitril/valsartan [Entresto; Novartis]," he said, adding that dapagliflozin probably has fewer effects on blood pressure and renal function compared with the angiotensin receptor-neprilysin inhibitor (ARNI).
It remains to be seen how dapagliflozin will fit into a HFrEF toolbox that is becoming fuller, Mann said.
"I think the practice guidelines will probably have to sort that out, but I think this will work its way as a class I indication into the management of patients with heart failure," he predicted. "Where it fits in terms of timing of when we start it, I don't want to speculate on that."
Dapagliflozin's Consistent Effects
DAPA-HF, conducted in 20 countries, randomized 4,744 patients with NYHA class II or greater heart failure, LVEF of 40% or lower, and NT-proBNP of 600 pg/mL or higher. Through a median follow-up of 18 months, the addition of dapagliflozin 10 mg on top of standard therapies reduced the risk of the primary composite outcome of a first episode of worsening heart failure or CV death (16.3% vs 21.2%; HR 0.74; 95% CI 0.65-0.85).
John McMurray, MD (University of Glasgow, Scotland), presented the first of the DAPA-HF analyses here at the AHA meeting, focusing on patients without diabetes, who made up 55% of the trial population.
Treatment effect was consistent across various clinical outcomes, including the primary endpoint, all-cause death, CV death, a first episode of worsening heart failure, CV death/HF hospitalization, and CV death/total hospitalizations, regardless of diabetes status (P for interaction = NS for all). The SGLT2 inhibitor's benefits in terms of the primary endpoint and CV death alone were consistent across baseline glycated hemoglobin levels in patients without diabetes.
Moreover, the likelihood of having a clinically meaningful improvement in health status—at least a 5-point change on the Kansas City Cardiomyopathy Questionnaire (KCCQ) total symptom score—was greater in the dapagliflozin arm in both diabetics and nondiabetics.
Diabetes status did not change the fact that dapagliflozin had no a significant impact on renal function and did not increase adverse events.
"We feel that this really is quite strong evidence that dapagliflozin, which was . . . originally introduced as a diabetes drug, clearly is a drug that is beneficial for heart failure, including patients with heart failure who do not have type 2 diabetes," McMurray said during a media briefing.
The theme of uniform results across patient subsets was the same in two additional analyses, one presented by Mikhail Kosiborod, MD (Saint Luke's Mid America Heart Institute, Kansas City, MO), looking at symptoms, function, and quality and one presented by Felipe Martinez, MD (Universidad Nacional de Córdoba, Argentina), looking at effects across age groups.
The findings of the trial did not significantly differ across tertiles of KCCQ total symptom score at baseline. In addition, there was a greater increase in symptoms, functional status, and quality of life over time in the dapagliflozin arm, with patients receiving the SGLT2 inhibitor being more likely to achieve clinically meaningful gains in KCCQ score.
"The effects were substantial with numbers-needed-to-treat that were between 12 and 18 even in this very rigorously controlled, double-blind trial," Kosiborod told the media.
And in the age analysis, which was post hoc, the oldest patients gained at least as much, if not more, from dapagliflozin treatment relative to their younger peers, with similar tolerability.
"Maybe the most important thing to take away from this is because older patients are at much higher absolute risk, that similar relative risk reduction . . . translates into an even larger absolute benefit in older patients, who as we unfortunately know, are often denied effective therapies," McMurray said.
A New Foundational HFrEF Therapy?
Carolyn Lam, MBBS, PhD (National Heart Centre Singapore), who served as a discussant following the age and health status presentations, said there are many remaining questions after DAPA-HF, including whether the effects are specific to dapagliflozin or to the class of SGLT2 inhibitors; what the drug's effect is when used in combination with sacubitril/valsartan; whether dapagliflozin will be an option for HF patients who are hospitalized or who have preserved ejection fraction; and, importantly, what are the challenges to implementation.
"Dapagliflozin now fulfills all three goals of heart failure management: patients die less, are hospitalized less, and feel better, and this is regardless of age or diabetes status," Lam said at the media briefing. "Now, if these data are confirmed in other SGLT2 inhibition in heart failure trials, this really suggests that SGLT2 inhibition may be the next foundational pillar of HFrEF treatment."
Dapagliflozin now fulfills all three goals of heart failure management: patients die less, are hospitalized less, and feel better, and this is regardless of age or diabetes status. Carolyn Lam
Larry Allen, MD (University of Colorado Hospital, Aurora), who served as a discussant following the analysis of nondiabetic patients, said a big question moving forward will be how to handle use of multiple effective drugs in the HFrEF population.
Both sacubitril/valsartan and dapagliflozin have now been shown to have benefits in this setting, he noted in a media briefing, and "I would ask you not which drug we should use but perhaps why don't we use more of both of these drugs."
Allen said, "I would argue we need to think a little more about sequencing, about how we add these multiple agents, about how . . . we handle polypharmacy for patients, about the value of these drugs for society, but also [about] the financial toxicity that multiple agents can cause for patients with high out-of-pocket costs."
Mann pointed out that based on current guidelines, physicians would start their HFrEF patients on sacubitril/valsartan. But, he noted, an analysis of DAPA-HF showed that dapagliflozin's effects were similar both in patients who were and who were not taking the ARNI.
"That raises the question: when we approach patients, will [dapagliflozin] be used instead of Entresto? Or on top of Entresto?" Mann said. There are not a lot of data to inform those decisions right now, he explained, adding, "I don't think people are going to walk away from sacubitril/valsartan. Those are really good drugs. They work. They work very effectively."

Todd Neale is the Associate News Editor for TCTMD and a Senior Medical Journalist. He got his start in journalism at …
Read Full Bio
Disclosures
The DAPA-HF trial was funded by AstraZeneca.
McMurray reports receiving nonfinancial support and other from AstraZeneca during the conduct of the study, as well as other from Bayer, DalCor, Pfizer, Bristol-Myers Squibb, and Merck; and nonfinancial support and other from Cardiorentis, Amgen, Oxford University/Bayer, Theracos, Abbvie, Novartis, GlaxoSmithKline, Vifor-Fresenius, Kidney Research UK, and Novartis unrelated to the study.
Kosiborod reports having received grants, honoraria, and other research support from AstraZeneca, grants and honoraria from Boehringer Ingelheim, and honoraria from Sanofi, Amgen, Novo Nordisk, Merck (Diabetes), Eisai, Janssen, Bayer, GlaxoSmithKline, Glytec, Intarcia, Novartis, Applied Therapeutics, Amarin and Eli Lilly.
Martinez reports having received personal fees from AstraZeneca as an honorarium for being an Executive Committee Member for DAPA-HF.
Mann reports receiving payments from Novartis for serving on the steering committee of the PARADISE-MI trial of sacubitril/valsartan.