Does It Matter How Clot Is Removed in Acute Ischemic Stroke? Maybe Not
The ASTER trial suggests that aspiration catheters may be as good as stent retrievers for opening arteries in patients with large vessel occlusions.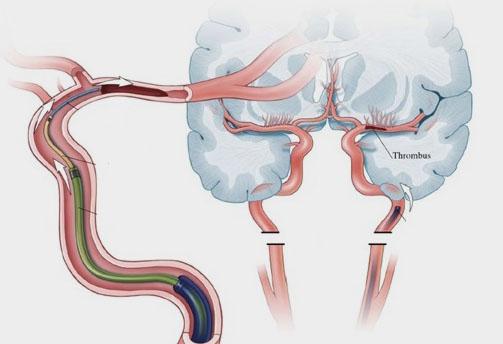 HOUSTON, TX—A strategy employing aspiration thrombectomy as the front-line approach achieves recanalization rates similar to those seen when stent retrievers are used as the first option in patients with acute ischemic strokes caused by large vessel occlusions, the French ASTER trial shows. But questions remain regarding cost, effects on clinical outcomes, and applicability to other populations.
Successful reperfusion (TICI score 2b/3) was observed in 85.4% of patients initially treated with a direct aspiration first pass technique (ADAPT) and 83.1% of those treated with stent retrievers (P = 0.53), Bertrand Lapergue, MD, PhD (Foch Hospital, Suresnes, France), reported at the International Stroke Conference here.
Use of rescue therapies tended to be higher in the ADAPT arm—though not significantly so (32.8% vs 23.8%; P = 0.053). But even when looking at recanalization after only the front-line strategy was used, reperfusion success was similar in the two study groups.
There were no differences between arms in terms of complications, intracranial hemorrhages, or new infarctions.
At a press conference, Ralph Sacco, MD (University of Miami, FL), who was not involved in the study, said ASTER is important in that "it really does show for the first time that an aspiration device is probably as safe and reasonable in terms of recanalization compared to the stent retriever."
One issue that influences interpretation of the trial, noted Sacco, who is a past president of the American Heart Association and an American Stroke Association spokesperson, is that the French population overall is more likely to have embolic strokes and less likely to have events related to intracranial stenosis compared with certain US patient groups, such as African Americans and Hispanics. It remains unclear, he said, whether that could influence the relative safety and efficacy of aspiration thrombectomy versus stent retrievers in the United States.
"I think this is very intriguing. I'd love to see more of this [type of research] done in patients in the US," Sacco said, pointing out that the Penumbra aspiration catheters used in the trial have already been approved for this indication by the US Food and Drug Administration.
A trial similar to ASTER—called COMPASS—is already ongoing in the United States, and it is about three-quarters complete, according to Aquilla Turk, DO (Medical University of South Carolina, Charleston), principal investigator of the study.
He told TCTMD that he was not surprised to see that an ADAPT-first approach provided results comparable to those seen with stent retrievers in ASTER, and added, "I think that we're going to show probably very similar and hopefully better results [in COMPASS] than what they showed."
He pointed out that even though most of the evidence supporting endovascular therapy for acute stroke comes from trials in which most patients were treated with stent retrievers, aspiration catheters have been used for longer in the United States and continue to be employed in many cases.
If COMPASS provides results similar to those seen in ASTER, it may provide enough support to position aspiration thrombectomy as an alternative to stent retrievers as standard of care in patients with large vessel occlusions, Turk suggested, saying that aspiration has some advantages.
"Aspiration is clearly faster, it's simpler, it's safer. To me it hits all of the easy argument points that you could ever make on something," he said. "I don't think there's something magical about a stent retriever that makes those patients do better. I think it's how good and how fast of a job you can do revascularizing these patients."
Moreover, Turk said, an aspiration catheter is less expensive than a stent retriever—about $2,500 versus about $7,000—so switching to an ADAPT-first approach could result in substantial cost savings for hospitals.
Regarding a potential clinical impact of the ASTER findings, Turk said that "aspiration is actually involved in a lot of cases already where people are using it in conjunction with a stent retriever as their first approach. I think that this will probably give a lot of those people the comfort to start trying aspiration first and then adding the stent retriever after that. And basically what that's going to do for them is just improve their bottom line by several thousand dollars per case on top of [gaining] a lot of speed."
Analyses of Clinical Outcomes, Costs Forthcoming
The ASTER trial, conducted at eight French centers, included 381 patients with acute ischemic strokes with imaging-confirmed large vessel occlusions in the anterior circulation. The patients were randomized to a front-line approach with either ADAPT or stent retrievers (mostly along with balloon guide catheters), and rescue therapies could be applied after at least three attempts with the assigned technique. IV thrombolytics were used in two-thirds of patients in each arm.
Time metrics were generally similar in the arms, although the time from clot contact to TICI 2b/3 reperfusion was shorter with aspiration (13 vs 23 minutes; P = 0.02). That did not make a difference in terms of the rate of successful recanalization.
Various complications, including embolization in a new territory, arterial perforation, arterial dissection, and vasospasm, occurred at similar rates in the two arms, and both approaches yielded comparable rates of symptomatic intracranial hemorrhage, subarachnoid hemorrhage, new infarct, and parenchymal hematoma on day 1.
Analyses looking at subgroups, clinical outcomes, and cost-effectiveness will be presented in May at the upcoming European Stroke Organisation Conference in Prague, Czech Republic, Lapergue said.
Photo Credit: Medical University of South Carolina (adapted)

Todd Neale is the Associate News Editor for TCTMD and a Senior Medical Journalist. He got his start in journalism at …
Read Full Bio
Sources
Lapergue B. ASTER trial: interest of direct aspiration first pass technique (ADAPT) for thrombectomy revascularization of large vessel occlusion in acute ischemic stroke. Presented at: ISC 2017. February 22, 2017. Houston, TX.
Disclosures
Lapergue reports receiving an unrestricted research grant from Penumbra for ASTER.
Sacco reports receiving a research grant from Boehringer Ingelheim for the RESPECT ESUS trial.
Turk reports consulting for and owning stock in Penumbra and having multiple other relationships with industry.