Drug Preconditioning Before CABG, Valve Surgery Shows Promise: START
RBT-1 favorably increased multiple biomarkers that suggest protection against organ damage in a phase II study.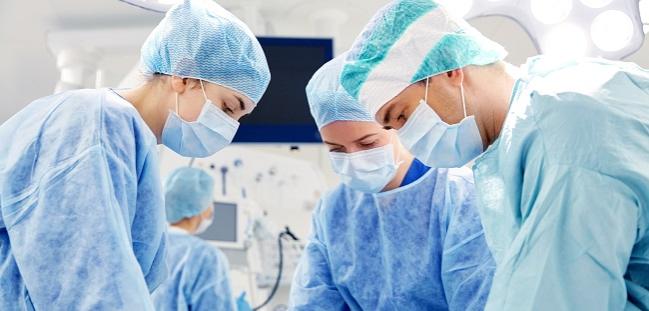 CHICAGO, IL—RBT-1, a novel pharmacologic approach to preconditioning, appeared beneficial in patients undergoing CABG and/or valve surgery in an interim analysis of the phase II START trial.
The treatment, a combination of stannous protoporphyrin (SnPP) and iron sucrose (FeS) administered 24 to 48 hours before surgery, significantly increased three biomarkers of cytoprotective preconditioning—the primary endpoint—compared with placebo, according to lead investigator André Lamy, MD (Population Health Research Institute, McMaster University, Hamilton, Canada).
There were also significant reductions in ventilator and ICU days, acute kidney injury, major adverse kidney events, and 30-day readmissions, he reported recently at the American Heart Association (AHA) 2022 Scientific Sessions.
The company developing RBT-1, Renibus Therapeutics, announced that the treatment has received Fast Track designation from the US Food and Drug Administration and will be vetted in a pivotal phase III trial starting early next year.
Commenting for TCTMD, AHA program committee chair Manesh Patel, MD (Duke University School of Medicine, Durham, NC), said, "The idea of preconditioning has been around for some time. It's exciting as a possibility, and I think the bypass surgery or surgical population is a great one because you know when the insult's going to happen so you can treat going into it."
The current findings are interesting, said Patel, who was circumspect when it came to interpreting the results because they came from an interim analysis of about half of the patients in this phase II trial.
"It's a small study," he said. "We've seen a lot of cardioprotective therapies before that in large phase III studies haven't panned out, but it's certainly encouraging from what I've seen."
Exposure to Minor Stress
Preconditioning, as a concept, involves exposure to minor stressors to protect against future damage. Remote ischemic preconditioning—induction of brief periods of ischemia using a sphygmomanometer on the arm or leg—has been tested in recent decades, although it hasn't worked very well, Lamy said.
RBT-1 represents a pharmacologic alternative to protect against damage among multiple organs. It's designed to elicit antioxidant, anti-inflammatory, and iron-scavenging effects.
In the START trial, conducted across multiple centers in the United States, Canada, and Australia, RBT-1 was tested in patients undergoing elective CABG and/or valve surgery on cardiopulmonary bypass, with the treatment given 24 to 48 hours before the operation. There were three randomized groups, each with 42 patients:
Placebo

Low-dose RBT-1 (45 mg SnPP/240 mg FeS)

High-dose RBT-1 (90 mg SnPP/240 mg FeS)
Lamy presented an interim analysis of the trial that included 60 patients for efficacy (they received the study drug and underwent surgery without delay) and 63 for safety (they received the study drug).
Overall, mean patient age was about 66 years, and 76% of participants were men. About half underwent CABG alone, 25% valve surgery alone, and 25% both. Mean duration of surgery was about 4.8 hours, and mean time on pump was about 1.9 hours, with similar figures in each group.
The primary endpoint was the preconditioning response based on three plasma biomarkers—heme oxygenase-1, ferritin, and interleukin-10. Mean composite biomarker response was significantly higher for both the high and low dose of RBT-1 compared with placebo (P < 0.0001 for both). There were significant increases for each of the three biomarkers with RBT-1 versus placebo (P < 0.01 for all).
Several secondary outcomes favored RBT-1 (high and low doses combined), as well:
Mean ventilator time (1.1 vs 3.2 days)

Mean ICU days (2.7 vs 7.0 days)

Acute kidney injury (13% vs 27%)

Major adverse kidney events at 30 days (5% vs 23%)

Readmissions at 30 days (3% vs 32%)
Safety was also very good, Lamy said, with adverse events mostly related to photosensitivity.
Patel said it's encouraging that both the biomarker changes and the clinical outcomes are going in the right direction, indicating a possible benefit of RBT-1, although he noted that some of the findings could be due to chance related to small numbers.
The biomarkers tested in this study correlate with clinical outcomes, but it's critical to determine in phase III studies whether therapies designed to modulate them have any other effects that could influence how patients fare one way or another, he indicated.
If the full phase II results remain consistent with the interim analysis presented by Lamy, there should be enough to move to phase III, Patel suggested.
And taking a broader look, he said, "I'm encouraged that we continue to do studies to look to see if we can improve patients undergoing cardiovascular procedures—namely, bypass surgery—where there is a significant up-front risk for our patients."

Todd Neale is the Associate News Editor for TCTMD and a Senior Medical Journalist. He got his start in journalism at …
Read Full Bio
Sources
Lamy A. Interim results of a phase 2 study with RBT-1 evaluating postoperative course in patients undergoing elective CABG/valve surgery on cardiopulmonary bypass. Presented at: AHA 2022. November 6, 2022. Chicago, IL.
Disclosures
The START trial was sponsored by Renibus Therapeutics.
Lamy reports no relevant conflicts of interest.