Dual Antithrombotic Approach in Patients With A-fib Undergoing PCI Boosted in RE-DUAL PCI
The RE-DUAL PCI findings provide a compelling reason to move away from traditional triple therapy with warfarin, Spencer King says.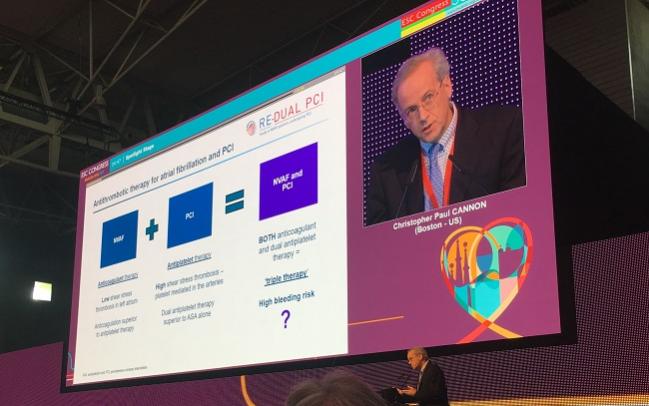 BARCELONA, Spain—The benefit of moving away from traditional triple antithrombotic therapy for patients with A-fib who have undergone PCI has been underscored further in the RE-DUAL PCI trial. The study showed that combining one of two dabigatran doses with a P2Y12 inhibitor lessens bleeding without increasing ischemic events as compared to triple therapy with warfarin, a P2Y12 inhibitor, and aspirin.
As Christopher Cannon, MD (Baim Institute for Clinical Research, Boston, MA), reported at the European Society of Cardiology Congress 2017 here, dabigatran 110 mg twice daily combined with either clopidogrel or ticagrelor cut the primary endpoint (major bleeding or clinically relevant nonmajor bleeding) an absolute 11.5% compared to triple therapy (15.4% vs 26.9%). This difference met criteria for both noninferiority and superiority, Cannon noted.
The 150-mg twice daily dose of dabigatran also reduced the primary endpoint by an absolute 5.5% versus triple therapy (20.2% vs 25.7%), a difference that met criteria for noninferiority.
Combining the two dosage arms, dabigatran was noninferior to triple therapy in terms of a composite of thromboembolic events, death, or unplanned revascularization (13.7% vs 13.4%; P = 0.005 for noninferiority), although there were numerically—but not significantly—higher numbers of some of those individual outcomes with the lower dose of dabigatran.
Along with WOEST and PIONEER AF-PCI, RE-DUAL PCI is "the third trial showing that dropping aspirin has a big effect in reducing bleeding and seems to work out okay on the thrombotic events," Cannon told TCTMD.
This information is helpful, he added, because clinicians are faced everyday with patients in the cath lab who have indications for both oral anticoagulation due to A-fib and dual antiplatelet therapy as a result of undergoing PCI.
Having the two doses of dabigatran evaluated in this study offers those clinicians some options when tailoring postprocedural antithrombotic therapy, Cannon said. The higher dose could be given to patients who have an elevated thrombotic risk but low bleeding risk, whereas the lower dose could be used for those in whom there is more of a concern about bleeding.
Cannon pointed out that guidelines advise consideration of both thrombotic and bleeding risks when deciding on the appropriate approach for an individual patient.
"These dabigatran dual-therapy regimens, using doses of the anticoagulant that are approved for stroke prevention, offer all of us clinicians two additional options—with evidence now—for managing these patients with A-fib who have undergone PCI," he said during his presentation.
A Move to Dual Therapy
Up until recently, most guidelines recommended using triple therapy, but that approach has been associated with increased bleeding, spurring the search for safer alternatives.
WOEST suggested that dropping aspirin and using dual therapy with warfarin and a P2Y12 inhibitor reduced bleeding, although the relatively small size of the trial limited interpretation of the findings. But the idea of removing aspirin from the regimen received further support from PIONEER AF-PCI.
Now, the results of RE-DUAL PCI, which were published simultaneously online today in the New England Journal of Medicine, bolster the concept even more. The trial, conducted at 414 centers in 41 countries, included 2,725 patients with nonvalvular A-fib who had recently undergone PCI. They were randomized into three groups:
Warfarin plus a P2Y12 inhibitor plus aspirin

Dabigatran 110-mg twice daily plus a P2Y12 inhibitor

Dabigatran 150-mg twice daily plus a P2Y12 inhibitor
Outside of the United States, elderly patients (80 or older in most countries, but 70 and older in Japan) were not eligible to receive the higher dabigatran dose and could thus only be randomized to the lower dose of dabigatran or triple therapy.
In the triple therapy arm, aspirin was given for 1 month following BMS implantation and for 3 months following DES implantation.
Overall, clopidogrel was the P2Y12 inhibitor in most cases, with ticagrelor used in 12.0% of patients.
The primary endpoint was major or clinically relevant nonmajor bleeding according to International Society on Thrombosis and Hemostasis (ISTH) criteria, and it occurred at lower rates in both dabigatran arms through a mean follow-up of 14 months. Similar reductions were seen according to various other bleeding definitions.
Cannon et al note in their paper that the trial was not powered to explore differences in individual thrombotic endpoints, and say that caution should be used when examining the nonsignificant increases in some events in the arm that included the lower dose of dabigatran.
Triple Therapy on the Way Out?
Commenting for TCTMD, Spencer King III, MD (Emory University, Atlanta, GA), said that RE-DUAL PCI further confirms that bleeding can be cut markedly by avoiding triple therapy. He added, however, that the relative contribution of dropping aspirin or replacing warfarin with a different anticoagulant remains unclear. Some answers to that question should be forthcoming from the ongoing AUGUSTUS trial.
"Regardless of that, the results are striking," said King, a past president of the American College of Cardiology. The declines in the bleeding in the dabigatran arms "are not only statistically important but very clinically important, and they did that with no increase in thrombotic events."
Moreover, he said, the trial gives some guidance to clinicians deciding on the best option for an individual patient because of its inclusion of both doses of dabigatran.
"I think this pushes triple therapy out as an option," King said. "The strategy used here and the marked reduction in bleeding seems like compelling evidence to go away from the traditional triple therapy with warfarin, for sure."
Cannon would not rule out using triple therapy in certain patients with high thrombotic risk, though. He pointed out that many of these patients are elderly and have a high burden of comorbidities. Also, a patient who receives a tight proximal LAD, for example, might require triple therapy for at least a few months, he said.


Todd Neale is the Associate News Editor for TCTMD and a Senior Medical Journalist. He got his start in journalism at …
Read Full Bio
Disclosures
The trial was funded by Boehringer Ingelheim.
Cannon reports receiving grants and personal fees from Boehringer Ingelheim during the conduct of the study; grant support and personal fees from Arisaph Pharmaceuticals, Takeda, Bristol-Myers Squibb, Amgen, and Merck; grant support from Janssen and Daichii Sankyo; and personal fees from Lipimedix, Pfizer, Sanofi, Regeneron, Kowa, Alnylam, Amarin, GlaxoSmithKline, AstraZeneca, and Eisai.