DynamX Bioadaptor Provides Promising Preliminary Results for De Novo Coronary Lesions
Having been burned by bioresorbable scaffolds, the field should wait for more data on this novel device, William Wijns says.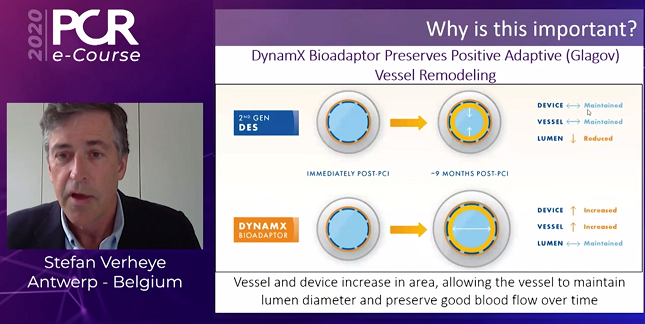 A unique metallic DES that "uncages" the artery and allows for positive adaptive remodeling has shown solid findings through 1 year in a small study of patients with single de novo coronary lesions, which was presented during the PCR e-Course 2020.
The DynamX bioadaptor (Elixir Medical) coronary stent releases novolimus from a bioresorbable polymer coating. Once the polymer degrades, there are segments in the device that can separate. That uncaging allows the device to adapt to vessel physiology, enabling positive adaptive vessel remodeling that maintains the vessel lumen, restores pulsatile motion and physiologic cyclic strain, and returns vessel angulation, Stefan Verheye, MD, PhD (Antwerp Cardiovascular Centre Middleheim, Belgium), explained. The device maintains the acute performance of DES and preserves longitudinal continuity.
Among 50 patients who were treated with the DynamX bioadaptor (Elixir Medical), target lesion failure occurred in two, both of whom had a cardiac death as adjudicated by ARC-2 criteria.
Quantitative coronary angiography showed excellent acute performance with an acute gain of 1.63 mm after the procedure, Verheye reported. Mean late lumen loss was just 0.12 mm at follow-up. Moreover, IVUS revealed increases in vessel and device area and no change in mean lumen area.
"We can say that the acute performance is similar to current second-generation DES. However, at a later stage, we uncage the vessel to preserve positive adaptive remodeling, maintaining vessel lumen area," Verheye said. "This is important because this is a fundamental innovation in device design that allows the bioadaptor to match current DES in acute performance while showing the promise of mitigating the 2% to 3% annualized event rates beyond 1 year," he said. Long-term follow-up will be needed to see whether those potential benefits will be realized.
DynamX Bioadaptor
Even though current-generation DES have proven safety and efficacy, adverse events continue to accumulate without a plateau over the years, underscoring the need for a new device iteration to improve performance, Verheye said. The idea behind the DynamX stent, which has the deliverability, implantation technique, and radial strength similar to that seen with other DES, is that "uncaging" the vessel will reduce the occurrence of events over the long term.
Verheye presented 1-year results of a single-arm study conducted at seven international sites. It included 50 patients with single de novo coronary lesions, a reference vessel diameter of 2.5 to 3.0 mm, and a lesion length no greater than 24 mm. They received dual antiplatelet therapy for 12 months.
There were no cases of target lesion failure (cardiac death, target-vessel MI, and clinically indicated TLR) through 6 months, with two cardiac deaths by 1 year. One patient with a history of Korsakoff's syndrome died on day 255, and it was adjudicated as a cardiac death by ARC-2 criteria because it was unwitnessed. The other patient had multiorgan failure following a heart failure hospitalization and died on day 267; it was also deemed to be a cardiac death according to ARC-2 criteria. There were no other events, including noncardiac death, TLR, or bioadaptor thrombosis.
Imaging results were combined for the 9- and 12-month follow-ups. IVUS showed that mean vessel area increased by 3% (P = 0.017) and mean bioadaptor area increased by 5% (P = 0.0005). Mean lumen area did not change.
"This is what we call Glagovian positive remodeling as we have described earlier in balloon angioplasty," Verheye said. "This has not been described in stented vessels, and it allows [the preservation of] good blood flow over time."
Déjà vu All Over Again
Commenting after Verheye's presentation, PCR Chairman William Wijns, MD, PhD (Lambe Institute for Translational Medicine, National University of Ireland Galway), said, "I'm sort of fascinated by this new concept."
He spoke to the potential benefits of the bioadaptor: the stent itself is not as stiff once the polymer is degraded, vessel angulation and pulsatile motion is maintained, remodeling is possible, and risk of strut fracture may be reduced. "These are all the good things that this new design could provide."
But, Wijns cautioned, "Don't we all have a strange feeling of déjà vu, because all these anticipated benefits are the same [as] those we were told we would see with fully bioerodible scaffolds? And of course we know so much after 10 years of experience with BRS that probably we will not accept this great story . . . unless we get more and more evidence."
The bioadaptor must be shown to have excellent acute performance and utility in complex lesions, on par with current-generation DES, he said, noting that some immediate results had to be sacrificed with bioresorbable scaffolds. "I don't think we want to go this route this time, so we want a device that is as utile, as efficacious, as the current devices we're using, and perhaps it needs to be used in more complex lesions," Wijns said.
He also called for more bench testing. "What happens with overexpansion? Is this uncaging element a weak point when you go to high pressure?" he asked. "Once we have that evidence, then of course, one would like to see a large enough randomized clinical trial, and actually this should be probably a noninferiority study" focused on the performance of the device and not the anticipated late benefit.
The final phase would be a superiority trial to evaluate whether the uncaging element of the bioadaptor leads to a reduction in adverse events beyond 2 years compared with current-generation DES.

Todd Neale is the Associate News Editor for TCTMD and a Senior Medical Journalist. He got his start in journalism at …
Read Full Bio
Sources
Verheye S. DynamX Bioadaptor: a novel "uncaging" platform for coronary artery revascularization: 12-month clinical and imaging results. Presented on: June 26, 2020. PCR e-Course 2020.
Disclosures
Verheye reports receiving honoraria or consulting fees from Biotronik, Elixir Medical, and Neovasc.
Wijns reports honoraria from Abbott Vascular, Biotronik, MicroPort, and Terumo, as well as grants/research support from MicroPort and Terumo.