ELAN: Early DOACs Safe, May Help After Ischemic Stroke in AF Patients
This confirms that clinicians shouldn't be afraid of starting anticoagulation soon after stroke, a researcher says.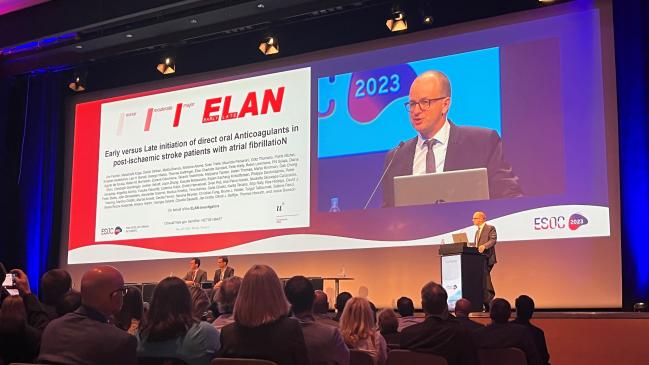 MUNICH, Germany—There doesn't appear to be a strong reason to avoid early initiation of therapy with direct oral anticoagulants (DOACs) after an acute ischemic stroke in patients newly diagnosed with atrial fibrillation (AF), according to the results of the ELAN trial.
Although the study was not designed to formally test the noninferiority or superiority of early versus delayed treatment, the rate of a primary composite outcome consisting of recurrent ischemic stroke, symptomatic intracranial hemorrhage (ICH), major extracranial bleeding, systemic embolism, or vascular death at 30 days numerically favored more-prompt treatment (2.9% vs 4.1%).
Risks of recurrent ischemic stroke and systemic embolism also tended to be lower with earlier DOAC treatment. On the safety side, there were only two symptomatic ICHs in each group.
"Early treatment is reasonable if indicated or if desired for logistic or other reasons," said Urs Fischer, MD (University Hospital Basel, Switzerland), who reported the results here at the European Stroke Organisation Conference (ESOC). "Early treatment is probably better and unlikely to cause harm, and we don't see any reason to delay anticoagulation with DOACs in people with acute ischemic stroke and atrial fibrillation."
The findings were published simultaneously online in the New England Journal of Medicine.
The ELAN Trial
It's unclear whether the timing of anticoagulation initiation after acute ischemic stroke affects risks of recurrent stroke and bleeding, Fischer said, noting that starting treatment too early could increase the risk of ICH and holding off too long could increase the likelihood of a recurrent infarction.
The TIMING trial published last year established the noninferiority of early versus delayed initiation of DOACs in this setting, but it remains unknown whether quicker treatment could be better, Fischer said. Because of the dearth of high-quality evidence, recommendations on the timing of treatment from professional societies have varied.
In the ELAN trial, conducted across 103 centers in 15 countries, investigators randomized 2,032 patients (median age 77 years; 45% women) who had an acute ischemic stroke and had AF diagnosed in the hospital to early or delayed initiation of DOAC therapy. The severity of the stroke was classified according to infarct size on imaging; 37% of participants had a minor stroke, 40% a moderate stroke, and 23% a major stroke. Median NIHSS score was 5 on admission and 3 at randomization.
Patients with minor and moderate strokes were randomized within 48 hours. If they were assigned to early treatment, it was initiated immediately. Late treatment, on the other hand, was started on days 3 and 4 for patients with minor strokes and on days 6 and 7 for those with moderate strokes.
Patients with major strokes were randomized on day 6. Early treatment was initiated at that point, with late treatment started on days 12 to 14.
I think this just confirms that we shouldn't be scared to start these drugs even early after minor and medium stroke. Jelle Demeestere
Fischer noted that "given the lack of unbiased data to formulate a rationale for a noninferiority margin or an estimate for a potential superiority trial, no statistical hypotheses were tested." Instead, the investigators provided estimates of differences in outcomes between the trial arms.
For the primary composite outcome, there were numerically fewer events in the early treatment arm than in the delayed treatment arm, driven by lower rates of recurrent ischemic stroke (1.4% vs 2.5%) and systemic embolism (0.4% vs 0.9%). Findings were similar at 90 days.
Asked after his presentation about how the low rates of recurrent stroke and symptomatic ICH in the ELAN trial compared with prior studies, Fischer said the TIMING trial also had few recurrent strokes and no cases of symptomatic ICH. But he also pointed to the exclusion of patients on therapeutic anticoagulation in the current study to explain the low event rates.
Easing Concerns About Early Treatment
Commenting for TCTMD, Jelle Demeestere, MD, PhD (University Hospitals Leuven, Belgium), a member of the ESO public relations committee and a study co-author, said that because of the lack of a formal hypothesis testing in ELAN, it's difficult to know how much the results might influence clinical practice.
The most-important information coming out of the study is that early treatment was not associated with any signs of safety concerns compared with later treatment, he said. "It seems to be just as safe, and so I think the main takeaway would be that there's really no reason to delay anticoagulation. If starting early is really better for the patient remains to be answered, I think, but there's no reason to delay it purposefully."
Logistically, it might be better to initiate DOACs more promptly, Demeestere said. Especially after a minor stroke, patients don't tend to linger in the hospital for long, so it would be easier to start the medications while they are still in the hospital to avoid mistakes after they go home, he said.
Despite the limitations of the trial, which can't provide a definitive answer on whether early treatment improves outcomes, its results will probably convince more clinicians to initiate DOACs sooner rather than later, Demeestere said. "This just seems to confirm that the safety profile of these drugs is a lot better than what we're used to with vitamin K antagonists and other anticoagulants that we used to use earlier, so I think this just confirms that we shouldn't be scared to start these drugs even early after minor and medium stroke."

Todd Neale is the Associate News Editor for TCTMD and a Senior Medical Journalist. He got his start in journalism at …
Read Full Bio
Disclosures
ELAN was supported by grants from the Swiss National Science Foundation, the Swiss Heart Foundation, the Stroke Association in the United Kingdom, and the Intramural Research Fund for Cardiovascular Diseases of the National Cerebral and Cardiovascular Center, Japan.
Fischer reports receiving grants/contracts to his institution from Alexion Pharmaceuticals, CSL Behring, Medtronic, Penumbra, phenox, Rapid Medical, and Stryker; serving as an expert witness for Biogen and Boehringer Ingelheim; serving on an endpoint review committee for phenox; and serving on the data and safety monitoring committees for the TITAN, LATE-MT, and EXTREMIS trials.
Demeestere reports no relevant conflicts of interest.