Emulsifiers in Food Up CVD Risk and Should Be Avoided, Study Urges
"Unprocessed, whole, untouched, un-tinkered-with foods" should be consumed as often as possible, says Andrew Freeman.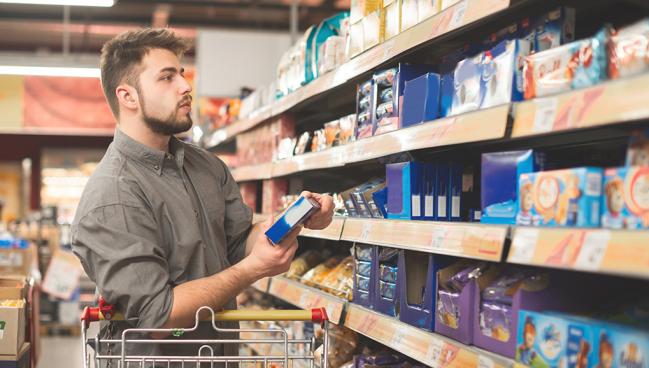 Consuming foods with emulsifiers can increase the risk of cardiovascular disease, according to new prospective data. While the study could not single out a specific additive that causes the most harm, it should have widespread policy implications for how they can be used in processed and ultra processed foods around the world, the authors say.
Primarily used to improve texture and prolong shelf life, emulsifiers like pectin, carrageenan, and guar gum can be found among the ingredient list of most packaged foods. It's no secret that consuming whole foods, especially a vegetarian diet, are linked with better cardiovascular health, yet processed foods still are ubiquitous around the world.
"If confirmed by further epidemiological and experimental research, [the results] could lead to a modification in the regulation of emulsifier use by the food industry, through food policies requiring a modification of the acceptable daily intake of some emulsifiers, or even restricting the use of others, for better citizen protection," co-authors Mathilde Touvier, PhD, and Bernard Srour, PhD, PharmD, MPH (both Sorbonne Paris Nord University, France), told TCTMD in an email.
One of the things I always tell my patients is: 'the longer the shelf life, the shorter your life.' Andrew Freeman
"Here we have another study [of] another food additive suggesting potential harm," said Andrew Freeman, MD (National Jewish Health, Denver, CO), who commented on the study for TCTMD. The results double down on the notion that "we really should do our best to eat as unprocessed, whole, untouched, un-tinkered-with foods as much as possible. And I think that message is still, for whatever reason, not making it through to anyone. You walk in your grocery store and it's shelf after shelf of processed and usually ultra processed foods."
The findings were published in the BMJ earlier this month.
Increased CVD With Emulsifiers
For the study, Laury Sellem, MSc (CRESS-EREN, Inserm, INRAE, Sorbonne Paris Nord University, France), and colleagues included data from 95,442 adults without CVD (mean age 43.1 years; 79.0% women) enrolled in the French NutriNet-Santé study between 2009 and 2021. All participants completed at least three 24-hour dietary records during the first 2 years of follow-up.
Almost all (99.8%) of participants consumed foods with emulsifiers with the most common additives being total modified starches, sodium bicarbonate, pectins, and diphosphates. Pastries as well as cakes and biscuits contained the most of these ingredients.
Over a median follow-up of 7.4 years, there were 1,995 incident CVD events, including 1,044 occurrences of CHD and 974 cerebrovascular events. A wide range of emulsifiers and emulsifying salts were linked with higher risk of CVD and CHD over time in an adjusted analysis.
Association of Emulsifiers and CVD
| | | |
| --- | --- | --- |
|   | HR | 95% CI |
| Celluloses |   |   |
|     CVD | 1.05 | 1.02-1.09 |
|     CHD | 1.07 | 1.02-1.12 |
| Carboxymethylcellulose |   |   |
|     CVD | 1.03 | 1.01-1.05 |
|     CHD | 1.04 | 1.02-1.06 |
| Lactic ester of monoglycerides and diglycerides of fatty acids |   |   |
|     CVD | 1.06 | 1.02-1.10 |
|     Cerebrovascular Disease | 1.11 | 1.06-1.16 |
| Citric acid ester of monoglycerides and diglycerides of fatty acids |   |   |
|     CVD | 1.04 | 1.02-1.07 |
|     CHD | 1.06 | 1.03-1.09 |
| Trisodium phosphate |   |   |
|     CHD | 1.06 | 1.00-1.12 |

"Given the recently established links between ultra processed food, [which are the] main dietary source of emulsifiers, and human health, the role of emulsifiers in the development of other long-term noncommunicable diseases should also be explored, through epidemiological research, as well as experimental approaches on humans and animal models whenever feasible," Touvier and Srour say. "In the meantime, several public health authorities recommend limiting the consumption of foods containing 'cosmetic' additives, i.e. not essential for consumer safety. Reducing the consumption of ultra processed foods is good precautionary advice to avoid exposure to emulsifiers and other food additives."
Clinicians Can Drive Home Message
While the results don't surprise Freeman, he noted the study has several confounders. "It's difficult to tease out: is it the emulsifier? Is it the type of emulsifier? Is it the food that is being emulsified?"
But there's enough here to encourage further study, he said. "It turns out that many, many, many food additives that have been used over the years have [been] initially thought to be harmless and then turned out to be not the case."
A long-term strategy for reducing consumption of these ingredients is convincing "big food" to stop using them or reduce their quantity, according to Freeman. But clinicians can promote these findings in their interactions with patients starting now.
"One of the things I always tell my patients is: 'the longer the shelf life, the shorter your life,'" he said. "That sort of message definitely needs to get across, that fresh unprocessed food seems to be best. . . . Clinicians need to pay attention. Nutrition is an incredibly powerful therapeutic intervention that is not taught in most medical schools and most people have no clue how to apply them, and as a result, we continue to throw very expensive, lifelong drugs at people when changing lifestyle is really the answer."

Yael L. Maxwell is Senior Medical Journalist for TCTMD and Section Editor of TCTMD's Fellows Forum. She served as the inaugural…
Read Full Bio
Disclosures
The NutriNet-Santé study was supported by the Ministère de la Santé, Santé Publique France, Institut National de la Santé et de la Recherche Médicale (INSERM), Institut National de la Recherche pour l'agriculture, l'alimentation et l'environnement, Conservatoire National des Arts et Métiers, and University Sorbonne Paris Nord
Freeman reports no relevant conflicts of interest.