Esteemed TCTMD News Editor Jason Kahn Dies
Jason R. Kahn, former news editor of TCTMD and manager of academic content in the Editorial Services department of the Cardiovascular Research Foundation (CRF), died December 16, 2014, following an extended illness. He was 45 years old.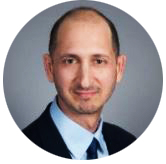 A mentor and friend to many, Kahn brought his sense of humor and patience to every newsroom, even when barreling down on tight deadlines. With a constant eye on accuracy, he translated study findings into stories that aimed to improve the practice of medicine and the care of patients.
Defined by Dedication, Enthusiasm
In his 11 years at CRF, Kahn transformed the interventional cardiology news coverage of TCTMD from a single-person operation into a distinguished news service reaching over 65,000 subscribers, managing live coverage from various international and US medical conferences and overseeing a team of 5 journalists. He was also responsible for supervising the production of the award-winning TCT Daily, a newsletter distributed each day to thousands of attendees at the annual Transcatheter Cardiovascular Therapeutics symposium.
Kahn was a direct yet charismatic leader with a knack for defusing stressful situations and building trust and fostering community within his team. "Jason inspired us to get up every day and try harder than the day before. He had an enormous amount of integrity, both in how he treated others and in his reporting," said Caitlin E. Cox, who worked with Kahn for over 6 years and succeeded him as news editor of TCTMD and manager of academic content at CRF.
Joshua D. Hartman, MBA, managing editor of TCTMD and executive director of the CRF Center for Education, observed, "Jason was one of the most dedicated people I have ever worked with. He was dedicated to his writing and to his staff and would defend both at all costs. Jason never missed a deadline and ensured that his team was as punctual as he was. In his own quiet way, Jason led his team by example and supported them as they grew. It was clear that Jason saw his staff as an extension of his family, and he will be missed tremendously."
Kahn was the "heart and soul of the team that grew TCTMD from a fledgling website to a journalistic powerhouse," according to Gregg W. Stone, MD, of Columbia University Medical Center (New York, NY). "His enthusiasm, drive, and attention to detail served as an inspiration to all those around him. His impact on TCTMD will be indelible and long lasting."
Gary S. Mintz, MD, editor-in-chief of TCTMD and chief medical officer of CRF, said Kahn's "contributions to TCT and to TCTMD cannot be underestimated. He built and led a team whose work is known for its rigor, discipline, and academic excellence, and his leadership was responsible for the evolution of the annual TCT Daily into a content-packed, award-winning publication and permanent record of the highlights of the meeting."
Twenty Plus Years of Reliable Reporting
Kahn's editorial career spanned more than 20 years. He started out writing for Clinical Laboratory News, a publication for clinical chemists, before moving to Medical Tribune, where he advanced from daily reporter to editor-in-chief in almost 5 years. Kahn then helped found Oncology.com, serving as its editor-in-chief. He also was the managing editor for a group of physician websites in subspecialties ranging from anesthesiology to rheumatology. He received an undergraduate degree in Communications from the University of Michigan and a Master of Arts in Journalism from NYU's Science, Health, and Environmental Reporting Program.
In his spare time, Kahn authored fantasy and science fiction, publishing countless short stories and the book Badge of Lies. He worked steadily on his fiction writing over the past summer, writing 500 words each day for his book's sequel and recording audio episodes of The Dark InSpectre series.
He is survived by his wife of 19 years, Karen; sons, Simon, 15, and Josh, 10; parents, Miles and Paula; and brother, David. Funeral services will be held 11:30 AM Friday December 19, at Congregation Beth Elohim, 274 Garfield Place, Brooklyn, NY 11215.

Yael L. Maxwell is Senior Medical Journalist for TCTMD and Section Editor of TCTMD's Fellows Forum. She served as the inaugural…
Read Full Bio