FDA's First Take on New Paclitaxel Concerns in CLI
The agency highlighted a few methodological issues in the new meta-analysis, but restated the need to weigh risks and benefits.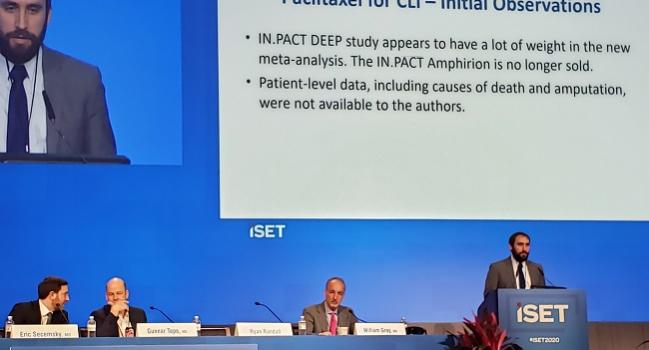 HOLLYWOOD, FL—Endovascular specialists got their first glimpse of what the US Food and Drug Administration thinks of new data hinting at fresh problems for paclitaxel-based devices—this time in below-the-knee lesions.
The new meta-analysis, released last week, points to a signal of increased deaths and amputations among patients with critical limb ischemia (CLI) treated with paclitaxel-coated balloons. The FDA's Ryan Randall, MSE, who leads the agency's peripheral interventional devices team, offered a brief take on the new data during an overview of the paclitaxel concerns here at the 2020 International Symposium on Endovascular Therapy (ISET).
"Since it's only been a week, we have not had time to fully discuss and analyze the publication internally but we continue to work to understand the paclitaxel signal," Randall said, clarifying that this view represents the FDA's "initial observations."
 "We do note, though, that none of the devices included in this study are available in the US. There are currently no stents or drug-coated balloons approved for use below the knee in the US," he emphasized.
Last year, the FDA issued three separate communications to healthcare professionals about their current position on the paclitaxel safety signals in PAD, noting that the agency is working with industry and researchers to get more data.
Two Indications, Two Analyses
The first meta-analysis from Konstantinos Katsanos, MD, PhD (Patras University Hospital, Rion, Greece), and colleagues identified an increased risk of death with paclitaxel-based balloons and stents at 2 and 5 years. In their latest report, Katsanos et al linked paclitaxel drug-coated balloons to harm in the short term, finding greater risks of all-cause death (OR 1.39; 95% CI 0.94-2.07) and major amputation (OR 1.63; 95% CI 0.92-2.90).
For this latest analysis, which was published in Journal of Vascular and Interventional Radiology, researchers pooled eight RCTs totaling 1,420 patients—97% of whom had CLI—and five different drug-coated balloons. Three of the trials had 6-month clinical follow-up and five had 1-year clinical follow-up. Several experts who reviewed the analysis for TCTMD last week have already questioned the "poolability" of these diverse data.
Randall, too, highlighted the differences in follow-up duration, as well as the impression that the "IN.PACT DEEP study appeared to have a lot of weight in the meta-analysis" by virtue of including more patients compared to the other trials. This is important given that the device investigated in IN.PACT DEEP was pulled from the market in 2013 due to concerns over amputations in the paclitaxel group. Also concerning: the authors of the new meta-analysis did not have access to patient-level data, he said.
A Long Road
Randall summed up the position that the FDA has arrived at after a chaotic year contemplating the paclitaxel question.
"Our current thinking regarding approved devices is that paclitaxel devices may remain on the market given that benefits may outweigh the risks for some patients based on clinical judgement. We also recommend that doctors should continue to discuss the benefit-risk [ratios] of all treatment options with their patients and continue with diligent monitoring," Randall advised, noting that the FDA is in the process of updating product labeling.
"Regarding ongoing and future trials, we have worked to update informed consent forms to ensure patients are informed of the risk. We've worked to closely monitor enrolled patients and worked to improve the collection of data and minimize missing data for these trials," he said.
Exactly what sort of long-term information is required for new paclitaxel-coated devices to gain approval, Randall continued, "is still being evaluated." That said, in terms of duration, 1-year data are expected when the FDA considers these devices and longer follow-up should be obtained postapproval, he added.
Risks in Perspective
William A. Gray, MD (Main Line Health/Lankenau Heart Institute, Wynnewood, PA), presented his own withering take on the new meta-analysis Wednesday at ISET.
To begin with, he said, it didn't include enough patients to assess low-frequency events in a high-risk population. Alluding to the varying follow-up durations, Gray also highlighted the fact that three of the eight studies were never actually published or peer-reviewed; this segment, he said, accounted for three-quarters of the individuals in the data set. He cited discrepancies within the paper when it came to patient and event numbers. As in the last Katsanos paper, loss to follow-up wasn't fully accounted for, Gray continued, and the dose-response analyses here didn't take into account lesion length or why patients got certain doses.
"There's an old expression 'you're hoisted by your own petard,' [meaning that] you're lighting your bomb and exploded with it. And I think that's what happened in this last paper," Gray quipped, going on to make a Norma Desmond reference about how it's the studies that got small.
"Don't pay attention to this study," he concluded.
By contrast, Gray only had words of praise for the FDA when he moderated the Thursday paclitaxel session. "For those of you not totally embroiled in this, the FDA has been a really terrific collaborator in trying to get to the solution for this particular issue," he observed.
Following Randall's presentation, others gave overviews of paclitaxel trials and real-world outcomes; none showed negative signals for the devices and none suggested potential mechanisms for what others had seen.
Gray asked researchers Gunnar Tepe, MD (RoMed Rosenheim, Germany), and Eric A. Secemsky, MD (Beth Israel Deaconess Medical Center, Boston, MA), how they apply the FDA's recommendation to discuss the risk-benefit ratio with their patients. "How do you have that conversation? Who do you define as high risk? Whose risk reaches a threshold where paclitaxel appears to be appropriate? . . . That's a new population. We've not defined this population in those terms [before]."
Tepe replied: "I personally have some issues with a statement that especially high-risk patients would receive paclitaxel-coated balloons and the others would not." This "yes or no decision" isn't helpful, he said, agreeing that "it's very important to look into the data, to test the safety risk."
If there is true harm associated with the paclitaxel-based products, "I think nobody should receive those devices. If there is no risk, I think everybody should receive them for prevention of restenosis," explained Tepe. He said in his practice he's come down on the side of "no risk" based on the available evidence.
Secemsky said that prior to the first meta-analysis he relied exclusively on drug-coated devices and that he's been struggling with this concept of risk stratification since the FDA's August 2019 letter.
Given that he treats a "very sick population, primarily CLI but also sick claudicants," Secemsky explained, "it's hard to separate who's the healthy of the sick, so I try not to do that. The majority of patients who've elected not to be treated with a drug-coated device are those who've been naive to the healthcare system; maybe this is their first procedure they've every received. And that conversation about the potential risks such as death is harder to put their heads around."
He instead tries to have a "realistic conversation" that enables patients to make their own decisions. But he described being "burned pretty quickly" in terms of restenosis when the patient's choice was a noncoated device.
Positive data from numerous studies showing good long-term patency indicate that "we've done something dramatically different for this disease process. [That's] been taken away in this past year [by] data we don't really understand," Secemsky commented.

Sources
Randall R. Understanding the current FDA position regarding paclitaxel. Presented at: ISET 2020. January 23, 2020. Hollywood, FL.
Disclosures
Randall reports no relevant conflicts of interest.
Gray reports serving as a consultant to Boston Scientific, Cook Medical, Gore, Medtronic, Shockwave, and Abbott Vascular; receiving grant/research support from Abbott Vascular, Boston Scientific, Gore, Intact Vascular, and Shockwave; and being a major stock shareholder in Biocardia, Contego Medical, and Silk Road.
Secemsky reports serving as a consultant to BD Bard, Cook, CSI, Medtronic, and Philips; receiving grant/research support from AstraZeneca, BD Bard, Boston Scientific, Cook, CSI, Medtronic, and Philips; and serving on the speakers' bureaus of BD Bard, Cook, and Medtronic.
Tepe reports serving as a consultant to Medtronic and Philips as well as receiving grant/research support from B. Braun, Bard, BSC, Biotronik, Gore, Medtronic, Terumo, Varian, and Shockwave.