Flu Tied to Worse Outcomes in Patients Hospitalized With Heart Failure
Risks of a variety of in-hospital outcomes, including mortality, are higher in patients with influenza.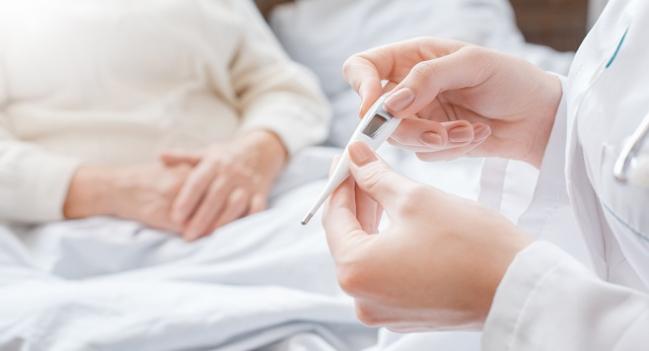 Patients hospitalized for heart failure do even worse in the short term if they're also infected with influenza, a new study affirms.
In-hospital mortality, acute respiratory failure, and acute kidney injury all occurred at higher rates in patients with the flu, who also had longer average lengths of stay, lead author Muhammad Panhwar, MD (University Hospitals Cleveland Medical Center, OH), and colleagues report in a study published online January 2, 2019, ahead of print in JACC: Heart Failure.
The findings have implications for use of influenza vaccination, according to study co-author Ankur Kalra, MD (University Hospitals Cleveland Medical Center). There is some evidence suggesting that the flu vaccine reduces morbidity and mortality in patients with heart failure, but vaccination rates have been shown to be subpar.
"Overall influenza vaccination rates are low in the US and they remain lower in patients who have a concomitant diagnosis of heart failure, so I think efforts should be made to promote vaccination for influenza on an annual basis," Kalra told TCTMD, adding that there is also a need to develop vaccines that provide better protection.
Though patients with heart failure are known to be particularly vulnerable to complications from the flu, there are limited data on how a concomitant influenza infection affects outcomes in those who are hospitalized.
For this study, the investigators examined data from the National Inpatient Sample on adult patients hospitalized for heart failure in 2013 and 2014. Out of nearly 8.2 million patients, 54,590 (0.67%) had influenza.
In a propensity-adjusted analysis that included 54,585 patients with influenza matched with an equal number of uninfected patients, those with the flu had a longer mean length of stay (5.9 vs 5.2 days; P < 0.001), but similar mean hospital costs ($12,137 vs $12,003; P = 0.40) and use of percutaneous mechanical circulatory support (0.7% in both groups; P = 0.93). In-hospital outcomes were worse in patients infected with influenza.
 

With Flu

(n = 54,585)

Without Flu

(n = 54,585)

OR (95% CI)

Mortality

6.2%

5.4%

1.15 (1.03-1.30)

ARF

36.9%

23.1%

1.95 (1.83-2.07)

ARF Requiring Mechanical Ventilation

18.2%

11.3%

1.75 (1.62-1.89)

AKI

30.3%

28.7%

1.08 (1.02-1.15)

AKI Requiring Dialysis

2.4%

1.8%

1.37 (1.14-1.65)
Abbreviation: ARF, acute respiratory failure; AKI, acute kidney injury.
Kalra said he was not surprised by the link between influenza infection and worse clinical outcomes, but added that "the results, although they may sound intuitive, actually have been validated in a scientific fashion via this study."
Low Vaccination Rates a Challenge and an Opportunity
The study findings "carry wide public health implications and substantially add to the body of evidence linking respiratory infections with adverse cardiovascular sequelae," Orly Vardeny, PharmD (Minneapolis VA Health Care System and University of Minnesota, Minneapolis), and Scott Solomon, MD (Brigham and Women's Hospital, Boston, MA), write in an accompanying editorial.
Like the investigators, Vardeny and Solomon use the study as an opportunity to highlight problems in getting patients with heart failure vaccinated against influenza, which point out is recommended by the US Centers for Disease Control and Prevention as well as by professional cardiovascular societies.
"Of note, patients with heart failure have been shown to mount less robust immune responses to influenza vaccine, and exhibit more pronounced waning of antibody titer levels compared with individuals of similar ages without heart failure," the editorialists write. "As such, the optimal influenza vaccine formulation in patients with heart failure is unclear, and this question is currently being tested in a clinical trial (Influenza Vaccine to Effectively Stop Cardio Thoracic Events and Decompensated Heart Failure [INVESTED])."
The current study makes it clear that influenza contributes to morbidity and mortality among patients with heart failure, Vardeny and Solomon say, pointing out that traditional therapies do not address this excess risk.
"Although vaccination remains the best way to reduce the added risk conferred by influenza," they conclude, "the strikingly low vaccination rates of some of our most vulnerable patients represent both a significant public health challenge and a substantial opportunity."

Todd Neale is the Associate News Editor for TCTMD and a Senior Medical Journalist. He got his start in journalism at …
Read Full Bio
Disclosures
Kalra reports consulting for Medtronic and Philips.
Vardeny reports having received research support from Sanofi Pasteur.
Solomon reports having received research grants from Alnylam, Amgen, AstraZeneca, Bellerophon, Bristol-Myers Squibb, Celladon, Cytokinetics, Eidos, Gilead, GlaxoSmithKline, Ionis, Lone Star Heart, Mesoblast, MyoKardia, the National Institutes of Health/National Heart, Lung, and Blood Institute, Novartis, Sanofi Pasteur, and Theracos; and having consulted for Akros, Alnylam, Amgen, AstraZeneca, Bayer, Bristol-Myers Squibb, Cardior, Corvia, Cytokinetics, Gilead, GlaxoSmithKline, Ironwood, Merck, Novartis, Roche, Takeda, Theracos, Quantum Genetics, Cardurion, AoBiome, Janssen, and Cardiac Dimensions.
Panhwar reports no relevant conflicts of interest.