Flushing TAVI Valves With Carbon Dioxide May Protect Against Brain Injury
That reduced air emboli in the pilot INTERCEPTavi study, but whether it has a clinical impact remains unclear.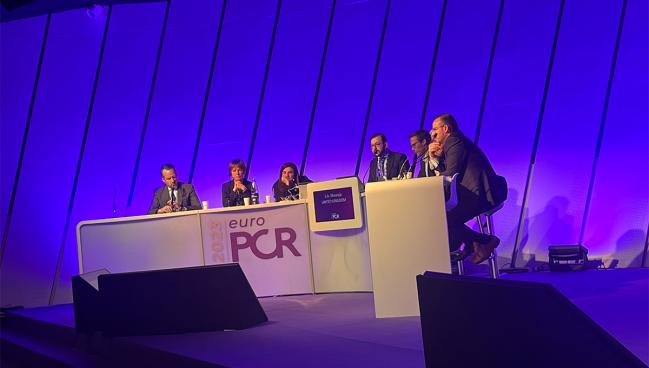 PARIS, France—Rinsing TAVI valves with carbon dioxide (CO2) before the procedure may enhance neuroprotection and improve safety, preliminary results from the pilot INTERCEPTavi study suggest.
When CO2 was added to the flushing process, compared with saline alone, the average number of acute cerebral lesions picked up on brain MRI in the week after the procedure was reduced by about half (4.2 vs 9.0 per patient; P =0.032), Saud Khawaja, MBBS (Hammersmith Hospital, Imperial College Healthcare NHS Trust, London, England), reported here at EuroPCR 2023.
A similar difference was seen for both balloon-expandable and self-expanding valves.
The study, Khawaja told TCTMD, both highlights that air emboli are an issue in TAVI and offers a solution with CO2 flushing, which is "a really cheap and easy-to-use technique that could be implemented from tomorrow in every catheter lab. It doesn't require any specialist equipment or training."
Because this is a pilot study with small numbers, however, additional data from larger, multicenter studies will be needed before rolling the approach out on a wide scale, he said. Studies combining CO2 flushing and use of embolic protection devices are needed, too, he added.
"What we feel is that this is actually not an isolated solid or air emboli problem," Khawaja said. "What we need to do is tackle them both at the same time [using] complementary techniques."
Commenting for TCTMD, Sachin Goel, MD (Houston Methodist, TX), called INTERCEPTavi an interesting and hypothesis-generating study, and said the main question moving forward will be whether CO2 flushing provides clinical benefits, including a reduced risk of stroke.
"This is a novel study which provides a very pragmatic, easy-to-use technique which hopefully will be affordable," Goel said. "I think a large study using this technique should be designed to study this in a large number of patients to see if this provides a meaningful reduction in clinical hard endpoints and [improves] neurocognitive function."
Looking Beyond Solid Emboli
Attempts at neuroprotection in TAVI have until now focused on the use of cerebral embolic protection devices that capture solid debris. But there is no definitive proof that they make a difference when it comes to preventing clinical events. The large PROTECTED TAVR trial using the Sentinel system (Boston Scientific), for instance, failed to meet its primary endpoint. Nevertheless, many operators remain convinced of the benefits of using embolic protection and are awaiting the results of the 7,000-patient BHF PROTECT-TAVI trial to provide further insights.
In the meantime, concerns about risks of embolism, which could have long-term consequences even if subclinical, and stroke remain with TAVI, "and the embolic protection devices have failed to really minimize this," Khawaja said. "So this raised a question: is there another cause of these ischemic lesions?"
Experience with another procedure, thoracic endovascular aortic repair (TEVAR), may provide some information. TEVAR studies using transcranial Doppler have shown that more than 90% of microembolic signals are gaseous and that there's a direct relationship between the number of these signals and the number of new MRI-detected brain infarcts.
Both TAVI valves and TEVAR stent grafts are manufactured in room air that is retained when they're compressed, and when they're deployed in the body, air emboli are released. Flushing TEVAR stent grafts with CO2 has been shown to reduce brain lesions, but a similar study had not yet been done in the setting of TAVI.
CO2 displaces air retained in the valve because it is denser, and because it's more soluble in the body, it doesn't form occlusive bubbles like air does.
The INTERCEPTavi Study
To test the concept of CO2 flushing for neuroprotection in TAVI, Khawaja and colleagues designed INTERCEPTavi, a single-center pilot study with 60 patients (mean age roughly 81 years; 53% men) undergoing transfemoral TAVI for severe aortic stenosis. Cerebral embolic protection devices were not used during the procedures.
Patients were randomized to have their TAVI valves flushed with saline alone or saline and CO2 before the procedure. All were evaluated with neurological and neurocognitive testing, MRI, and transcranial Doppler imaging. Khawaja reported early MRI and transcranial Doppler results.
In the hospital following TAVI, there were no cerebrovascular events, bleeds, vascular complications, cases of new-onset atrial fibrillation, MIs, or deaths in either group. Permanent pacemakers were required in four patients in the CO2 flushing group and five in the control group.
In addition to the observed reduction in acute cerebral lesions on MRI in the first 7 days after TAVI with CO2flushing, there were some differences in the distribution of emboli. When valves were rinsed with CO2versus saline alone, there was a lower proportion of emboli in the anterior circulation (44% vs 62%) and a higher proportion in the posterior circulation (52% vs 34%). In a patient lying face up, air bubbles would tend to rise up into the anterior circulation, Khawaja noted, adding, too, that the Sentinel device evaluated in other studies leaves the posterior circulation unprotected. Together, the findings from INTERCEPTavi indicate that CO2 flushing reduces lesions in the anterior circulation but that there is a residual problem with solid emboli, Khawaja said.
Moreover, when looking at all emboli using transcranial Doppler imaging of the middle cerebral artery, there were more air emboli than pieces of solid debris, indicating that air bubbles might be a bigger problem in terms of brain injury.
Regarding the findings, Khawaja said "it is what we would have liked to see, but I think the data is probably better than what we expected." Although air emboli are a known problem in TEVAR, it was thought it wouldn't be as much of a problem in TAVI because the valves are smaller, he said.
Though INTERCEPTavi shows that CO2 flushing reduces acute cerebral lesions during this procedure, the investigators are continuing to collect and analyze data, including MRI at 6 months and neurocognitive tests from before TAVI, during the initial admission, and at 6 weeks and 6 months. The idea is to eventually correlate any changes in neurocognitive function with the burden of air emboli. "This is more relevant as we do TAVIs in younger and medium- to low-risk patients," Khawaja said.
But for now, he acknowledged that it's unknown whether the observed difference in air emboli will make a clinical difference for patients undergoing TAVI. More information will come from additional analyses of INTERCEPTavi and from a larger multicenter study looking at both air and solid emboli that is currently being designed.

Todd Neale is the Associate News Editor for TCTMD and a Senior Medical Journalist. He got his start in journalism at …
Read Full Bio
Sources
Khawaja S. INTERCEPTavi: carbon-dioxide flushing reduces vascular brain injury in TAVI – MRI results. Presented at: EuroPCR 2023. May 16, 2023. Paris, France.
Disclosures
Khawaja reports no relevant conflicts of interest.