Inclisiran in FH: Safe, Cuts LDL in This Challenging Group
Experts are encouraged by these results, suggesting that inclisiran may someday replace PCSK9 inhibitors in patients with FH.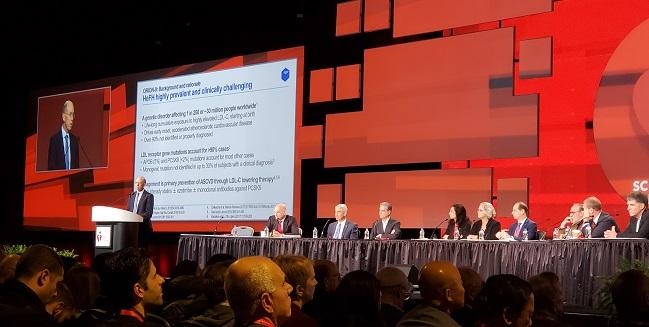 PHILADELPHIA, PA—New inclisiran data presented here show safety and efficacy in patients with familial hypercholesterolemia (FH) regardless of underlying genotype.
The investigational, twice-yearly small interfering RNA (siRNA) injectable manufactured by The Medicines Company "shows a potential to address the unmet need of high-risk FH patients," said Frederick Raal, MD (Johannesburg Hospital, South Africa), who presented the ORION-9 findings Monday in a late-breaking clinical trial session at the American Heart Association (AHA) Scientific Sessions 2019.
More data on the drug were presented earlier in the meeting showing that it more than halved LDL cholesterol in patients with atherosclerotic cardiovascular disease and LDL ≥ 70 mg/dL, with no safety signal over 18 months. ORION-4, the large-scale cardiovascular outcomes trial, is ongoing.
FH is a particularly challenging condition to control given that it is genetically inherited—most often through LDL-receptor gene mutations—and current treatment includes a combination of statins, ezetimibe, and PCSK9 inhibitors.
"Inclisiran will replace PCSK9 monoclonal antibodies for FH patients," Jennifer Robinson, MD (University of Iowa, Iowa City), who was not involved in the study, told TCTMD in an email. "Hopefully inclisiran will be strategically priced to reduce payer barriers to access for this high-need, high-benefit patient population [since] one in 250 people around the world have FH and would benefit from identification and treatment."
Likewise, Joshua Knowles, MD, PhD (Stanford Health Care, Stanford, CA), commented to TCTMD in an email that "the FH community in general is very excited about the possibility of this new approach to lowering LDL cholesterol. . . . This drug has real potential for altering the landscape of care for FH given its reduced dosing (twice yearly) and low side effects. If the drug is priced competitively, it may avoid some of the pitfalls we have seen for [PCSK9 inhibitors]."
LDL Nearly Halved
For ORION-9, Raal and colleagues randomized 482 patients with FH from 46 sites in eight countries who were already on maximally tolerated statins to receive placebo or four injections of inclisiran 300 mg over 18 months (days 1, 90, 270, and 450). Notably, 53% of patients took concomitant ezetimibe over the study period and baseline LDL-cholesterol levels were 155 and 151 mg/dL in the placebo and inclisiran cohorts, respectively.
Of the 432 patients who consented to participate in the genetic substudy, more than half had LDL-receptor variants, 5% in each study group had apolipoprotein B variants, one patient in the inclisiran arm had a PCSK9 gain-of-function variant, and about one-quarter showed no genetic variants. Just over 8% of patients had more than one genetic variant.
At the end of the study, day 510, LDL cholesterol had been reduced by 45% (time-averaged) with inclisiran over placebo (P < 0.0001). No differences were observed between the different genetic variants.
"The single patient with a PCSK9 gain-of-function mutation had a greater than 90% reduction in LDL cholesterol, which is in keeping with the mechanism of action of inclisiran," Raal said.
Treatment-emergent adverse event rates were similar between the placebo and inclisiran arms (72% vs 77%), as were the rates of serious adverse events (13.8% vs 7.5%). There were 33 instances of a protocol-defined skin event at the injection site (13.7%)—29 mild and four moderate—in the study group, and one mild event in the placebo arm.
There were no other differences with regard to liver or kidney function or to the prespecified exploratory cardiovascular endpoint defined as cardiac death, any signs or symptoms of cardiac arrest, nonfatal MI, and/or stroke (4.2% vs 4.2%).
Inclisiran showed "a robust reduction in LDL with all underlying FH genotypes," Raal concluded. "The safety profile was really similar to placebo, except for injection-site events, which were mild and transient."

Yael L. Maxwell is Senior Medical Journalist for TCTMD and Section Editor of TCTMD's Fellows Forum. She served as the inaugural…
Read Full Bio
Sources
Raal FJ. ORION-9: inclisiran for heterozygous familial hypercholesterolemia. Presented at: AHA 2019. November 18, 2019. Philadelphia, PA.
Disclosures
Raal reports receiving honoraria from Amgen, Sanofi-Regeneron, and The Medicines Company.
Robinson reports serving as an investigator on the ORION-4 study.
Knowles reports enrolling patients in this trial at his institution.