Introducing the 2018-2019 Fellow Talk Bloggers
The new class of bloggers includes general and international fellows with global experience, well-rounded education, and passion for cardiology.

The Fellow Talk blog on TCTMD's Fellows Forum offers the chance for current general and interventional cardiology fellows to share their thoughts on training, job searching, and other topics they feel are important. They each have unique perspectives and backgrounds, but all are passionate about the field of cardiology and becoming the best physician they can be. Please take the time to read about our bloggers, but also check out their posts on the Fellow Talk blog.
Mesfer Alfadhel, MD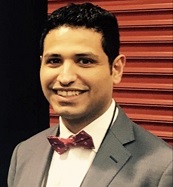 Mesfer is a second-year general cardiology fellow at Dunedin Hospital (Otago, New Zealand), where he also studied medicine and completed his basic physician training. He was one of the winners of the international fellows case presentation contest at TCT 2017, with his talk entitled "Percutaneous transapical closure of a left ventricular pseudoaneurysm." Mesfer believes interventional cardiology to be the most evidence-based specialty in medicine. Planning a career in the field, he says, is "ironically similar to doing an interventional procedure! You always have to plan ahead, anticipate, and have a few tricks up your sleeve." He is particularly intrigued by innovations in medicine and bioengineering, and when not in the hospital Mesfer enjoys playing football, tennis, and swimming. You can follow him on Twitter @nzcardiologist.
Udit Bhatnagar, MD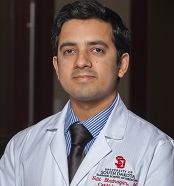 Udit is a third-year general cardiology fellow at the University of South Dakota (Sioux Falls) who has plans to start interventional cardiology training in 2019 at the University of Texas, San Antonio. He studied medicine at Maulana Azad Medical College (New Delhi, India), and completed his internal medicine training at the University of Missouri (Kansas City). His research interests have focused on hospital readmissions after TAVR, specifically regarding how TEE assistance during implantation and patient baseline health status and frailty can contribute. Udit looks forward to blogging for Fellow Talk as a way to become "involved with thoughtful dialogue within the interventional community." The steep learning curve of interventional cardiology along with life-or-death choices can lead some trainees to shy away, he acknowledges. "Overcoming these mental hurdles was challenging, but in retrospect I am absolutely humbled to have such a responsibility," Udit says. When he is not in the cath lab, he enjoys travelling, reading, painting, astronomy, and playing the keyboard. You can find him on Twitter @UditBBhatnagar.
Yashasvi Chugh, MD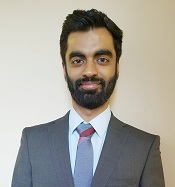 Yashasvi is a second-year general cardiology fellow at Mount Sinai St Luke's and West Hospitals (New York, NY). He attended medical school at Kasturba Medical College, Manipal University (Mangalore, India), and trained in internal medicine at Jacobi Medical Center/Albert Einstein College of Medicine (Bronx, NY). Yashasvi has co-published more than 20 original papers in peer-reviewed journals. He is looking forward to blogging for Fellow Talk in order to help connect young fellows with leaders in the field of interventional cardiology and increase awareness about the field to trainees. Interventional cardiology appeals to Yashasvi as it "necessitates a delicate balance between fine motor coordination in the most stressful of situations and a highly cognizant thought process behind periprocedural planning." When he's not at the hospital, Yashasvi enjoys playing soccer, swimming, and SCUBA. You can find him on twitter @yashasvichugh.
Ankur Gupta, MD, PhD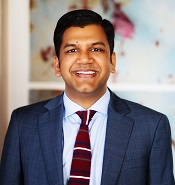 Ankur is an interventional cardiology fellow at the University of Texas Southwestern (Dallas). Born in India, he studied medicine at the All India Institute of Medical Sciences (New Delhi), completed his internal medicine residency at Temple University Hospital (Philadelphia, PA), and trained in cardiovascular medicine at the University of Alabama at Birmingham, where he also earned his interdisciplinary PhD in statistics and computational fluid dynamics. Ankur then completed a fellowship in advanced cardiovascular imaging research focusing on coronary microvascular dysfunction using PET flows at Brigham and Women's Hospital (Boston, MA). The reasons he wants to be an interventional cardiologist include that he loves being in the cath lab, feels gratified by the ability to make real and immediate differences in patients' lives, enjoys working in a very dynamic field with rapid advancements, and is challenged by the chance to develop and test new research hypotheses. Ankur's research lies in elucidating coronary pathophysiology, especially coronary microvascular disease. He was formally trained in health policy and management at the Harvard School of Public Health and seeks to better understand the broader effect of health policies on delivery of cardiovascular care and patient outcomes. You can follow him on Twitter @AnkurGuptaMD.
Sahil Khera, MD, MPH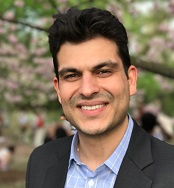 Sahil is a structural heart disease fellow and instructor of medicine at Columbia University Irving Medical Center (New York, NY). He completed his fellowship in interventional cardiology at the Massachusetts General Hospital/ Harvard Medical School (Boston). Born in India, Sahil studied medicine at the University of Delhi. After moving to the United States, he trained in internal medicine and cardiovascular disease at New York Medical College (Valhalla, NY) and earned an MPH from the University of Massachusetts, Amherst. Sahil has published more than 75 original peer-reviewed articles and has dabbled in blogging for the American College of Cardiology's Fellow-in-Training (FIT) website. Blogging for Fellow Talk "will give me an opportunity to discuss and bring to light some of the most pertinent issues concerning interventional cardiology trainees," Sahil says. The biggest challenge he has faced so far in his career has been "balancing a high-intensity procedural specialty with research and academia," and the key has been having phenomenal mentors and a supportive family, Sahil adds.  You can follow him on Twitter @KHERA_MD.
Ajar Kochar, MD, MHS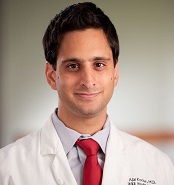 Ajar is an interventional cardiology fellow at Duke University (Durham, NC), where he also trained in cardiovascular medicine, earned his master of health sciences, and completed a clinical research fellowship. He attended Alpert Medical School at Brown University (Providence, RI) and completed his internal medicine residency at Johns Hopkins Hospital (Baltimore, MD). His research interests have focused around the intersection between cardiac intervention and critical care. Most recently, he has been seeking to understand the cause of the high mortality associated with cardiogenic shock, and Ajar was awarded a Duke Institution for Health Innovation grant to develop a machine learning-based model that will identify patients with cardiogenic shock and predict cardiac decompensation. He says that the most challenging part of his journey to becoming an interventional cardiologist has been "balancing a growing family, with two young children, and the desire to learn more, read more, and write more. Despite the difficulty of managing multiple responsibilities, the limited time continues to push me to become more efficient and thoughtful with my time management." You can follow him on Twitter @Ajar_Kochar.
Luai Tabaza, MD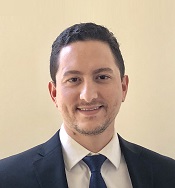 Luai is currently an interventional cardiology fellow at Albert Einstein Medical Center (Philadelphia, PA). After finishing an internal medicine residency at the University of Iowa Hospitals and Clinics (Iowa City, IA), he completed a general cardiology fellowship at the Medical College of Wisconsin (Milwaukee). His research interests include complex higher-risk indicated procedures (CHIP), peripheral vascular interventions, and innovation in cardiovascular technologies and cardiac rehabilitation. Luai is a member of several student mentorship organizations, and after training, he would like to join a busy clinical practice while continuing to mentor fellows and residents. He says that it is "immensely satisfying to save a life and make people feel better and live longer. Interventional cardiology allows you to feel that every day." Through blogging on TCTMD's Fellows Forum, Luai hopes to be a voice on topics that matter to his co-fellows and peers. Outside of the cardiac catheterization laboratory, he enjoys traveling and photography. You can follow him on Twitter @Tabaza.
Lowie Van Assche, MD
Lowie is an interventional cardiology fellow at Northwestern University (Chicago, IL), where he also trained in cardiovascular and internal medicine. Born in Belgium, Lowie studied medicine at the University of Maastricht in the Netherlands and developed a passion for research early on. He did a postdoctoral research fellowship at Duke University studying mechanisms of acute myocardial infarction. Lowie has a deep love for cardiology, physiology, and procedures, which made interventional cardiology "a very straightforward" career choice, he says. Also, he feels that it is important for both trainees and practicing cardiologists today to be not only be academically productive, but also have a presence on social media. Lowie is looking forward to blogging for Fellow Talk and sharing his experiences with his peers. You can follow him on Twitter @lowieva.

Yael L. Maxwell is Senior Medical Journalist for TCTMD and Section Editor of TCTMD's Fellows Forum. She served as the inaugural…
Read Full Bio