Julie Stubbs
Stubbs is cath lab manager at University Hospitals of North Staffordshire NHS Trust, where she has worked for nearly 30 years.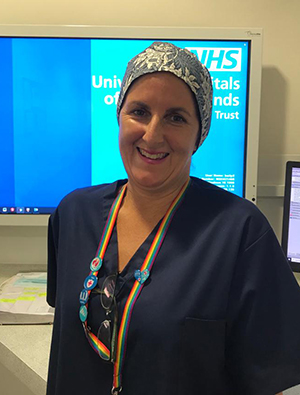 Julie Stubbs, RN, is cath lab manager at University Hospitals of North Staffordshire NHS Trust, located in Stoke-on-Trent, where she has worked for nearly 30 years. She was nominated for this Spotlight based on her strong work ethic and commitment to cath lab staff and patients.
What do you like most about cath lab work?
There is so much variety in what we do. No two days are the same, and the workflow is very fluid. You can plan your schedule and hope for the best, but you're never quite sure what's going to come through the door. There is also the teamwork, which is so important when you're working in a fluid environment like the lab. You rely on every member of the multidisciplinary team to do their job so that it all comes together for the good of the patient. I manage a team of 31 nurses. One thing I've noticed through the years is that when nurses come to work in the cath lab they tend to want to stay there. On a personal note, we are somewhat of an older workforce in our group because most of us came to cath lab work from an early age and stayed here, which is really quite nice.
Can you give us some insight into the environment and workflow at your hospital?
When I first started here 28 years ago we had one lab. We now have four labs in total: two that predominantly do electrophysiology procedures and two that handle angiography and structural work. Each year we do over 2,000 cases of radial angiography and angioplasty, about 2,000 pacemakers, 350 ICDs, 450 loop recorders, and about 450 electrophysiological studies. So, we are a busy hospital and our labs run 5 days a week virtually nonstop. We have also had to add evening sessions as needed for in-patient procedures because we are finding that there is an increase in volume of those cases, some of them as a result of interhospital transfers.
What is a typical day for you?
My job is essentially to plan and coordinate the flow of work through the lab. However, there are many days where I may be working in the recovery bay looking after patients postprocedure or preparing them for a procedure. Today, for example, we've had some very sick patients. We've done four TAVIs, and we've had a couple of complications. I go where I'm needed depending on staffing on any particular day. Technically, my role is that of a manager, and I do all of the things required of a manager, including paperwork and staff management. But, I am very much a hands-on person. I'm going to be out there putting my heart and soul into the clinical side of things, and then I'm going to get my management work done—in that order. We all strive to make sure that the clinical side of what we do is done right and that patients are treated properly.
What are some of the most striking changes that you've seen in interventional cardiology during the years you've worked in the cath lab?
A change from femoral to radial angiography was one of the first really big changes that I witnessed. That happened early in my career in the late 1990s. We were the first big center in the UK to change over to doing interventional procedures radially, and today 95% of all transcatheter cases that are done here are performed with a radial approach. The next major shift was probably when primary angioplasty became the treatment of choice for acute MI. It's easy to forget, but it was quite a big deal at the time and not everyone was happy about it. More recently, we've had the advent of TAVI and seen more structural procedures coming into the cath lab than ever before. Currently, our aortic stenosis patients undergoing TAVI go home at 36 hours after the procedure, which is a huge change from the early days of TAVI. Another change that we are proud of is increased involvement of nurses in a number of procedures. For example, we have a nurse who can do coronary angiography, and we also have a few who do loop recorders. What's interesting is that our physicians rarely do loop recorders anymore, they are mostly done by our specialized nurses.
Are you still feeling the impact of the COVID-19 pandemic on your cath lab?
Yes, most definitely. Right now we are having challenges getting patients into the hospital for a number of reasons related to ambulance services and wait times. We also are continuing to deal with staff shortages due to patient volume and staff illness. We've had peaks and troughs with the shortages, and it is frustrating, because you think you're coming through the worst of it and the next thing you know you're back in it again with another surge.
Nonetheless, we have kept busy as a cath lab throughout the pandemic. We've got three cardiology wards that we work closely with and one of them was converted into a COVID ward at the very heart of the pandemic. Like many other hospitals, we redeployed some cath lab staff to help with COVID patients as necessary. Fortunately, that ward has now been converted back to a cardiology ward, but I think we all still have an ongoing feeling of unease not knowing when we will truly get back to normal.
What are some things you enjoy doing in your free time?
My sister and my nephew have a farm, and it's great to spend time out there. It's a wonderful outlet to get away from everything and be in the fresh air. They have sheep on the farm, so in the Spring when the lambs are being born I go there and help deliver them. My sister is amazing at it and such a hard worker. I feel so fortunate to be able to live close and experience something that is so different from what I do all day in the hospital. My nephew also has a daughter who is 4 years old, and I enjoy spending time with her there as well. We do lots of fun things that keep me on my toes!