Keith Tottenham
Keith Tottenham, BSN, is assistant nursing director of interventional cardiology at Beth Israel Deaconess Medical Center in Boston, MA.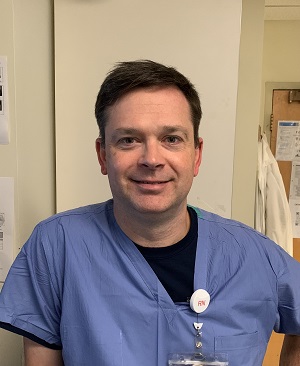 Keith Tottenham, BSN, has been with Beth Israel Deaconess Medical Center for two decades. He was nominated for a profile based on being "a tireless advocate for the lab and the patients who took on an extraordinary leadership role during the pandemic."
How did you start out in nursing?
Well, I've been a nurse for 20 years now, with 19 of those having been at Beth Israel Deaconess, so I like to say I grew up there. However, nursing is a second career for me. I graduated from college with a completely different degree and came to nursing after I'd been out of college for about 5 years. After a year working in a long-term acute care facility, I was looking for a change and was hired to work in the cardiac step-down unit at Beth Israel Deaconess. After that I worked in cardiac ICU and eventually ended up in the cath lab, where I've been for the last 15 years.
What do you do in your current role as assistant director of nursing for the cath lab?
My job is essentially day-to-day oversight of the function of the cath lab. When people ask me in layman's terms what I do, I like to say I'm "the gatekeeper to the roller coaster." I perform functions of triage and room assignment, as well as management of patients through and during procedures. We have four fully functioning cardiac procedure rooms. In addition to that, we also support three hybrid vascular ORs, which function to support our peripheral vascular procedures, plus our hybrid operating room procedures that involve structural heart interventions such as TAVI and MitraClip, as well as some hybrid electrophysiology procedures.
I have a counterpart who is a lead tech, and we share our procedure rooms between the nurses and cardiovascular technologists. I'm in charge of the daily management of the nurses as well as room flow. We have about nine in-house physicians whose caseloads need to be managed and then, because we are a feeder hospital, we also have four to five outside physician groups who come in to our labs to do their interventions. So, I am responsible for lining up the assignment of cases per day, as well as triage of any urgent and emergent transfers that come through. Sometimes the triage requires assistance from a physician, especially if there is complexity to the case. Other more mundane things that I do include maintaining equipment and working on a few different hospital committees.
What do you like best about the cath lab environment?
I really enjoy the procedures, although in my current role I don't have the chance to actually be in them as much anymore. I think what I love most is understanding the dilemmas that come up case by case. Every procedure is different, and I love watching the decisions being made for patients and their families. Knowing how sick many of these patients are when they are brought into the cath lab and seeing that treatment is being provided that will make them feel better and bring a host of benefits to their life is gratifying, and it makes you feel good to be part of it. There's also the new devices that come through, often as part of clinical trials. It's definitely exciting to be on the cutting edge of these things and to observe how the physicians use them and how procedures change or are even simplified because of these new devices.
How did your team cope with the challenges of the COVID-19 pandemic?
Cope is implying past tense. I would say, in all truthfulness, that we are still coping. I oversee 17 nurses. Of those, I sent 10 to ICUs in one manner or another to support our surge capacity from April through May 2020, and then again from January through March of this year when we had another surge. It was very challenging for all of us. In terms of cath lab volume, we were forced to scale back on our elective procedures and support the lab's efforts with a skeleton crew. Granted, we weren't excessively busy, but I think that lack of volume was artificial because now we're seeing the aftereffects. Most years our case volume dips down during the summer months, but we're not seeing that this year. We're actually very busy and I attribute it to some of the reports we've been seeing about people who waited longer than they really could, or should have, to get their procedures because of COVID-19 restrictions and concerns.
I think it's really important that you said "still coping" because many of us are watching the country reopen and things returning to a semi-normal state, but healthcare workers can't be expected to bounce back from this like the rest of us, can they?
That's exactly right. What I see happening now with my colleagues is people taking a deep breath and allowing themselves to adjust to the trauma that they experienced working with COVID patients, or just working in a hospital at a time when people were terrified to go to hospitals. We all need to appreciate that, and we need to allow those people the opportunity to vent the trauma and cope with it now, because they never had the time to do so. My job is part therapist these days and I'm really trying to encourage people to voice their inner demons and discuss the things that they saw, because I had a window into it and it was very traumatic. Death was pervasive. It was hard to see that amount of death and to be there as families weren't allowed in the hospital and loved ones were dying alone. Our nurses were a conduit to many families' last conversations. That's that a not a simple thing to deal with or to get over. All of our healthcare workers will carry it with them, and they need support as they do so.
What sort of things do you like to do in your free time?
I run most days and find that running is a good release for me. I also enjoy a really good cup of coffee and going to Boston Red Sox games. In fact, I would say that being out at Fenway and seeing my team play was one of the things I missed most over the last year and couldn't wait to get back to doing. I also love watching my kids play sports. It's one of the best things in life. My son is 11 and he plays lacrosse and basketball, and my daughter is 15 and she swims and plays softball. They're great kids and spending time with them is just the best thing ever.