Kidney Transplant Recipients Fare About as Well as Other Patients With STEMI
Transplant recipients and patients who remain dependent on dialysis should not be placed "in the same bucket" for treatment decisions, an author says.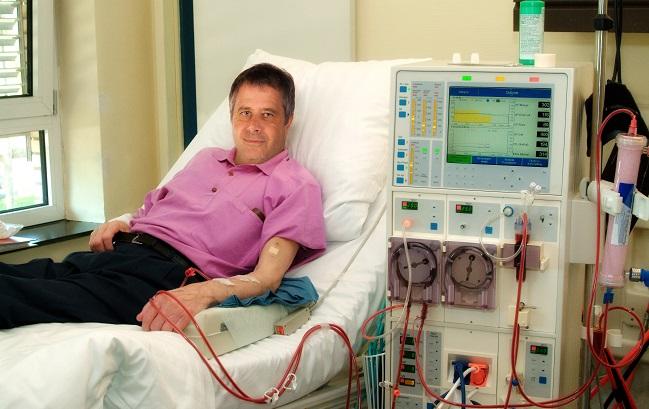 Among patients with STEMI, those who have received a renal transplant have short-term outcomes that are similar to those who have normal kidney function, according to a new study. But patients who require dialysis for stage 5 chronic kidney disease (CKD) continue to have very poor outcomes.
The in-hospital mortality rate was 23.7% among dialysis-dependent patients treated for STEMI, which was significantly higher than the 8.5% rate seen in transplant recipients and the 8.4% rate seen in the non-CKD population, even after accounting for differences in use of reperfusion, lead author Tanush Gupta, MD (Westchester Medical Center, Valhalla, NY), and colleagues report in a study published online January 11, 2017, ahead of print in JAMA Cardiology.
Senior author Deepak Bhatt, MD (Brigham and Women's Hospital, Boston, MA), told TCTMD he was pleasantly surprised to find that patients who had received a kidney transplant had outcomes as good as patients without CKD.
An important message is that "patients who've had a successful renal transplant, while of course you'd still want to be careful about their kidney function and not give them excessive contrast load and so forth, if they have an indication to go to the cath lab, they really ought to go to the cath lab just like a patient who doesn't have renal dysfunction and hasn't had a renal transplant," Bhatt said. That message, he added, could be extended to patients with NSTEMI, too.
The outlook of patients who are on dialysis and present with STEMI, however, remains an area of concern and how to handle that tricky group should be the subject of future studies, he said. Placing dialysis-dependent patients and those who have undergone a renal transplant "in the same bucket" when deciding on treatment—as doctors sometimes do—would be a mistake, Bhatt advised.
Transplant 'Resets the Clock'
Interventional cardiologists are nervous when patients come to the cath lab with severely abnormal renal function, Bhatt explained, and "that concern, while quite understandable and appropriate, oftentimes leads to undertreatment of patients with advanced renal disease."
Prior studies have shown that renal transplantation is associated with a reduced risk of cardiovascular disease in patients with advanced CKD, but whether transplantation influences outcomes after STEMI has not been well studied.
To that end, the investigators analyzed data from the National Inpatient Sample on hospitalizations for STEMI in the United States between 2003 and 2013. The analysis included about 2.3 million patients without CKD, 30,072 with dialysis-dependent stage 5 CKD, and 2,980 renal transplant recipients.
The overall rate of reperfusion—which included thrombolysis, coronary angiography, PCI, and CABG—was similar in patients without CKD and in transplant recipients (68.9% and 65.2%, respectively), although the latter group was less likely to undergo angiography and revascularization. The rate was much lower in patients on dialysis (39.5%).
When asked about the low reperfusion rates across groups, Bhatt noted that data in the earlier years of the study pulled the overall numbers down and that reperfusion has become more common in recent years. Indeed, among transplant recipients, the rate was 81.4% in 2011-2013.
Addressing the positive outcomes seen in patients who had undergone kidney transplantation, the investigators point out that they are no longer subject to the variations in intravascular volume experienced by patients on dialysis. In addition, studies have shown that echocardiographic measures are normalized after the transplant.
In a sense, getting that renal transplant resets the clock and helps the patient not only in terms of how they're going to do with cardiac procedures but just in general. Deepak Bhatt
"In a sense, getting that renal transplant resets the clock and helps the patient not only in terms of how they're going to do with cardiac procedures but just in general," Bhatt explained.
Over the longer term, however, there may still be lingering risks for transplant recipients. Prior studies "suggest that despite similar in-hospital mortality rates, as noted in our study, renal transplant recipients still have a greater long-term mortality hazard after [acute MI] compared with patients without CKD," Gupta et al write.
In an accompanying editorial, Robert Welsh, MD (Mazankowski Albert Heart Institute, Edmonton, Canada), cites some limitations of the current analysis, including the lack of detailed information on how and when patients were treated.
Also, there are unknowns about how the management of transplant recipients and dialysis-dependent patients might have differed.
"Acknowledging variations in clinical practice in this population with extensive cardiac risk factors and comorbidities, it is possible that differences observed between patients with CKD on dialysis and those receiving renal transplantation were influenced by previous noninvasive or invasive cardiac investigations completed prior to renal transplantation," Welsh says. Nevertheless, he adds, "although it is valid to raise this theoretical concern (as the authors have), the rates of revascularization and previously documented coronary artery disease prior to the index event were more similar than dissimilar in the three groups analyzed."
Despite the limitations of the study, the low rates of reperfusion observed represent "a call to action for the practicing clinicians to expedite STEMI diagnosis in these high-risk patient populations and deliver appropriate timely reperfusion," Welsh concludes.

Todd Neale is the Associate News Editor for TCTMD and a Senior Medical Journalist. He got his start in journalism at …
Read Full Bio
Sources
Gupta T, Kolte D, Khera S, et al. Management and outcomes of ST-segment elevation myocardial infarction in US renal transplant recipients. JAMA Cardiol. 2017;Epub ahead of print.

Welsh RC. Challenges of assessing common problems presenting in uncommon high-risk patient populations. JAMA Cardiol. 2017;Epub ahead of print.
Disclosures
Gupta reports no relevant conflicts of interest.
Bhatt reports numerous conflicts of interest.
Welsh reports receiving grants and/or personal fees from AstraZeneca, Amgen, Bayer, Bristol-Myers Squibb-Pfizer, Boehringer Ingelheim, the Canadian Institutes of Health Research, Edwards Lifesciences, Johnson & Johnson, the Population Health Research Institute, the Canadian Cardiovascular Society, and the University of Alberta Hospital Foundation. He is president of the Canadian Centre for Clinicians and Scientists.