Long-term IABP-SHOCK II Data Offer Rare Look at Poor Prognosis in Acute MI Cardiogenic Shock Patients
But as had been the case at 30 days and 1 year, there was no mortality difference between the IABP and control groups at 6-year follow-up.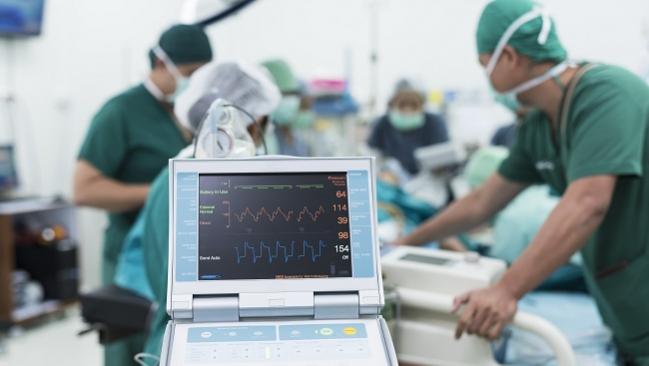 Continuing the trajectory seen at 30 days and 1 year, the long-term data from the IABP-SHOCK II trial reported today show no survival benefit for intra-aortic balloon pump (IABP) use in acute MI cardiogenic shock patients.
That conclusion comes as no surprise, lead investigator Holger Thiele, MD (Heart Center Leipzig-University Hospital, Germany), told TCTMD. Still, he said, it was important to take a close look at how the patients continued to fare in the years following their event—BCIS-1 tested IABP use in a slightly different population, high-risk PCI patients, and found an all-cause mortality reduction at 5 years despite lackluster short-term results.
Moreover, the only trial to look at such a long horizon in cardiogenic shock patients is the SHOCK trial, published back in 2006, Thiele pointed out. "Maybe what is really surprising is the mortality is exactly the same [as it was then]. . . . The SHOCK trial was performed in 1999 and they had exactly 67% mortality at 6-year follow-up." In IABP-SHOCK II, which was begun a decade later, two-thirds of patients also had died by 6 years.
Thiele presented the results, published online simultaneously in Circulation, at the American Heart Association 2018 Scientific Sessions in Chicago, IL.
Joseph G. Rogers, MD (Duke University School of Medicine, Durham, NC), who commented on the findings for TCTMD, agreed that the study's final outcome was intuitive.
"You'd have to think that the vast majority of the mortality and adverse events that occur in that condition occur early. And the fact that they didn't seen an early signal and they didn't see a signal at a year should've probably told us that there wouldn't be a late signal either," he said. "Although one of the things that's interesting is if you follow that cohort out over a longer period of time, there still is incremental mortality, suggesting that the underlying problem is not being well treated either."
The question, then, is what can be done to make things better? "We really have to look for further trials, further measures on how to improve the outcome of these patients," Thiele emphasized.
Two-Thirds Died
Between 2009 and 2012, IABP-SHOCK II enrolled 600 patients with acute MI cardiogenic shock who were undergoing early revascularization, randomizing them to IABP versus control. Earlier reports from the trial showed no difference in survival between the two study arms at either 30 days or 1 year.
At a median of 6.2 years, there were follow-up data on 591 patients (98.5% of the original cohort). The mortality rate was 66.3% with IABP use and 67.0% in the control group (P = 0.98). Recurrent MI, stroke, repeat revascularization, and rehospitalization for cardiac reasons also were equivalent between IABP and control, as were quality of life and NYHA class.
Rogers pointed out that one unknown is how well patients were managed after their MI. "Are we actually providing the right kinds of care? And what kinds of innovations do we have for the postshock survivors, who presumably are left with significant heart muscle injury and ventricular dysfunction? That's part of the story that doesn't get told in the paper," he observed. "How were those people treated after they left the hospital? Were they on the best medical therapies? Did they have the kinds of treatments that we've shown in prior studies and are in our guidelines to mitigate some of those longer-term risks?"
Thiele said the researchers did not have details on medical therapy in the intervening years.
Asked whether now, knowing the IABP-SHOCK II results in their totality, physicians should rightfully be dissuaded from using IABPs in this setting, Thiele noted that European guidelines advise against routine IABP use (class III recommendation) and US guidelines are more neutral (class IIb B recommendation). "Some people [think] it may be beneficial, but based on these data, if you ask me, the intra-aortic balloon pump really has no effect at all on the outcome of the patients," he said. "At least in Germany, we've stopped using the intra-aortic balloon pump."
Worldwide, alternatives like Impella (Abiomed), TandemHeart (LivaNova), and extracorporeal membrane oxygenation (ECMO) are on the rise, Thiele said, noting that he and others are currently developing a trial to study ECMO in patients with cardiogenic shock. "People now recognize that the intra-aortic balloon pump is not working and their reflex is now to use more expensive and more aggressive and more invasive devices, because we believe that these devices will work," he commented.
Whether these options will prove to be effective is still uncertain, Thiele added. "I'm not 100% sure if the other devices really can change mortality."
Thus far, the data on these newer therapies to curb early mortality aren't very supportive, Rogers commented. "[This] either says to me that this a problem we cannot solve, which I don't believe, or we haven't figured out how to use the tools we have or need different tools."
In an accompanying editorial, Stuart D. Katz, MD, Nathaniel R. Smilowitz, MD, and Judith S. Hochman, MD (all from NYU Langone Health, New York, NY), observe that the only intervention proven to provide clinical benefit is early coronary revascularization.
"The 6-year follow-up of the IABP-SHOCK II trial demonstrates the stubbornly high short- and long-term mortality associated with MI and cardiogenic shock despite advances in cardiovascular care over the past decades," they write.
"The study also confirms the feasibility of large clinical trials in this critically ill patient population in the modern era. These results should serve as a call to action to identify and test novel approaches to reduce short- and long-term mortality in cardiogenic shock," Katz and colleagues conclude. "Large simple multicenter clinical trials are urgently needed to define optimal management strategies to improve outcomes in patients with cardiogenic shock complicating MI. All patients and care providers would ideally contribute to the evidence base."

Disclosures
This work was supported by the German Research Foundation, German Heart Research Foundation, German Cardiac Society, Arbeitsgemeinschaft Leitende Kardiologische Krankenhausärzte, and Heart Center Leipzig at University of Leipzig, as well as unrestricted grants from Maquet Cardiopulmonary AG, Hirrlingen, Germany, and Teleflex Medical, Everett, MA.
Thiele, Katz, Smilowitz, Hochman, and Rogers report no relevant conflicts of interest.