Low-Dose Paclitaxel DCB Shows Long-term Durability in Treating PAD
Two-year data from the ILLUMENATE European trial show sustained patency and freedom from clinically driven TLR compared with PTA.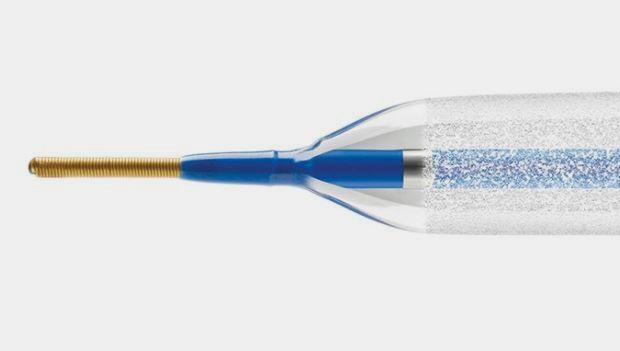 LAS VEGAS, NV—A recently approved low-dose drug-coated balloon (DCB) results in durable treatment effect out to 2 years compared with standard uncoated balloon angioplasty in patients with peripheral artery disease, according to late-breaking trial results released at VIVA 2017.
The data show a "durable treatment effect with no indication of late catch up at 2 years," said Marianne Brodmann, MD (Medical University of Graz, Austria), lead investigator of the ILLUMENATE European trial. While the DCB is the third to enter the commercial arena for the treatment of PAD, Brodmann said, it is the first to show a statistically significant treatment effect compared with percutaneous transluminal angioplasty (PTA) at this time point.
High Patency, Freedom From TLR Maintained
The ILLUMENATE European trial randomized 294 patients with femoropopliteal lesions to the Stellarex DCB (Spectranetics) or PTA at 18 sites in Europe. The Stellarex DCB, which was approved by the US Food and Drug Administration (FDA) in July 2017, delivers a 2 µg/mm2 dose of paclitaxel. One of its competitors on the DCB market, Lutonix (Bard), delivers the same low dose of paclitaxel, while the other, IN.PACT Admiral (Medtronic) delivers a higher dose of 3.5µg/mm2, Brodmann noted.
At 2 years, the primary patency rate was higher in the group treated with the Stellarex DCB compared with PTA (75.9% vs 61%; P = 0.025). Additionally, the 2-year freedom from clinically driven TLR also was higher with the DCB than angioplasty (88.9% vs 71.8%; P < 0.001).
For the key safety endpoints of all-cause death, major adverse events, cardiovascular death, and target limb amputation, there were no differences between the two treatment arms. However, clinically driven TLR in the PTA group was more than double that in the DCB group (30.5% vs 12.1%; P < 0.001). Referring to the latter as "the most important endpoint," Brodmann noted that the 2-year clinically driven TLR rates show that the gap seen between treatment groups at 1 year appears to have grown larger.
Functional status assessments such as 6-minute walk test, walking distance test, and Walking Impairment Questionnaire (WIQ) composite score were similar between treatment groups despite the DCB patients requiring 60% fewer revascularizations.
Comparing the 2-year results of Stellarex with those of IN.PACT and Lutonix in published clinical trials, Brodmann said the core-lab-adjudicated primary patency rate of 75.9% was the highest of the three, with IN.PACT at 69.2% and Lutonix at 53.8%.
Optimizing and Learning Through DCBs
Noting that Brodmann has been working with DCBs for longer than just about anyone, panelist Peter Schneider, MD (Kaiser Foundation Hospital, Honolulu, HI), pointed out that the PTA group did better than expected in terms of primary patency, adding "that's the best 2-year PTA data on the planet." Brodmann said she believes the DCB trials in general have helped optimize PTA technique over the years.
Fellow panelist Krishna Rocha-Singh, MD (Prairie Vascular Institute, Springfield, IL), asked Brodmann what lessons have been learned since the early days of using DCBs.
Brodmann replied that among the important factors are better and more consistent use of predilatation, adequate sizing, slow inflation, and balloon length.
In other words, Rocha-Singh concluded: "We have to call out both the technique and the technology when we discuss these results."
In a press conference prior to the presentation, Sean Lyden, MD (Cleveland Clinic, Cleveland, OH), lead investigator for the US-based, multicenter ILLUMENATE Pivotal IDE trial, noted that details such as drug dosage, balloon coating, and the type of excipient used might give one DCB an edge over another in the long term. Ultimately, however, the choice between the three available DCBs will most likely come down to institutional preference and cost.
"I'm sure health systems like mine at the Cleveland Clinic will have a lot to say; if we don't feel there's a difference between products, they'll probably try to negotiate for the best price," Lyden said, adding that clinicians have to "hang their hats on where the data is," despite the lack of head-to-head comparisons of the DCBs.
"But clearly  . . . when something is going to last a little longer, I think people are more likely to offer an interventional therapy to patients, especially when you know there's going to be some durability . . . over plain old angioplasty," he concluded.
Photo Credit: Spectranetics

Sources
Brodmann M. ILLUMENATE European randomized trial: 2-year results. Presented at: VIVA 2017. September 13, 2017. Las Vegas, NV.
Disclosures
Brodmann reports honoraria from Astra Zeneca, Avinger, B. Braun Interventional, Bard Peripheral Vascular, Bayer, Biotronik, Boehringer-Ingelheim, Boston Scientific, Bristol-Meyers Squibb, Cagent, Daiichi-Sankyo, Intact Vascular, Medtronic, Sanofi-Aventis, and VIVA Physicians.