Man's Best Friend, Especially After an MI or Stroke
Dog owners are less likely to die after a cardiovascular event, but the reasons remain unclear.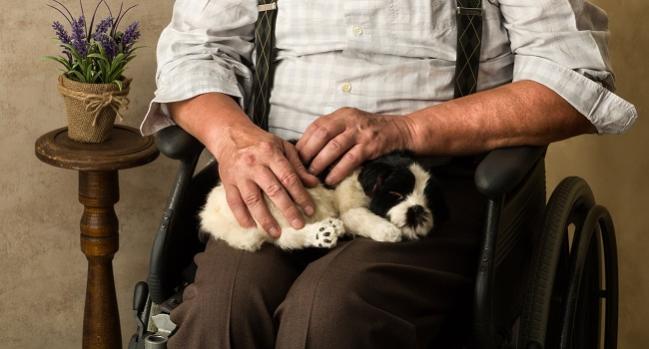 DUBAI, United Arab Emirates—New research digging deeper into the relationship between dogs and the heart disease of their human companions suggests that dog owners who have an acute MI or ischemic stroke are less likely to die in the year after the event.
"We believe that dog ownership in dog lovers is beneficial and these individuals may benefit positively from dog ownership, especially where the owner is attached to their pet," lead author Mwenya Mubanga, MD, PhD (Uppsala University, Sweden), told TCTMD in an email. "This ensures adequate and sustained physical activity, and in those who live alone, it alleviates social isolation, loneliness, and depression."
Mubanga presented the analysis at the 2018 World Congress of Cardiology & Cardiovascular Health last week.
The idea that having a furry, four-legged friend around could have an impact on cardiovascular risk is not a new one, and the American Heart Association (AHA) weighed in with a scientific statement on the topic in 2013. After reviewing existing evidence, the authors concluded that owning pets, particularly dogs, is probably associated with a lower risk of CVD and that the relationship is possibly causal. They cautioned, however, that pets should not be brought into the home for the primary purpose of reducing CVD risk.
This new study is part of a series of four investigations based on Swedish national registry data into the link between dog ownership and cardiovascular risk that made up Mubanga's doctoral thesis. The first study, published last year, showed that dog owners in the general population carried lower risks of all-cause and CVD mortality and that those living alone also had reduced risks of incident CVD events.
The investigators released two additional analyses at the World Congress. One explored whether the positive relationships seen in the prior study could be due to reductions in three major risk factors for acute MI and stroke: hypertension, hyperlipidemia, and diabetes. That didn't turn out to be the case, although Mubanga said residual confounding could have affected the findings.
The other analysis zeroed in on patients who had a first MI (n = 178,907) or ischemic stroke (n = 154,245) between 2001 and 2012, of whom 5% to 6% were registered dog owners. Roughly 16% of patients died within a year of the event.
After adjustment for potential confounders, dog ownership was associated with lower risks of 1-year mortality both in patients with acute MI (adjusted OR 0.72; 95% CI 0.67-0.78) and in those with ischemic stroke (adjusted OR 0.77; 95% CI 0.71-0.84). The findings were consistent across subgroups defined by age, sex, and living status, although the relationship appeared stronger in people living alone.
A Form of Cardiac Rehab?
Mubanga said it's not possible to investigate the potential mechanisms underlying the results because of the observational nature of the analyses, but she provided some possibilities.
The first could involve physical activity, in that people with dogs are more likely to get exercise when they take their pets out for a walk, she suggested.
But it could also be that there are psychosocial benefits to having a dog around, such as a decrease in loneliness. "Loneliness is an independent risk factor for premature death, having been associated with hypertension, coronary heart disease, and mortality," Mubanga explained. "In our study, the gap in survival between singles and those living in multiple-person households were abolished when considering single dog owners only."
Or there might be unmeasured differences between people with and without dogs, she said. Dog owners might seek medical attention sooner so as to not interfere with their normal dog-walking activities, which could lead to earlier diagnosis and treatment of any problems, or they might simply lead a more healthy and social lifestyle.
"These factors acting together would decrease the risk of mortality quite significantly," Mubanga said.
All this does not mean, however, that everyone should run out to fetch themselves a canine companion in the hopes of boosting their cardiovascular health.
"We know that dog ownership in non-dog lovers causes more stress than health benefits, and it has also been found that in multiperson households where only one person assumes responsibility for caring for the dog, it can be a burden and not a benefit," Mubanga told TCTMD. Moreover, "dog ownership is not a good prescription in non-dog lovers, as it may cause more harm than good."
Commenting for TCTMD, Martha Gulati, MD (Banner – University Medicine Heart Institute, Phoenix, AZ), said, "I don't know if we can answer from these studies or from any observational data what is it about dogs that improves health or improves getting well after a heart attack or stroke," but she agreed that companionship and having a reason to go out and be active could be involved.
In fact, Gulati said, canine friends might be filling some of the gap created by poor participation in cardiac rehabilitation after a cardiovascular event. "That whole idea of doing cardiac rehabilitation, which we know only a quarter of the population does, obviously would benefit everyone," she said, "but maybe for those people that go home, they still are taking their dog out for a walk and they're getting their daily activity versus somebody maybe being more scared of going out because they've had a heart attack and maybe they haven't participated in cardiac rehab."
Still, Gulati said, there are a lot of questions remaining about what explains the relationship between dog ownership and CVD risk.
Mubanga said her group continues to delve into the issue, looking into whether the death of a pet dog has an impact on acute cardiovascular events in its owner and into whether there are differences in microbiome that might relate to inflammation and atherosclerosis between people with versus without dogs.
There is also a need to explore how motivation for dog ownership plays into the observed associations, she said. "Is it possible that dog owners are already different in terms of diet, physical activity, and cardiovascular risk in general from non-dog owners?"

Todd Neale is the Associate News Editor for TCTMD and a Senior Medical Journalist. He got his start in journalism at …
Read Full Bio
Sources
Mubanga M. Dog ownership and mortality after a cardiovascular event: a register-based Swedish study. Presented at: World Congress of Cardiology & Cardiovascular Health 2018. December 5, 2018. Dubai, United Arab Emirates.

Mubanga M. Dog ownership and cardiovascular risk factors: a nationwide register-based cohort study. Presented at: World Congress of Cardiology & Cardiovascular Health 2018. December 5, 2018. Dubai, United Arab Emirates.
Disclosures
The study was funded by the Agria Research Foundation and the Swedish Research Council for Environment, Agricultural Sciences, and Spatial Planning (FORMAS). Infrastructure support was received from the Bioinformatics Infrastructure for Life Sciences (BILS).
Mubanga reports no relevant conflicts of interest.