Michael J. Davidson, Advocate of Surgical-Interventional Cooperation, Dies at 44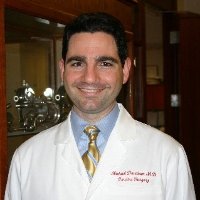 Michael J. Davidson, director of Endovascular Cardiac Surgery at Brigham and Women's Hospital, died January 20, 2015, after being shot by a former patient's son. He was 44 years old.
Dr. Davidson was a leader in the field of hybrid revascularization, which integrates minimally invasive direct coronary artery bypass from the LIMA to the LAD and DES implantation in a specially equipped cath lab. He wanted to "combine the best skills of the interventionalist with the best skills of the surgeon to give the patient the very best outcomes," according to Roxana Mehran, MD, of Mount Sinai Medical Center (New York, NY).
Known for Collaboration
His willingness to collaborate with the interventional community led to his serving on the faculty of the annual Transcatheter Cardiovascular Therapeutics symposium since 2007. One of Dr. Davidson's presentations at TCT 2011 introduced attendees to the concept of a "hybrid room" and why it is needed in the hospital setting. He was also part of the team that performed the first TAVR procedure without general anesthesia at his institution. Dr. Davidson studied at Princeton University and Yale University then went on to complete his surgical and endovascular training at Duke University and Brigham and Women's Hospital.
Martin B. Leon, MD, of Columbia University Medical Center (New York, NY), said Dr. Davidson "represented that innovative, aggressive, creative arm of cardiac surgery that embraced a multidisciplinary approach to cardiovascular disease…. He worked very closely with interventional cardiologists in a seamless fashion and in a very humble, positive, and determined way. These special skills put him in a very small, elite group of cardiac surgeons who have mastered fundamental interventional techniques that would allow them to do these combination, or hybrid, procedures."
Mathew Williams, MD, of NYU Langone Medical Center (New York, NY), said that he worked with Dr. Davidson early after his training to develop the initial TCT surgical course. At the time, many in both subspecialties were convinced that teamwork would never be successful. Dr. Davidson, he said, "was a true pioneer in that he was one of the first cardiac surgeons to cross the boundary between cardiac surgery and interventional cardiology, a move that has led to countless fruitful collaborations resulting in better care for patients with cardiac disease."
Because of Dr. Davidson's work and his credibility with both surgeons and interventionalists, Ajay J. Kirtane, MD, SM, of Columbia University Medical Center said he sits on panels with surgeons at various meetings "where I may have never had that opportunity before. We can now figure out what we have in common more than being divisive from afar."
According to Dr. Williams, Dr. Davidson possessed "the whole package" by merging intelligence and skill with passion. But "despite his academic and professional accomplishments, which were extraordinary, the thing I admired most about Mike was his love for his children," he added. "When I would see him at various meetings, I could always count on a new video of his kids. You never saw him smile as much as he did when he was talking about his family."
Gregg W. Stone, MD, of Columbia University Medical Center, said Dr. Davidson "was one of the most uniquely talented and spirited physicians who cared deeply about patients and cardiovascular science. He was a regular fixture at TCT, and we will miss him beyond words."
'A Loss for Humanity'
According to the Boston Police Department, an assailant walked into the Shapiro building at Brigham and Women's Hospital around 11:00 AM and asked to speak with Dr. Davidson. It is believed that the suspect fired 2 shots at Dr. Davidson and then eventually killed himself. After being treated for his injuries, Dr. Davidson died later that day.
Initial inquiry suggests the suspect, identified as Stephen Pasceri, 55, was not happy with the care his mother, who died in November 2014, received at the hospital, according to a Boston Globe article.
"The kind of medicine we practice requires great intensity. There are extraordinary euphoric highs, and there are very disturbing lows," Dr. Leon said. "The roller coaster nature of the acuity of the patients and the intensity of the emotional experiences can create some aberrant responses, and this was a psychopathic aberrant response that manifested in a way that had tragic consequences."
Dr. Kirtane called the event "a sobering reminder of the world we live in now. We really try our best and do what we can. Sometimes in a field like cardiovascular medicine, that's not good enough."
Dr. Mehran referenced the Hippocratic Oath that all practicing physicians must take to do no harm to their patients. "But unfortunately, outcomes are not always in our hands. It just is so horrific to think that the blame comes to the doctor," she said, adding that Dr. Davidson was "just beginning to practice his talent after 15 years of training. To have it be taken away in such a horrific way is unconscionable [and] a loss for humanity because he was such a gifted, talented surgeon."
In a public statement, Brigham and Women's Hospital said, "Dr. Davidson was a wonderful and inspiring cardiac surgeon who devoted his career to saving lives and improving the quality of life of every patient he cared for." The Boston Globe reports that he leaves behind his wife, who is a plastic surgeon, and 3 children.

Yael L. Maxwell is Senior Medical Journalist for TCTMD and Section Editor of TCTMD's Fellows Forum. She served as the inaugural…
Read Full Bio