New Carotid Stent Systems Associated With Low Stroke Risk
With complication rates of 1% or less, Neuroguard and CGuard are renewing optimism about CAS, experts said at VIVA 2023.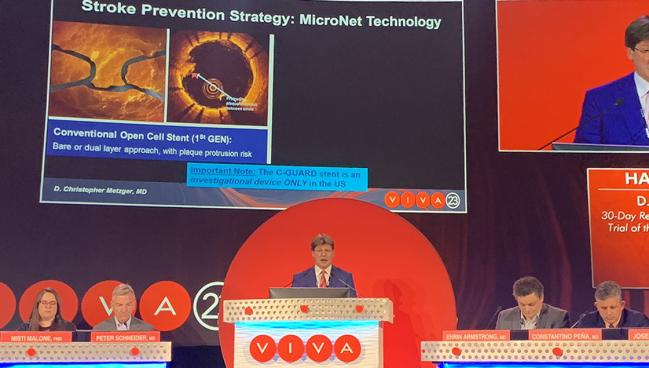 LAS VEGAS, NV—A carotid stent with integrated embolic protection and another that investigators say is potentially "neuroprotective" are showing promising safety and efficacy data at a time when interest in endovascular carotid interventions has been revived.
Last month, the Centers for Medicare & Medicaid Services (CMS) issued a final National Coverage Determination (NCD) for percutaneous transluminal angioplasty (PTA) of the carotid artery concurrent with stenting (CAS). The move significantly expands the ability of physicians and patients to choose CAS over carotid endarterectomy (CEA) after years of limited use, beginning in 2009, due to concerns about periprocedural stroke. The NCD specifies that CAS must be used with a US Food and Drug Administration-approved or cleared embolic protection device.
At VIVA 2023 last week, both the Neuroguard integrated embolic protection carotid stent (Contego Medical) and the mesh CGuard carotid stent (InspireMD) with sustained embolic protection, showed low rates of stroke, major adverse events, and death.
Speaking with TCTMD, Sean Lyden, MD (Cleveland Clinic, OH), said the big difference between 2009 and today is the wealth of studies comparing CAS and CEA.
"We have undisputable device-controlled, level 1 evidence between the two therapies in terms of equivalence and outcomes at ten years," he said. "Now we also have two new technologies that have come out with 30-day results that are the best in class to have ever been seen for any device to date, including transcarotid artery revascularization [with] less than a 1% stroke rate in two different populations of almost 600 patients."
Lyden added that while optimism is running high for these new devices to be approved and into the hands of operators soon, long-term outcome data are still needed and will be crucial to the FDA's decision process.
PERFORMANCE II
The single-arm PERFORMANCE II trial, which tested the Neuroguard device, enrolled 305 patients (mean age 70 years; 34% female) from 40 sites in the United States and Europe. Three-quarters were deemed to be high surgical risk because of physiologic characteristics, with 28% meeting both anatomic and physiologic high-risk criteria. At baseline, the mean degree of angiographic stenosis was 85%, and 34% of lesions were severely calcified. Approximately 20% of patients were symptomatic. A primary embolic protection device was used in all cases, with the Emboshield NAV6 (Abbott Cardiovascular), being the most commonly used.
At 30 days, rates of stroke were 1.31% in an intention-to-treat analysis and 0.98% in a per-protocol analysis. At 1-year follow-up (all stroke within 30 days and ipsilateral stroke between day 31 and 12 months), the reported stroke rate was 1.68% in an intention-to-treat analysis and 1.35% in a per-protocol analysis.
We have undisputable device-controlled, level 1 evidence between the two therapies in terms of equivalence and outcomes at ten years. Sean Lyden
Presenter William A. Gray, MD (Main Line Health/Lankenau Heart Institute, Wynnewood, PA), further showed that in patients at high risk for CEA, the 30-day rate of death/stroke/MI was 2.3% in the intention-to-treat analysis and 1.9% in the per-protocol analysis.
"If we just evaluate strokes, we see that there were only four strokes in 305 patients," Gray said. "There were no major strokes and no contralateral strokes, and in the asymptomatic population there were only two strokes."
At 1-year follow-up, one additional minor stroke event had occurred, for a total event rate of 2.67%.
"One thing about the system that's sort of unique is that it's essentially using two filters," noted panelist Daniel Clair, MD (Vanderbilt University Medical Center, Nashville, TN), in a recap session. The device combines a stent, a balloon, and a filter all on one platform; plus an embolic protection device is used.
Gray believes that the dual filtration plays a role in keeping stroke rates low.
C-GUARDIANS
The single-arm C-GUARDIANS trial was designed to evaluate the safety and efficacy of the self-expanding CGuard stent in 316 symptomatic and asymptomatic patients (mean age 69.0 years; 31.6% female) from 24 sites in the United States and Europe. All had carotid stenosis and were at a high risk for CEA.
One of the unique features of the CGuard stent is that it is covered in a woven mesh sleeve that is intended to prevent plaque protrusion and can be used with distal embolic filters or proximal embolic protection with flow cessation, or both. The most commonly used embolic protection device in the trial was the Emboshield NAV6. The stent has CE Mark approval in Europe, but has only an investigational device exemption (IDE) designation in the United States.
At 30 days, the rate of total major adverse events (death, stroke, MI) was 0.95% and the rate of cumulative stroke and death was 0.95%.
Presenter D. Christopher Metzger, MD (OhioHealth Riverside Methodist Hospital, Columbus), said the major adverse events included one fatal stroke on day 10 in a patient who was not compliant with dual antiplatelet therapy (DAPT), one major stroke, and one in-hospital retinal infarction.
"These results appear to confirm a potential neuroprotective effect of this particular stent, but we await the prespecified 1-year primary endpoint, which will include ipsilateral stroke at 1 year," he said. Follow-up is planned through 3 years.
We have achieved a level that I think is commensurate with many of the other things we consider safe in our armamentarium of procedural medicine. William A. Gray
In response to a question from late-breaking session moderator Peter Schneider, MD (University of California, San Francisco), regarding how the mesh covering of the stent affects the way in which operators select sizing options, Metzer said it has no bearing on stent size in terms of elongating it.
"The biggest proportion used were 9- or 10-millimeter stents, some 8, almost no 7s, and nothing smaller than that," he added.
In addition to the C-GUARDIANS study, the stent is also being tested in the ongoing CREST-2 trial.
Medication Compliance Issues
"As we look at these two trials in terms of rates of complication of 1% or less, this is approaching what we do for PFO closure, for left atrial appendage closure," Gray said in the recap session. "We have achieved a level that I think is commensurate with many of the other things we consider safe in our armamentarium of procedural medicine."
Both studies required patients to adhere to DAPT for 30 days and thereafter at the discretion of their physician. As the C-GUARDIANS experience shows, however, noncompliant patients are at risk of death.
In the recap session, co-moderator Raghu Kolluri, MD (OhioHealth Heart and Vascular, Columbus, OH), noted that the new NCD for carotid stenting clearly points to the importance of medical therapy.
"So how do we improve medical therapy in these patients? In terms of our clinics, who is prescribing these medications? How often do we have to see them after [carotid stenting]?" he added.
Lyden said in his center they fill the DAPT prescription while the patient is still in the hospital so they go home with it.
Metzger said this is an area where he encourages operators that they must be involved. "It is most important for us to have discussions with the patient's wife, [or] their daughter, and everybody else in the room [to] just absolutely over-drill how important it is, especially in the first month, [that] you take it. I think we just absolutely have to own it," he said.

Sources
Gray WA. A multicenter trial evaluation of the Neuroguard carotid artery stent system with integrated embolic protection: 30-day outcomes of PERFORMANCE II. Presented at: VIVA 2023. November 1, 2023. Las Vegas, NV.

Metzger DC. 30-Day results from the C-Guardians pivotal trial of the CGuard carotid stent system. Presented at: VIVA 2023. November 1, 2023. Las Vegas, NV.
Disclosures
Gray reports consulting for Alucent Biomedical, Boston Scientific, Edwards Lifesciences, WL Gore, Shockwave Medical, Philips, Medtronic, and Efemoral; and research, clinical trial, or drug study funds from Abbott, Boston Scientific, Edwards Lifesciences, Medtronic, Philips, and Shockwave Medical.
Metzger reports honoraria from Abbott Vascular and Penumbra; and consulting for Boston Scientific.