Next-Generation Large-Bore Closure Devices Arrive
Several of the devices used for TAVR, EVAR, and other interventions have recently received a CE Mark and seem poised to enter the US market.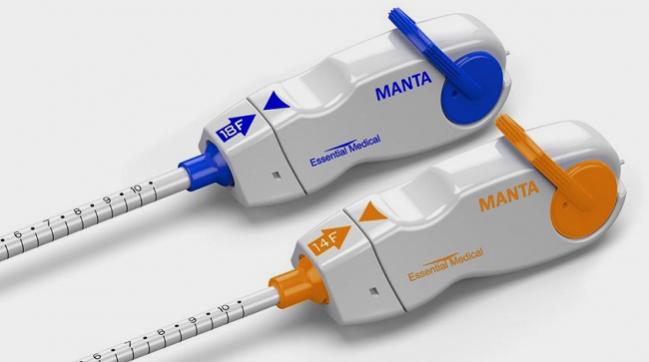 HOLLYWOOD, FL—Several large-bore closure devices seem poised to soon enter the US interventionalist's toolbox, with "explosive growth" expected in their use given the rise in transcatheter aortic valve replacement and structural heart procedures, percutaneous left ventricular assist device (LVAD) implantation, endovascular aortic repair (EVAR), transthoracic endovascular aortic repair (TEVAR), according to experts at the International Symposium on Endovascular Therapy (ISET) 2018.
These next-generation devices offer improvements on the currently available Prostar XL and Perclose ProGlide (Abbott Vascular), both of which employ suture-mediated closure, said Robert Bersin, MD, MPH (Swedish Heart & Vascular, Kirkland, WA), in a presentation here Sunday.
"There's a lot of technique to applying suture-mediated closure devices, and they're imperfect," Bersin said. "They're not adequately predictable." He cited major adverse event rates of 7% to 8% and minor complication rates of 14% to 15%. Problems with reliability include suture breaks and device misfires. Inadequate closure with ProGlide can result in the need for an additional device on top of the usual two, Bersin added, with femoral stenosis a common occurrence when a third device is needed to achieve hemostasis.
In a separate presentation just prior to Bersin's, Ripal T. Gandhi, MD (Miami Cardiac & Vascular Institute, FL), detailed what it takes to use Prostar XL and Perclose ProGlide. His approach kicks off with preprocedural CT angiography to guide patient selection and involves, among other things, ultrasound to optimize arterial puncture and the use of serial dilatation.
"There is a learning curve," he concluded. That said, Gandhi pointed out that the benefits of using closure devices include decreases in blood loss, wound complications, procedure time, and time to ambulation and discharge, as well as avoidance of general anesthesia. Moreover, the newer devices on the way are "probably going to change the landscape," Gandhi observed.
Asked by TCTMD how all this ultimately benefits patients, Bersin replied: "The most important aspect of percutaneous closure is having a predictable and reliable outcome. This is where the new large-bore closure devices have a proven advantage."
InClosure VCD, PerQseal, and MANTA
In his presentation, Bersin told ISET 2018 attendees more about what's on the horizon.
The first newcomer, the 14-Fr InClosure VCD (InSeal Medical), introduces the closure system through the sheath being used for the procedure, he said. "It has a nitinol frame and a biodegradable membrane that affords the initial hemostatic closure. This membrane then degrades later, leaving only the nitinol frame behind." First-in-human data on its use in TAVR and EVAR were published in EuroIntervention in 2015, and the device received CE Mark approval in August 2016.
PerQseal (Vivasure Medical), approved for marketing in Europe in January 2016, notably has an over-the-wire delivery system but is still delivered through the procedural sheath, Bersin continued. "It's a fully bioabsorbable product, so there's nothing left behind." However, it is a large patch, he added.
Results of the PerQseal Frontier III clinical trial of 70 closures in 62 patients undergoing TAVR, EVAR, or TEVAR were presented at PCR London Valves 2017. The data showed 97% technical success and no major adverse events by 90 days, he reported. "[There were] very good results, very few complications, and this is looking really quite viable with good outcomes." Next up will be the Frontier IV trial, which adds percutaneous LVADs into the mix.
The MANTA closure device (Essential Medical), which received CE Mark approval in July 2016, Bersin said, "has the most data and is the furthest along. . . . This is, if you will, a giant AngioSeal [Terumo] with some minor modifications. But it's a proven concept, it's just been scaled up and modified in certain ways to close large-bore [arteriotomies of] anywhere from 10 to 25 Fr." It comes in 14- and 18-Fr sizes.
"The basic difference between this and AngioSeal technique is that you have a depth locator," Bersin explained. "That's to make sure that the large base plate, or anchor plate, is [in the right place]."
Results from the MANTA EU FIH Trial showed a major vascular complication rate of 2% and no minor complications, he reported. "It's a small trial, but nonetheless [it's] looking good." The EU Postmarket Surveillance Study is ongoing.
Additionally, the MANTA US IDE pivotal trial completed enrollment of 341 patients at 20 centers in the United States and Canada late last year. Bersin predicted that premarket approval would be filed by March 2018, with data expected to be released at the American College of Cardiology 2018 Scientific Session.
Long-term Results Required
"New closure devices specifically designed for large-bore application appear to be quicker, more reliable, and safer than suture-mediated closure or surgical cutdown," Bersin said. "The field is headed toward fully bioresorbable products rather than suture-based or metallic/mechanical devices."
One issue that remains to be addressed, he noted, is the need for large-bore closure devices that can be left in place for several days.
In the discussion following Bersin's presentation, William A. Gray, MD (Main Line Health, Wynnewood, PA), asked about possible long-term consequences of implanting materials like collagen, an ingredient in MANTA, into the body. "I've used the MANTA device. I think they have a great future," he said. "I'm just not sure that we have the full answers to all [these questions]."
Bersin agreed, saying, "No, we certainly don't have all the long-term answers." But EU registry data on more than 500 patients haven't given any signal that there might be inflammatory reactions that would lead to stenoses or other major complications, he noted.
To TCTMD, Gray described himself as enthusiastic about the newer devices. "I just think as a scientist and someone who's been around devices forever, we always have to take into account the potential downsides. And the only remaining downside that I see here that hasn't been defined is what the long-term effect of this into the vessel is," he commented. "But we'll have that data. . . . I'm not particularly worried about it, it's just a box that needs to be checked."
Photo Credit: Essential Medical

Sources
Bersin R. Next generation closure devices: a peek at what's coming next. Presented at: ISET 2018. February 4, 2018. Hollywood, FL.

Gandhi RT. Preclose techniques for success. Presented at: ISET 2018. February 4, 2018. Hollywood, FL.
Disclosures
Bersin reports serving as a consultant to Abbott Vascular, Boston Scientific, Cardinal Health, Cook Medical, Endologix, Medtronic, Spectranectics, and WL Gore; serving on the speakers' bureaus of Abbott Vascular, Boston Scientific, Cook Medical Endologix, Medtronic, and Spectranectics; and being a major stock shareholder of Ablative Solutions, Boston Scientific, Med Allliance SA, Omeros, QT Vascular, and Transverse Medical.
Gandhi reports serving as a consultant to Bard, BTG, WL Gore, Medtronic, Merit, and Penumbra.