An Oral PCSK9 Inhibitor? Early Data Show Safety, Big LDL Drops
Early dosing and safety data point to minimal side effects and strong LDL effects, but the road ahead is long and cost will be key.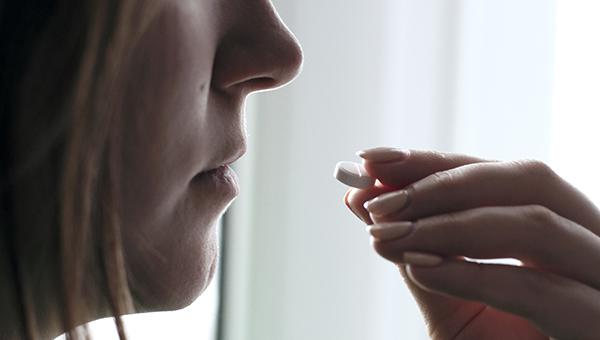 "Encouraging" phase I results for a novel, oral PCSK9 inhibitor demonstrated "robust" LDL-cholesterol reductions on top of statins, with no serious adverse events, according to early data presented by a company scientist.
"As an oral PCSK9 inhibitor, we believe that MK-0616 has the potential to be a highly effective, cholesterol-lowering medicine for patients," said Douglas Johns, PhD, Clinical Director of Translational Medicine at Merck & Co in Kenilworth, NJ, who presented the data as an American Heart Association (AHA) 2021 Scientific Sessions late-breaking trial this morning. "This type of medicine could overcome barriers to treatment, allowing more patients to achieve their LDL-cholesterol goals and potentially reduce cardiovascular risk earlier in their therapeutic journey."
Currently approved PCSK9 inhibitors alirocumab (Praluent; Regeneron/Sanofi) and evolocumab (Repatha; Amgen) are injectables. But despite their proven track record in reducing LDL and associated atherosclerotic cardiovascular disease (ASCVD), they are vastly underused, in part due to their mode of delivery and also because of their high costs and the cumbersome paperwork sometimes required for prescribing.
Erin D. Michos, MD (Johns Hopkins University School of Medicine, Baltimore, MD), who discussed the preliminary results for MK-0616 with journalists prior to the late-breaking session, cited registry data confirming that the majority of patients don't succeed in getting their LDL cholesterol down to recommended levels, yet only a fraction are taking a PCSK9 inhibitor.
"Patients are undertreated, so I'm very excited to have another potential oral agent that is highly effective for cholesterol-lowering," she said. "Of course, we need larger clinical trials to really evaluate this further, but [these are] really exciting preliminary phase 1 data."
Press conference moderator Christie Ballantyne, MD (Baylor College of Medicine, Houston, TX), seemed suitably impressed, calling the evolution of PCSK9 inhibition a "tour de force of biotechnology."
"I was told 10 years ago that it would be impossible to develop an oral inhibitor of PCSK9, and by the technology that was used 10 years ago, maybe that was correct," he said. "But now you see this."
Early Results
As Johns showed at AHA, a first-in-human pharmacokinetics trial that enrolled 60 men ranging in age from 18 to 50 examined five different doses of MK-0616 ranging from 10 mg to 300 mg, taken once per day for 7 days with agents to improve GI absorption (either Labrasol or sodium caprate). No deaths or serious adverse events were seen and any treatment-related adverse events were mild. These included abdominal discomfort, diarrhea, dyspepsia, headache, and maculopapular rash.
Of note, said Johns, food appeared to reduce drug absorption.
In a second phase I study, this time of both men and women (n=40) looking at once-daily dosing over a 2-week period, taken with sodium caprate, both the 10 and 20 mg doses were all well-tolerated, and investigators again saw no deaths or serious adverse events. Free PCSK9 was reduced by more than 90% and LDL was reduced in the range of 65% by 14 days.
"If this agent as an oral PCSK9 inhibitor is able to continue in clinical development, which we anticipate it will, we acknowledge that additional larger clinical trials are required to confirm the safety and efficacy of this agent," Johns concluded. "We feel like this agent will potentially enable patients who need additional cholesterol-lowering to include this in their treatment journey earlier."
Major Barriers
Asked whether there has been anything in the research and development process with this oral agent to date that might lead to a cheaper price than those seen for the injectable drugs, given that costs have proved such a formidable barrier to PCSK9 inhibitor uptake, Johns told TCTMD: "The increasing cost of healthcare is something we all feel personally. At this early stage of clinical development with this oral agent you have to understand I'm not in a position to speak to the pricing, but it is something that Merck takes very seriously."
In response to Johns remarks, Ballantyne said: "Let's hope the price is less."
But in follow-up with TCTMD, Michos stressed that cost concerns are not the only reason for undertreatment. For one, she said, there is "tremendous clinical inertia" not only in getting patients on lipid-lowering drugs but also intensifying them as needed.
"Adherence is another major challenge in clinical practice, also not related to cost concerns," she said in an email. A large part of nonadherence stems from perceived statin-associated muscle symptoms. "You can talk to these patients about the nocebo effect, but for the patient, these symptoms, nocebo or not, feel very real to them. So yes, I do think there is a need for another oral agent with robust LDL-C lowering that is a nonstatin."
As such, additional oral agents remain an unmet need, she said. "The sample size here was very small, so perhaps [it's] too early to speculate about anything. And if it makes it all the way through to FDA approval and use in clinical practice, I have no idea what the cost will be, hopefully a bit cheaper than the injectables."
Worth noting, however, is that having ASCVD with all its morbidity also is very expensive: "We need to invest more up-front in prevention to prevent ASCVD and its progression in the first place," Michos reminded TCTMD. "Yes, cost matters, but I think having more tools in the tool kit, if we can get more patients at goal and utilize some of the strategies that we heard about at this conference, such as using combination therapies and using algorithm-driven pharmacist-led remote monitoring interventions, hopefully we can overcome these barriers to treatment, particularly inertia and adherence, and more effectively deliver prevention interventions."
Anne Carol Goldberg, MD (Washington University School of Medicine in St. Louis, MO), discussing the results following their presentation today, said the data "look really promising," though key questions remain.
These include efficacy and safety in larger groups of patients, as well as in more diverse populations that include a higher proportion of women and more racial and ethnic groups. Testing results in elderly patients will be important, she noted, but so too will be demonstrating safety and efficacy in younger adults and children, particularly if this drug is being considered for familial hypercholesterolemia.
An additional thing to consider is the fact that issues of metabolism, excretion, and drug-drug interactions may be more problematic in an oral formulation than in an injectable, she noted. And lastly, Goldberg, too, raised the issues of cost, given that any new medications in this space typically face an uphill challenge among patients already taking a spate of other medications. "If it's priced too high," she said, "are you really going to see increased use?"

Shelley Wood is Managing Editor of TCTMD and the Editorial Director at CRF. She did her undergraduate degree at McGill…
Read Full Bio
Sources
Johns DG. The clinical safety, pharmacokinetics and LDL-cholesterol lowering efficacy of mk-0616, an oral PCSk9 inhibitor. Presented at: AHA 2021. November 15, 2021.
Disclosures
Johns reports being an employee of Merck & Co and holds shares in the company.