Patients Often Lack Basic Knowledge About Their Implanted Devices
"We spend tons of time talking to patients trying to educate them, but I guess we're not meeting them where they live," an expert says.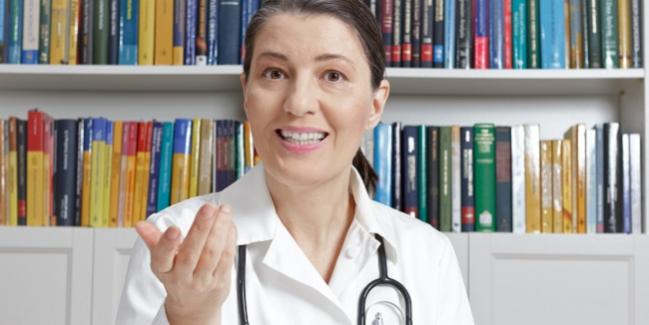 SAN FRANCISCO, CA—At a time when the practice of medicine is moving rapidly toward giving patients greater access to their health data and engaging them more in their own care, it appears there is a gap between what patients want to know about their cardiac implantable electronic devices (CIEDs) and what they actually know, a survey indicates.
Most patients (63%) agreed or strongly agreed that they were knowledgeable about their device, but when asked seven relatively basic questions about it, a higher proportion (84%) missed at least one and nearly half (48%) missed at least two. Divyang Patel, MD (Cleveland Clinic, OH), is scheduled to present these results later today at the Heart Rhythm Society 2019 Scientific Sessions.
Senior author Khaldoun Tarakji, MD (Cleveland Clinic), told TCTMD it's become increasingly important to delve into how much patients know about their devices because of advancements in technology and monitoring that allow for the sharing of data once only accessible to physicians, who would discuss the findings with patients. Now, patients are no longer getting information only at the end of that process.
"It comes down to a different era of practicing medicine when patients are not on the receiving end. They want to see their data. They want to access their data," Tarakji said. "[There is a] general desire that we have as physicians to accomplish this and provide better care, because maybe a more knowledgeable patient will lead to better-engaged patients and therefore better outcomes."
It comes down to a different era of practicing medicine when patients are not on the receiving end. Khaldoun Tarakji
Commenting for TCTMD, David Callans, MD (Hospital of the University of Pennsylvania, Philadelphia), said the findings—which he described as disappointing—resonate with him.
"People really do want to understand better what this device inside of them is doing, but even the really motivated patients who ask a lot of questions don't seem to be receiving that information very well," Callans said. "And I think it's really important because we're trying to concentrate on ways to enable patients to participate more in their healthcare and those tools are becoming available."
This study, he said, is "a good start to trying to bridge this gap that we're facing right now."
Tarakji said there hasn't been much research into how much patients actually know about their implanted devices, so he and his colleagues set out to explore patients' understanding about their CIEDs and the type of data the devices can provide. The investigators prospectively screened 400 patients coming in for an in-person device evaluation at a Cleveland Clinic outpatient facility; 86% agreed to participate in the survey. The respondents' mean age was 63, and 64% were men.
The one-page survey included seven multiple choice questions covering the following topics: device type, indication, functionality, manufacturer, number of functional leads, battery life, and number of shocks. Patients' answers were compared with the interrogation report for accuracy.
The percentage who responded correctly ranged from 59% for battery life to 91% for manufacturer. Of note, roughly one-quarter of patients did not know the answer for questions regarding the type of device they had and the reason for the implant.
Survey Responses
| | | | |
| --- | --- | --- | --- |
|   | Correct | Incorrect | Blank |
| Device Type | 75% | 25% | 0 |
| Indication | 75% | 22% | 3% |
| Functionality | 70% | 29% | 1% |
| Manufacturer | 91% | 8% | 1% |
| Functional Leads | 64% | 30% | 6% |
| Battery Life | 59% | 35% | 6% |
| Number of Shocks | 84% | 12% | 4% |

Tarakji said that he and his colleagues didn't have any expectations going into the study, which he called "an eye-opener" for showing that "there's clearly a gap between what they think they know and what they actually know."
Although some of the findings are surprising when put into hard numbers, he added, "I would say we all can relate to stories like this, when we had encounters when the patients did not even know what type of device they have."
There is an opportunity to do better when discussing device issues with patients, Tarakji said, noting that when the researchers asked patients about what type of data they'd like to be able to access, the most interest was seen for battery life (81%), activity level (76%), trends in heart rate (73%), and ventricular arrhythmias (71%).
He pointed out that those priorities don't necessarily align with those of physicians, who want to know about leads and proper functioning of the device. Tarakji added, however, that "this does not take away from the shared responsibility of accomplishing both. You have the ability to monitor everything, but at the same time our patients cannot be left in the dark."
Coming up with a way to satisfy the data needs of both physicians and patients will require further work from a variety of sources, Tarakji said.
"That's where it needs a lot of work between professional societies, industry, and physicians to come up with solutions about accomplishing full transparency with patients, but at the same time in a language that they understand, in a format that's easy to comprehend and not to just send them terminology that they don't understand that might create more anxiety than the actual objective, which is better care for our patients," he said. "So it's a lot of work. We have the technology but [it's] still a work in progress and more to come hopefully."
I guess at least realizing the problem is a start, but it's a little bit distressing. David Callans
When asking patients to become collaborators in their care, Callans commented, "if they can't even absorb the first level of information, it's really hard to imagine the next step, building upon that to get them to really be involved."
Addressing the challenge of bringing increasing amounts of data to patients will start with uncovering how much they understand, and this study provides some important baseline information, said Callans, who expressed some concern.
"We spend tons of time talking to patients trying to educate them but I guess we're not meeting them where they live," he said. "I guess at least realizing the problem is a start, but it's a little bit distressing."
Issues around data sharing with patients and other topics will be discussed in the first Digital Health Summit to be held Wednesday at the meeting. "There's still a big gap between the technology and clinical practice and we're trying to bridge that gap," Tarakji said.

Todd Neale is the Associate News Editor for TCTMD and a Senior Medical Journalist. He got his start in journalism at …
Read Full Bio
Sources
Patel D, Hu P, Hilow H, et al. Patients' desires for details from their cardiac implantable electronic devices (CIED) and navigating their own data: a complicated mismatch. Presented at: HRS 2019. May 8, 2019. San Francisco, CA.
Disclosures
Tarakji reports being a paid advisor for Medtronic and AliveCor.
Patel and Callans reports no relevant conflicts of interest.