Pesco-Mediterranean Diet Should Be the Gold Standard, Says JACC Review
The emphasis is on foods people can and should eat, not foods to avoid, with the ultimate goal of extending CV longevity.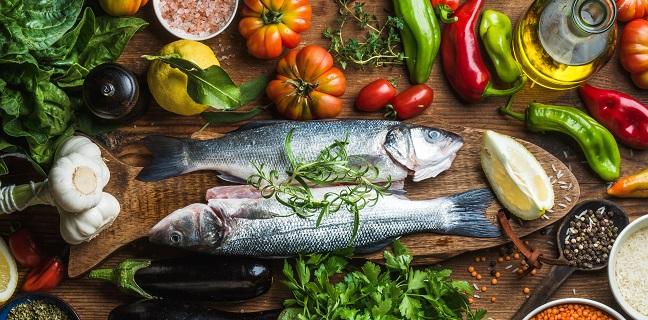 (UPDATED) To promote CV health, a Pesco-Mediterranean diet based on vegetables, fruits, nuts, seeds, legumes, whole grains, and extra-virgin olive oil is optimal, accompanied by lesser amounts of fish/seafood and fermented dairy products, according to a new review.
The idea is to balance the pros and cons of consuming plants versus animals, its authors say.
"Today, many people overconsume animal products, often-processed meats high in saturated fats and chemical additives," James H. O'Keefe, MD (Saint Luke's Mid America Heart Institute, Kansas City, MO), and colleagues write in the Journal of the American College of Cardiology this week. "Alternatively, strict veganism can cause nutritional deficiencies and predispose to osteopenia, sarcopenia, and anemia. A logical compromise is a plant-rich diet with fish/seafood as principal sources of animal food."
Both the 2015 to 2020 Dietary Guidelines for Americans and the 2019 American College of Cardiology/American Heart Association Guideline on the Primary Prevention of Cardiovascular Disease endorse the "traditional Mediterranean diet," they point out.
The Pesco-Mediterranean diet is an evolution of that concept with the added nuance that fish/seafood is the animal protein of choice, said O'Keefe. Other key aspects of their review, he said, is the emphasis on noncaloric beverages—mostly water but also tea and coffee—as well as on intermittent fasting. Beyond the type of food, it's important to consider when it is being consumed, he urged. "The science is starting to gel around that, too."
Co-author Ibrahim M. Saeed, MD (Inova Heart and Vascular Institute and Virginia Heart, Falls Church, VA), said their review aims to provide clarity by looking at what the body of evidence actually says.
"For the vast majority of our evolutionary history, humans have struggled with what to eat. And now we struggle with what not to eat," he noted to TCTMD. "So many of my patients are perpetually struggling with being low carb and do so by eating meat three times a day, and is that healthy? On the other hand, many are asking themselves if they should give meat up altogether. Some vegetarians replace their caloric intake with fried, poor-quality foods. There are some that are on keto diets and although they start looking great on the outside, after looking at their lipids you start wondering what's happening on the inside."
Most of the time in our trials, we look at cardiovascular morbidity and mortality. To flip it, we want to have healthy cardiovascular longevity. Ibrahim M. Saeed
Thus far, only two large randomized trials have evaluated how the Mediterranean diet affects hard CVD events: the 1997 Lyon Diet Heart study in MI survivors and the 2013 PREDIMED in primary prevention.
For time-restrictive eating, the data are more preliminary, Saeed said. Still, what they suggest is that this approach "confers a lot of health benefits. I think that's the other part of this: not just grazing all day from the pyramid that we were shown in elementary school but rather now eating in a restricted time period."
Studies on this topic have been "mostly based on animal models and observational human studies," the authors note in their paper. "The most popular form of time-restricted eating involves eating two rather than three meals and compressing the calorie-consumption window. No head-to-head studies have been performed to assess the optimal time window, but a 16:8 fasting to eating ratio is the most popular."
Other sections of the document discuss the literature on extra-virgin olive oil, omega-3 fatty acids, nuts, legumes, whole grains, dairy products, and eggs. Alcohol gets a passing mention. "If alcohol is consumed at all, dry red wine is recommended, with the ideal amount being a single glass (≤ 6 oz) for women and one or two glasses/day for men (6 to 12 oz) consumed with meals," they advise.
Fish as 'Garnish'?
O'Keefe said he's had a long-standing interest in how nutrition relates to CV health, one that he shares with his wife, a registered dietician, but that this topic was absent during his medical training. This should change, he said, since "diet has a profound effect on health."
The Pesco-Mediterranean diet and intermittent fasting described in this review stems from traditional eating patterns, O'Keefe said. What it doesn't mean is eating pasta and pizza and drinking a lot of red wine.
Their diet is meant to be widely accessible, Saeed emphasized. "You don't have to be extremely affluent to have access to all of this. You don't have to have large fish, you can have small to medium-sized fish. And anybody can fast." And the volume of fruit and vegetables you eat is more relevant than whether this produce meets certain criteria such as, for example, being organic, Saeed said.
Here, the emphasis is on what people can and should eat, not on what they should avoid, he added. "Most of the time in our trials, we look at cardiovascular morbidity and mortality. To flip it, we want to have healthy cardiovascular longevity."
As much as eating fish may be better than eating beef or chicken, if we all ate fish in the quantities recommended, there'd be no fish left in the world. Andrew Freeman
Andrew Freeman, MD (National Jewish Health, Denver, CO), who wasn't involved in writing the review, described a Mediterranean diet as being a step in the right direction in terms of avoiding meat and dairy, in that it's "predominately plant-based." It's important to be mindful, though, that what most Americans think of as Mediterranean cuisine—eg, lamb and feta—aren't the main ingredients here. He told TCTMD that there's still room for vegan diets when they center around whole foods and plants.
"Second, as much as eating fish may be better than eating beef or chicken, if we all ate fish in the quantities recommended, there'd be no fish left in the world," added Freeman, the immediate past chair of the American College of Cardiology's Nutrition & Lifestyle Work Group.
"Even the most wild and remote-caught fish these days are still high in [polychlorinated biphenyls], dioxins, heavy metals, organophosphates, and now microplastics. So our food supply there in particular is tainted," he continued. "And because fish are at the higher end of the food chain, all those toxins are accumulated."
Thus, Freeman suggested that if animal products are to be eaten, fish is preferred over other meats but should be viewed more as a "garnish than the main dish."
Keeping a limit on the hours of the day for eating "also makes a lot of sense," he agreed. That said, "the goal would be to remind folks not to gorge themselves on junk and animal foods in those periods."
Saeed acknowledged that the inclusion of animal products in their review may be controversial. It's not that eating fish and seafood is mandatory, he emphasized. Instead, "what the data we have available thus far tell us is that focusing more on plants and less on meat, but not entirely excluding it, is the best for cardiovascular longevity."
O'Keefe, too, said that a "strict vegan diet is . . . very, very difficult to do right and stay healthy." To work, any eating pattern should be sustainable, he advised.
The Clinician's Role
Although it can be hard to squeeze in yet another topic during a short appointment, both O'Keefe and Saeed said healthy dietary habits are something cardiologists should be talking about with patients.
Many may be reluctant to "get in the weeds" when talking about specifics. "I understand that, it's a complicated topic," O'Keefe said, "but I'm hoping this becomes the de facto endorsed diet by the American College of Cardiology, because what we've had in the past has not really worked. This is based on recent guidelines and deep cultural traditions that have demonstrated cardiovascular benefits."
The message for patients is simple, he concluded: "Diet is super important. It's one of the most important determinants of your long-term health and well-being, especially your cardiovascular health, and a Mediterranean diet is the best diet for you."

Disclosures
O'Keefe reports having a major ownership interest in CardioTabs, a supplement company that sells some products containing omega-3 fatty acids.
Saeed and Freeman report no relevant conflicts of interest.