Postmenopausal Women See Added ASCVD Risk After Complicated Pregnancies
This history can offer "red flags" for which patients might need extra screening and CV risk-factor control.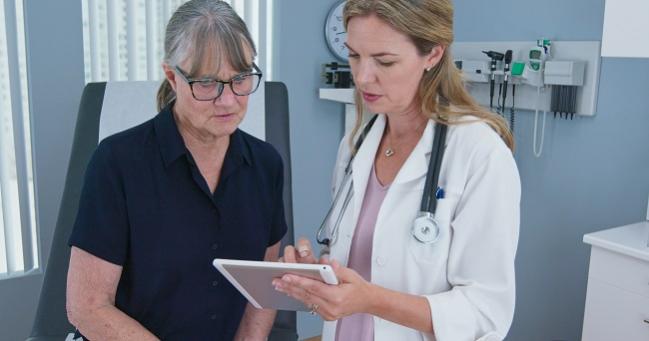 (UPDATED) Decades after they occur, adverse pregnancy outcomes (APOs) continue to leave their mark and are associated with higher risk of atherosclerotic cardiovascular disease (ASCVD) in postmenopausal women, data from the Women's Health Initiative (WHI) confirm. Women who experienced a hypertensive disorder while pregnant and those who had babies with low birth weight appear to be particularly vulnerable.
The study builds on earlier research by considering not just one complication in isolation but also how the various APOs might overlap, Marc Meller Søndergaard, BScMed (Aalborg University School of Medicine and Health, Aalborg, Denmark), and colleagues say. Their findings were published online recently in JAMA Cardiology.
"It is unclear whether APOs are associated with ASCVD because they are involved in novel pathophysiologic processes or whether their association with ASCVD serves as an indicator of longer-term and more-severe underlying cardiometabolic risk, either by heralding earlier development of diabetes, hypertension, and metabolic syndrome or by serving as a stress test for preexisting metabolic risk," they write, calling for research to assess whether "novel pathophysiologic pathways might connect APOs with late ASCVD."
Erin D. Michos, MD (Johns Hopkins School of Medicine, Baltimore, MD), told TCTMD that this study reemphasizes the message about the long-term risk associated with pregnancy-related complications, in particular hypertensive disorders.
For Michos, it's not too early to start integrating this knowledge into practice. "Women are not just smaller men," she stressed. "It is important to be mindful of female-specific risk factors that enhance women's risk through their life span—risk factors unique to women that men do not experience—so that appropriate preventive interventions can be delivered to optimize the hearts and health of women patients."
The 2018 US cholesterol guidelines already consider these details as "risk-enhancing factors for clinician-patient risk discussion," she pointed out, specifically premature menopause before age 40 and history of associated conditions like preeclampsia known to increase later ASCVD risk.
C. Noel Bairey Merz, MD, who co-authored an accompanying editorial with Odayme Quesada, MD, and Chrisandra Shufelt, MD (all Cedars-Sinai Smidt Heart Institute, Los Angeles, CA), said its "science is rigorous enough" to use pregnancy-related complications in this way. "That would be ready for prime time right now," she commented to TCTMD, but there's also room to grow in terms of integrating reproductive-health history into clinical practice through risk scores and electronic health records (EHRs).
Women remember their pregnancies very well—one just needs to ask. Erin D. Michos
Søndergaard et al used data from the WHI, which enrolled postmenopausal women between 1994 and 1998 and then prospectively tracked their outcomes. In 2017, surviving participants received a survey that asked, among other things, about their history of gestational diabetes and hypertension, preeclampsia, low birth weight (< 2.49 kg), high birth weight (> 4.08 kg), and preterm delivery (by ≥ 3 weeks).
In all, 46,805 women replied to the survey, and 13,482 (28.8%) said they'd had one or more APOs, though not necessarily during the same pregnancy.
ASCVD, defined as MI, stroke, peripheral artery disease, or coronary revascularization, was more common in women with versus without an APO (7.6% vs 5.8%). After adjustment for traditional risk factors, each of the six APOs was associated with increased likelihood of developing ASCVD. But when all of the APOs were analyzed together, two stood out: hypertensive disorders of pregnancy (OR 1.27; 95% CI 1.15-1.40) and low birth weight (OR 1.12; 95% CI 1.00-1.26). Results were consistent irrespective of race/ethnicity, income, education, body mass index, breastfeeding, and parity.
Make It Routine
The editorial captures the extent to which these data could affect public health.
"Notably, 86% of US women have had at least one pregnancy, and prior work consistently identifies that the one in five pregnancies with APOs such as gestational hypertensive disorders, including preeclampsia, elevate risk for future CVD in women," the editorialists write. "In short, a risk factor readily found in nearly all women—literally under our collective noses—might be harnessed for relevant, sex-specific ASCVD risk information to address the preventive, diagnostic, and treatment gaps that adversely affect women."
Thus far, though, pregnancy-related complications have "dominantly relegated to the specialty of obstetrics and gynecology, with relatively little integration with other medical disciplines, and this is particularly true for CVD in women," the editorialists observe.
It's time for cardiology to enter the fray, they say. Beyond the 2018 cholesterol guidelines, pregnancy-related hypertension "the new data from Søndergaard et al suggest that this risk enhancement is independent of blood pressure and should be incorporated into a new ASCVD risk score for women."
As Bairey Merz said, "this would be the beginning of real personalized medicine."
Michos agreed. To TCTMD, she stressed that questions about menstrual history, APOs, and even breast cancer should be routine, even for "women who are well beyond their childbearing years," Michos said. "The first step is simply to ask women about their prior pregnancy history. Women remember their pregnancies very well—one just needs to ask."
This history can offer "red flags" that place patients into a higher-risk category over the long term and call for special attention that includes screening for and control of traditional CV risk factors. In instances that aren't clear-cut, "a coronary artery calcium score is useful to further refine risk and guide shared decision-making about preventive medications like statins," Michos said.
This would be the beginning of real personalized medicine. C. Noel Bairey Merz
As for EHRs, Bairey Merz added, these should be better tailored to female-specific risks. "Sadly, it's unlikely that cardiologists or even primary care physicians will be able to feasibly integrate this into their practice right now, because we do not require collection of adverse pregnancy outcomes—the current electronic health record does not have a mandatory field for reproductive health and pregnancy," in the same way there are fields for medical history and surgical history.
"I don't know that it's overtly misogynist, but it's certainly a systemic bias that does not acknowledge the importance of women's health," she observed. Record-keeping is important because not all women remember details of their pregnancies years down the line, Bairey Merz said. "We have to educate, advocate, and need to legislate that the electronic health records have to include reproductive health as a mandatory field."

Disclosures
The WHI was funded by the National Heart, Lung, and Blood Institute (NHLBI), National Institutes of Health, and the US Department of Health and Human Services. This study was also supported, in part, by a grant from the NHLBI.
Søndergaard was supported by a Danish American Research Exchange (DARE) award from the Lundbeck Foundation.