PRONOMOS: Rivaroxaban Beats Enoxaparin for Preventing VTE After Orthopedic Surgery
The results should bring some clarity to the heterogeneity of these patients' prophylactic treatment, experts say.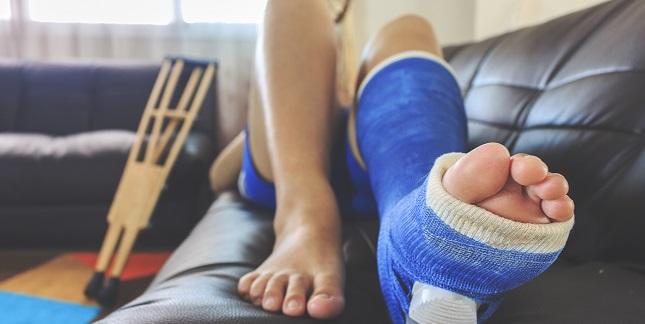 Oral rivaroxaban (Xarelto; Bayer/Janssen) is superior to subcutaneous enoxaparin in preventing venous thromboembolism (VTE) without increasing bleeding in patients undergoing nonmajor orthopedic surgery followed by a period of immobilization, according to the randomized PRONOMOS trial.
"In patients deemed at risk, rivaroxaban could replace low molecular weight heparin to prevent VTE during the postoperative reduced mobility period after nonmajor orthopedic surgery," said Nadia Rosencher, MD (Université de Paris, Hôpital Cochin, France), who presented the findings Sunday during the virtual American College of Cardiology 2020 Scientific Session.
"This is a group of patients that clinically we recognize to have a high risk of venous thromboembolism but have never received the attention that that total hip and total knee replacement have, at least in the prophylaxis literature," said Gregory Piazza, MD (Brigham and Women's Hospital, Boston, MA), who discussed the results during the session. "This was a very important study and I think will be one of the most important steps in breaking up some of the heterogeneity in how we treat patients who are undergoing nontotal hip and nontotal knee surgery."
Piazza described the current treatment of these patients as the "Wild West," explaining that some receive nothing while others are prescribed everything from aspirin to warfarin and direct oral anticoagulants (DOACs) to injectables. "I think there will be some clarity after this study," he said.
PRONOMOS was simultaneously published in the New England Journal of Medicine.
Rivaroxaban vs Enoxaparin
For the study, Rosencher and colleagues enrolled 3,604 patients undergoing nonmajor orthopedic surgery of a lower limb with planned immobilization at 200 sites in 10 countries to between December 2015 and April 2018. Participants were randomized to receive daily rivaroxaban 10 mg plus a placebo subcutaneous injection (n = 1,809) or enoxaparin 40 mg in 0.4 mL of diluent plus a placebo oral tablet (n = 1,795), and randomization was stratified by the intended immobilization time: 2-4 weeks, 4-8 weeks, or more than 8 weeks.
The primary composite outcome of major venous thromboembolism included symptomatic distal or proximal DVT, pulmonary embolism, or venous thromboembolism-related death during the treatment period or asymptomatic proximal DVT at the end of treatment.
I think there will be some clarity after this study. Gregory Piazza
Notably, slow recruitment led to study drug expiration, so the steering committee and sponsor stopped enrollment early unaware of any results. Mean patient age was 41 years, the majority were male, and mean body mass index was 26.3. More than 20 types of surgery were included in the study (median duration 60 minutes), with the most common being ligament repair of the knee, ankle fracture, and knee arthroscopy. A prophylactic dose of low molecular weight heparin was given prior to surgery to 13.8% of patients.
After a median duration of trial drug administration of 28.6 days and a median follow-up of 59 days, the primary composite outcome occurred less often in those who received rivaroxaban compared with enoxaparin (0.2% vs 1.1%; RR 0.25; 95% CI 0.09-0.75; P < 0.001 for noninferiority; P = 0.01 for superiority), with consistency seen in the results stratified by immobilization time. In the rivaroxaban arm, there was also a lower risk of symptomatic VTE (0.2% vs 0.6%; RR 0.28; 95% CI 0.08-1.00) and major VTE events (0.1% vs 0.8%; RR 0.12; 95% CI 0.02-0.84). Median times to events for those randomized to rivaroxaban or enoxaparin were 26 and 40 days, respectively.
Frequency of major bleeding or nonmajor clinically-relevant bleeding hovered around 1.0% for both groups (RR 1.04; 95% CI 0.55-2.00). A post hoc analysis looking at net clinical benefit (composite of efficacy and safety) showed a 52% lower incidence in the rivaroxaban arm (0.8% vs 1.8%; RR 0.48; 95% CI 0.26-0.90).
'A More-Convenient and Safe Alternative'
Piazza questioned the researcher's choice of enoxaparin as the comparator given that it "is not as frequently used outside of the EU for prophylaxis in orthopedic surgery."
Rosencher explained that they used it to be able to ensure efficacy with proper dosing and, secondly, because they commonly use it.
Nonetheless, Piazza said, "the findings here are extremely important. Not only do they speak to the need for prophylaxis but they speak to the benefit of pursuing a direct oral anticoagulant strategy."
The next challenge will be to convince reluctant surgeons to provide anticoagulation given the risk of hemarthrosis and other surgical bleeding complications. "This is more of a theoretical question, but how do we get this information into the hands of the surgeons and have them use it appropriately when many other studies in the total hip and total knee replacement literature have not been able to do so?" he asked.
Rosencher said the answer is "very easy": postpone the first dose until about 8 hours after surgery. "If it was during the night, we decide to give to rivaroxaban the day after in the morning," she said. "We have a long time between the end of surgery and the first anticoagulant."
Commenting on the study during a press conference, Sahil Parikh, MD (NewYork-Presbyterian/Columbia University Irving Medical Center, New York, NY), said the study population was interesting because "historically they have been ignored in some ways in that they don't frequently get any sort of venous thromboembolic protection postprocedurally and it's a relatively young and health population. These are also patients that we as cardiologists frequently don't see as perioperative risk assessment prior to their noncardiac surgery."
PRONOMOS shows a "finite but quantifiable risk" in these patients, Parikh noted. "I liked that there was a stratification based on duration of immobilization, which I think demonstrated the sustained value of thromboprophylaxis."
Also, while the use of low molecular weight heparins has been considered "optional" in patients undergoing nonmajor orthopedic surgery patients, it is what is most often chosen when something is used, he explained.
"Now having a DOAC as a more-convenient and safe alternative is certainly important for us to know," Parikh said. "Most of the data that we have heretofore has been in large meta-analyses, and it's nice to see a direct randomized controlled trial demonstrating value and safety. . . . Certainly in my practice going forward, we will try to better risk stratify these patients, and particularly those with either prolonged immobilization or with additional risk factors for venous thromboembolism, and now we can say safely that the use of rivaroxaban would be an appropriate venous thromboprophylactic in these patients."
Yael L. Maxwell is Senior Medical Journalist for TCTMD and Section Editor of TCTMD's Fellows Forum. She served as the inaugural…
Read Full Bio
Disclosures
PRONOMOS was funded by Centre Hospitalier Universitaire de Saint-Etienne and Bayer.
Rosencher reports receiving research support from Bayer; serving as a consultant for Bayer, Sanofi, Pfizer, and BMS; receiving honoraria from Vifor, Pfizer, Sanofi, and Sandoz; and serving on the scientific advisory board for Bayer, Pfizer, and Sandoz.