PTSD Doubled the Risks of MI, Stroke in First Responders to World Trade Center Attacks
Health programs already cover a wide variety of conditions linked to 9/11, but new evidence suggests CVD may deserve a spot on the list.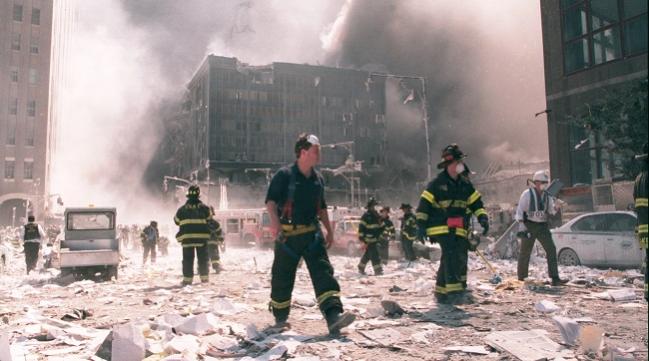 First responders to the September 11, 2001, attacks on the World Trade Center have long been known to suffer from chronic health complications such as respiratory diseases, cancers, and mental health conditions. However, a new study suggests that posttraumatic stress disorder (PTSD) related to 9/11 also had compounding negative health effects, increasing the risks of both MI and stroke.
In nearly 6,500 blue-collar workers tasked with cleaning debris from the site, researchers have found that individuals with PTSD suffered over twice as many strokes and MIs in comparison to those without the stress disorder. The effect was the same in both men and women.
While there have been many studies evaluating the impact of PTSD in CVD outcomes, this is the first to include both men and women in the same study, senior author Alfredo Morabia, MD, PhD (Columbia University, NY), told TCTMD. "In women at that age–between 50 and 60–heart attacks are extremely rare," he said. "The fact that we have the same level of magnitude of risk in both men and women at that age is very meaningful."
The results send a clear message, say the study authors led by Molly Remch and Zoey Laskaris, MPH (both City University of New York, NY).
"PTSD comes out as a strong, independent determinant of MI and stroke, before and after controlling for recognized use of a respirator during cleanup of debris, cardiovascular risk factors, and depression," the investigators write in their paper published online July 10, 2018, in Circulation: Cardiovascular Quality and Outcomes.
The prospective cohort study, called World Trade Center (WTC)-Heart, is comprised of individuals currently in the World Trade Center Health Program, which provides medical screenings and treatment for health conditions related to 9/11 and the subsequent cleanup.
Men and Women Equally at Risk
WTC-Heart followed 6,481 first responders from January 2012 to June 2016, determining health outcomes through interviews and hospital records. The cohort was nearly 83% male, with a mean age of 51 at the beginning of the observational period in both men and women. Researchers measured and adjusted for known factors that could indicate CVD risk such as blood pressure, body mass index, and smoking status. They also factored in exposure to dust while working on Ground Zero.
PTSD was extremely prevalent—nearly 20% of men and 26% of women in the study had a PTSD diagnosis. This is roughly twice the prevalence found in a general population, which "provided the statistical power to study the association of PTSD and cardiovascular outcomes in both sexes," the researchers say.
The combined likelihood of MI and stroke was around two and a half times higher in both men and women with PTSD compared to those without the disorder (Men: HR 2.45; 95% CI 1.78-3.37; Women: HR 2.44; 95% CI 1.05-5.55). Additionally, men with PTSD who were free of depression also shared over twice the risk of MI or stroke (HR 2.27; 95% CI 1.41-3.67).
In men with PTSD, risk was doubled for MI (HR 2.17; 95% CI 1.14-3.32) and tripled for stroke (HR 3.01; 95% CI 1.84-4.93). The sample size of female first responders was too small to ascertain statistical significance when separating for conditions.
The "timing or intensity of exposure to the WTC dust and dust cloud" had no influence on the risks of MI or stroke, the authors say.
Not Just the World Trade Center
While the study specifically looked at risk of MI and stroke in WTC first responders, these findings can also be applied to responders to natural disasters and other traumatic events. "Think of last year: we had three or four hurricanes, in Texas, Florida, and Puerto Rico. We had huge fires in California," Morabia said. "All those events required rapid response." Individuals exposed to these specific events should be screened for PTSD, and if a patient is diagnosed with the disorder, their physician needs to warn them of their elevated risk of CV diseases, he added.
This study provides strong evidence that PTSD brought on by the traumatic physical and psychological conditions at Ground Zero is indeed a risk factor for both stroke and MI, the authors write.
Morabia said he hopes the strength of these links can be used to justify expand the diseases covered in the World Trade Center Health Program. While respiratory diseases, some cancers, as well as mental health conditions such as PTSD are officially considered WTC-related, the program does not yet cover CVD, he said.

Lucy Hicks is the 2018 recipient of the Jason Kahn Fellowship in Medical Journalism. She is currently a master's student…
Read Full Bio
Disclosures
Morabia reports no relevant conflicts of interest.