Pulmonary Artery Denervation in Idiopathic PAH Ups 6-Minute Walk Test
The latest trial of this RF device was sham-controlled, offers hope for despairing patients, and paves the way for a global RCT.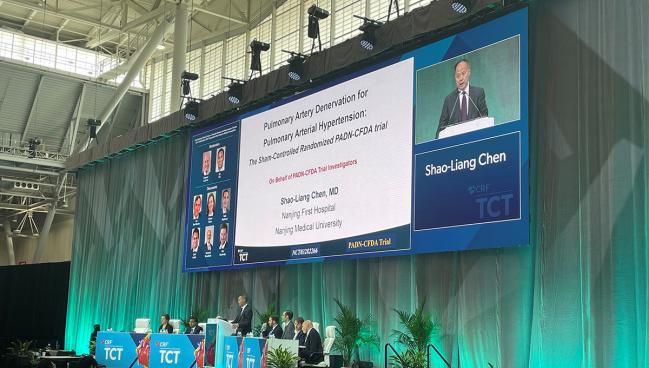 BOSTON, MA—Denervation of the pulmonary artery (PA) in patients with Group 1 pulmonary arterial hypertension (PAH) led to a significant increase in 6-minute walk test distance as well as positive changes in right ventricular function and other signs of clinical improvement, as compared with patients treated with a sham procedure, new data show.
Results of the small, randomized, sham-controlled trial testing denervation with the PADN catheter (Pulnovo Medical) on top of a phosphodiesterase-5 inhibitor (PDE-5i) were presented today at the TCT 2022 meeting and published simultaneously in the JACC: Cardiovascular Interventions with lead authors Hang Zhang, MD, and Yongyue Wei, PhD (both Nanjing Medical University, China).
"Treatment with PADN plus a PDE-5i was safe and resulted in improved exercise capacity at 6 months compared with PDE-5i treatment alone," said the study's senior author, Shao-Liang Chen, MD, PhD (Nanjing First Hospital, China), who presented the findings during a TCT 2022 late-breaking session today. "In addition, treatment with PADN reduced pulmonary vascular resistance and pulmonary artery pressures, improved right ventricular function, reduced tricuspid regurgitation and NT-proBNP levels, and improved clinical outcomes during 6-month follow-up."
Group 1 PAH, as defined by the World Health Organization , is characterized by obliterative pulmonary vascular remodeling with elevated pulmonary vascular resistance. Often idiopathic but in some cases heritable or congenital, the disease is progressive and debilitating, carrying a poor prognosis.
Chen is the inventor of the radiofrequency ablation device used in the trial, although he does not hold the patent. To TCTMD, he said he was spurred to look into device-based therapies for idiopathic PAH after a friend reached out to tell him that his wife, who suffered from severe PAH, had attempted suicide for the tenth time because her quality of life was so poor.
The rationale for denervation stems from the fact that a hyperactive sympathetic nervous system has been implicated in PAH, with decreased vasodilation and increased sympathetic activity leading to progressive contraction and pulmonary artery remodeling, the authors note. Animal studies and early feasibility studies of surgical or radiofrequency ablation, as well as TROPHY 1, using ultrasound energy, have shown PA denervation may help to relieve these downstream effects.
Sham-Controlled Findings
The current trial, known as PADN-CFDA, enrolled 128 Group 1 PAH patients not taking any PAH drugs for at least 30 days prior, randomizing them to either PA denervation plus a PDE-5i (either sildenafil or tadalafil at site discretion) or to a sham procedure and PDE-5i. Additional drug therapy could be added at the 1-month visit post-randomization if symptoms persisted.
At 6 months, patients who underwent the true denervation procedure saw a mean improvement in 6-minute walk distance of 57 m, as compared to 27 m in the sham group. That amounted to a median change from baseline to 6 months of 61 in the denervation group and 18 in the sham-treated patients.
In a subset of intermediate-to-high-risk patients, walk distance improved by 78 m and 35 m, respectively, a statistically significant difference.
Those kinds of gains are "great and profound—not modest," Chen stressed to TCTMD in an email, emphasizing that the degree of debilitation in PAH isn't comparable to that seen in patients with "standard" hypertension. "Importantly, in the PADN group, both cardiac function—by echocardiography—and hemodynamics by right heart catheterization were also significantly improved, which means a clinical benefit by PADN," he added.
Investigators are now moving ahead with an international, sham-controlled trial dubbed PADN Global, also focused on Group 1 PAH and using the PADN device, which has been granted the breakthrough therapy pathway by the US Food and Drug Administration.
More Unknowns
In Europe, an update to the pulmonary arterial hypertension guidelines released last month at the European Society of Cardiology Congress 2022 includes a section on pulmonary artery denervation, noting that the technology is "potentially promising" but "should be considered experimental."
Commenting on the study for TCTMD, Alex Rothman, MD, PhD (University of Sheffield, England), who led the TROPHY 1 trial, called the new data "a promising move in the right direction." The investigators, he said, are "to be congratulated for a well-conducted study that answers questions we haven't had previously."
As a proof of physiology-type study, it's a step forward. Alex Rothman
Both the hemodynamic results, as well as the magnitude of the changes seen for the different endpoints, are in-line with other published data, including TROPHY 1, although less than what this Chinese group has published previously, Rothman noted. But notably, the improvements in 6-minute walk test over and above that seen with medication alone are greater than what is typically understood to be clinically important, he said, thus "may well be meaningful for patients if replicated in future studies."
Rothman pointed out that this trial differs from much of the other work in the field of PAH in that patients were not on any background therapy, despite the fact that guidelines typically recommend that patients with this degree of hemodynamic and functional impairment be taking at least two medical therapies.
"That muddies the water in interpreting of some of the hemodynamic responses, but does show additive benefit over and above one disease-specific therapy," he said. "So, there are some clear differences between this study and what would probably be required in a US or European study, but as a proof of physiology-type study, it's a step forward."
Asked during a morning press conference about the decision not to enroll patients already taking PAH drugs as background therapy, Chen acknowledged that this might seem unusual for physicians in other parts of the world. But he noted that not only is PAH management in China different than what might be seen in Western countries, this study was conducted during the COVID-19 pandemic when China's strict pandemic policies put up additional roadblocks to trial design and execution.

Shelley Wood is Managing Editor of TCTMD and the Editorial Director at CRF. She did her undergraduate degree at McGill…
Read Full Bio
Sources
Zhang H, Wei Y, Zhang C, et al. Pulmonary artery denervation for pulmonary arterial hypertension: a sham-controlled randomized trial. J Am Coll Cardiol Cardiovasc Intv. 2022;Epub ahead of print.
Disclosures
Chen reports receiving speaker honoraria from Microport, Pulnovo, Boston International Scientific, Medtronic, Sanofi, and BioMed, and receiving grants from the National Scientific Foundation of China.
Rothman reports consulting for SoniVie and Endotronix, and receiving research funding or contributions in kind from SoniVie, Endotronix, Novartis, Medtronic, and Abbott.