Qiliqiangxin, a Traditional Chinese Medication, Cuts CV Events in HF: QUEST
The study merges Chinese and Western medicines, the PI says, noting patients were well treated with triple-therapy HF drugs.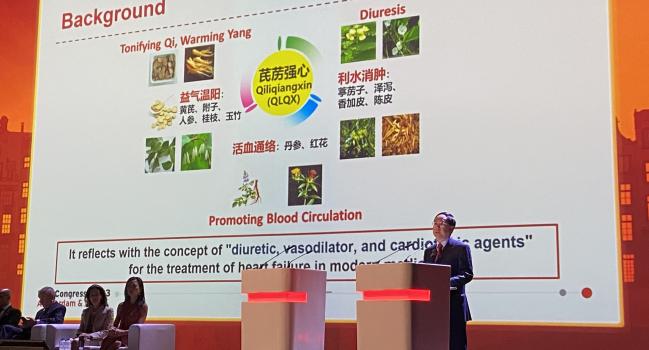 AMSTERDAM, the Netherlands—Qiliqiangxin, a traditional Chinese medicine comprised of 11 different plants, significantly slashes the risk of cardiovascular adverse in patients who have heart failure with reduced ejection fraction (HFrEF), according to results of the QUEST trial.
Presented today during a Hot Line session at the European Society of Cardiology 2023 Congress, the study showed that patients who received qiliqiangxin on top of guideline-directed medical therapy had a significant 22% lower risk of cardiovascular mortality and rehospitalizations for HF at 18 months when compared with placebo-treated patients (HR 0.78; 95% CI 0.68-0.90).
"This is combination therapy," emphasized lead investigator Xinli Li, MD, PhD (First Affiliated Hospital of Nanjing Medical University, China), during a press conference announcing the results. He added that QUEST brings together traditional Chinese medicine, with its history dating back thousands of years, and proven Western therapies. 
Carolyn Lam, MD (National Heart Centre, Singapore), the discussant following Li's Hot Line presentation, called the findings "remarkable," noting that all patients were optimized on background medical therapy as it existed at the time was launched. Moreover, the trial was carried out in the midst of the COVID-19 pandemic.
"We now have scientifically rigorous evidence for a traditional medicine used by millions with heart failure in China," said Lam. "QUEST sets a new bar for clinical evidence with traditional medicines, and really challenges the precise reductionist approach of Western medicine."  
This is combination therapy. Xinli Li
Qiliqiangxin, a patented medicine (Yiling Pharmaceuticals), is approved to address heart Qi and circulatory Yang deficiencies in HF—it "tonifies" Qi and "warms" Yang, Li explained, noting that it contains active compounds that mirror other diuretic, vasodilator, and cardiotonic agents. Mechanistic studies have also shown that it upregulates peroxisome proliferator-activated receptor-gamma and its co-activator, said Li.
Approved in China for the treatment of HF since 2004, it includes milkvetch root, ginseng, monkshood, danshen root, pepperweed seed, oriental water plantain rhizome, fragrant solomonseal rhizome, cassia twig, safflower, Chinese silkvine bark, and dried tangerine peep.
Ten years ago, the researchers published results from a 12-week study showing that qiliqiangxin reduced N-terminal pro-B-type natriuretic peptide (NT-proBNP) levels by 25% in patients with HFrEF. In addition, treatment also improved NYHA functional class, left ventricular EF, 6-minute walking distance, and quality of life.
Gaining Acceptance in the West?
Speaking with the media, Li said that despite the use of guideline-directed medical therapy (GDMT), such as beta-blockers, renin-angiotensin-aldosterone system (RAAS) antagonists, and mineralocorticoid receptor antagonists (MRAs), the prevalence of HF remains high in China, with estimates suggesting it affects around 1.0% of the population (approximately 7.5 million adults 35 years and older). The goal of QUEST was to determine if the addition of qiliqiangxin to GDMT could further reduce morbidity and mortality in patients with HFrEF, he said.
Investigators enrolled 3,110 patients (mean age 63 years; approximately 70% male) with EFs ≤ 40%, NYHA class II-III symptoms, and serum NT-proBNP ≥ 450 pg/mL (median NT-proBNP 1,727 pg/mL).
Background medical therapy was similar between the qiliqiangxin- and placebo-treated patients, with 90% treated a diuretic, more than 82% with RAAS inhibition, more than 86% with a beta-blocker, and 83% with an MRA. Roughly 60% of patients were treated with all three drug classes and 57% were treated with an angiotensin-receptor neprilysin inhibitor (ARNI). Less than 10% were treated with a sodium–glucose cotransporter 2 (SGLT2) inhibitor, as this was not part of optimal therapy when the trial QUEST was launched.   
In addition to the 22% reduction in the primary composite endpoint, hospitalizations for HF and cardiovascular mortality were reduced 24% and 17%, respectively. There were no issues with safety.
The question is, there are 11 components here, and what exactly are these components doing and which one of the components explains the results. Joseph Wu
Joseph Wu, MD, PhD (Stanford University School of Medicine, CA), president of the American Heart Association, who wasn't involved in the study, said the reduction in NT-proBNP suggests qiliqiangxin exerts a diuretic effect and lessens volume overload. This would explain the improvement in HF hospitalizations, as well as the symptomatic improvement seen in the prior study.
According to the company website, the manufacturer claims that qiliqiangxin is equivalent to ACE inhibitors, beta-blockers, digoxin, and furosemide, but that's likely a stretch, Wu noted.
"The question is, there are 11 components here, and what exactly are these components doing and which one of the components explains the results?" Wu told TCTMD. "If they want to have market acceptance in the West, they'll really need to tease out which of these compounds is causing the effect. I don't think it's that hard from a basic science standpoint to see which compound it is."  
Treatment Effects by Subgroup
Among patients with HF caused by ischemic heart disease—which was two-thirds of the study population—the addition of qiliqiangxin reduced the risk of the primary endpoint by 24%. In contrast, the reduction in risk was not significant in those with a nonischemic etiology. The benefit of qiliqiangxin was seen in patients who weren't on background therapy with RAAS inhibitors, beta-blockers, and an MRA, and while there was a trend towards benefit in those taking all three drugs, the reduction was not statistically significant. Similarly, the reduction in the primary endpoint appeared to be a little better in patients not taking an ARNI.
Overall, however, Li said the medicine's effect was "generally consistent across the prespecified subgroups."
Lam said the subgroup analysis is particularly important since it suggested that patients not optimized on background medical therapy may fare a little better with qiliqiangxin. Across China, there is high uptake of ACE inhibitors, ARBs, and other HF medications, but the median dosages tend to be lower. In the ASIAN-HF registry, for example, the guideline-recommended dose was used in only 17% of patients prescribed ACE inhibitors or ARBs, in 13% prescribed beta-blockers, and 29% prescribed MRAs. It remains an open question if qiliqiangxin might have a particular niche for those not optimized on GDMT or the recommended doses, said Lam.    
QUEST sets a new bar for clinical evidence with traditional medicines, and really challenges the precise reductionist approach of Western medicine. Carolyn Lam
To TCTMD, Li said the study was started prior to the publication of DAPA-HF, the first to show that treatment with an SGLT2 inhibitor could reduce the risk of worsening heart failure or death from cardiovascular causes. Since then, SGLT2 inhibitors have emerged as one of the "four pillars" of HF treatment, the drug class now carrying a class 1 recommendation for the treatment of symptomatic, chronic HFrEF regardless of diabetes status. 
Lam said determining the effect of qiliqiangxin on top of current GDMT, including SGLT2 inhibitors and device therapy, as well as on top of guideline-directed doses, is an important next step. She questioned if there might be any ethnic/regional differences in terms of treatment effect, safety, tolerability, and adherence. Compliance may also pose a problem, said Lam, pointing out that qiliqiangxin treatment requires four capsules taken three times per day.
"It's quite the high pill burden," she said.

Michael O'Riordan is the Associate Managing Editor for TCTMD and a Senior Journalist. He completed his undergraduate degrees at Queen's…
Read Full Bio
Sources
Li X. Qiliqiangxin in heart failure: assessment of reduction in mortality. Presented at: ESC 2023. Amsterdam, the Netherlands. August 26, 2023
Disclosures
Li reports grant support paid to his institution from Novartis and the China Heart Failure Center. He also reports consulting fees from AstraZeneca, Bayer, Novartis, Roche, and Yiling.