Regaining Weight Won't Erode CV Risk Factor Benefits Short Term
A meta-analysis offers hope to dieters who've seen some pounds creep back, but how long the reprieve will last is unclear.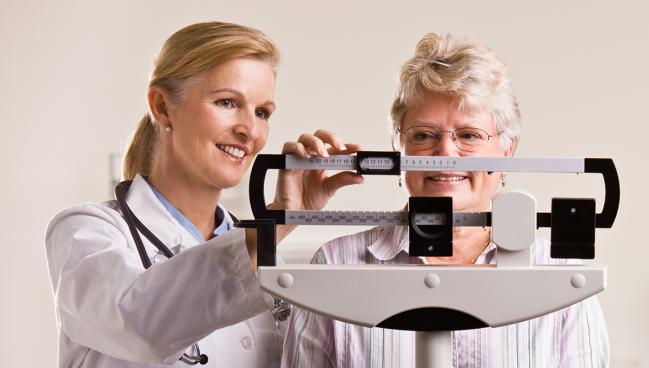 The cardiometabolic benefits of weight loss may persist out to 5 years, even when some weight is regained, according to a systematic review and meta-analysis.
Despite a broad range of in-person and virtual behavioral weight management interventions in participants who were overweight or obese, one thing they all had in common was that the benefits of weight loss in the form of small improvements in cardiometabolic risk factors persisted despite weight gain, although the follow-up duration of the studies also varied significantly.
"The key to interpreting these data is evidence that changing cardiometabolic risk factors will eventually translate to differences in disease incidence and mortality," the researchers, led by Jamie Hartmann-Boyce, DPhil (University of Oxford, England), write in Circulation: Cardiovascular Quality and Outcomes. "Evidence suggests that these temporary reductions in risk factors are likely to lead to lifetime benefits of reduced incidence of CVD."
But Neha J. Pagidipati, MD, MPH (Duke Clinical Research Institute, Durham, NC), who wrote an accompanying editorial, said while the findings may be seen as somewhat of a "silver lining," for those who inevitably regain, big questions remain open as to how long the benefits of weight loss truly last and which ones last the longest.
"If you looked at longer term, say, 7 or 10 years, it's not clear whether or not you would see any remaining benefit at all. So, I don't necessarily take away from this study that it's okay to lose weight and regain it," she told TCTMD. "Behavioral weight loss interventions are the foundation of therapy for obesity because they can really help, but if we don't understand what the longer-term benefits may be, both for the risk factors and hard outcomes, then it's hard to resource these things appropriately."
Even 1 kg Regained May Erode Some Benefit
The 124 studies included in the analysis reported on one or more cardiometabolic outcomes, with at least 12 months of follow-up. The median age of participants was 51 years, and the median body mass index (BMI) was 33 kg/m2. The programs geared toward weight loss averaged a little over 7 months in duration for the intervention and control groups. The majority combined diet and exercise, while others were diet or exercise only. Thirty interventions used partial or total meal replacements, two used intermittent fasting, and four used financial incentives for weight loss. Only eight studies included information on the effect of weight loss or regain on CVD morbidity and mortality, with half of those considered to be at high risk of bias.
I don't necessarily take away from this study that it's okay to lose weight and regain it. Neha J. Pagidipati
Compared with those in control groups, participants who were in any intervention arm lost more weight (a little over 2 kg more) and saw greater improvements in most cardiometabolic risk factors, with the exception of glycemic control.
Mean weight differences by the end of the behavioral weight-loss programs were highest in studies comparing the impact of weight loss on remission of hypertension (4.7 kg), with most of the others that looked at insulin resistance, cholesterol outcomes, glycemic control, and systemic BP showing differences between intervention and control groups at the end of the program of 2 kg to 2.4 kg.
At 1 and 5 years after completing a weight-loss program, the total cholesterol/HDL ratio was 1.5 points lower at both time points compared with controls, systolic blood pressure was 1.5 mm Hg lower at 1 year and 0.4 mm Hg lower at 5 years, while HbA1c was 0.38% lower at both 1 and 5 years.
Regaining weight after an intervention was not associated with a difference in incident CVD or diabetes compared with controls, but even 1 kg of regained weight slightly eroded some differences over time between intervention and control groups with regard to hypertension, systolic BP, and cholesterol.
Implications for Fast Weight Loss
While the meta-analysis doesn't allow for conclusions about which types of behavioral weight-loss programs are more effective than others, Hartmann-Boyce and colleagues say the data suggest that those offering meal replacement may result in a quicker initial weight loss, which they say might reduce the overall CVD risk to a greater extent than slower weight loss and could be maintained over time.
If that ends up being true, Pagidipati said it could have a significant bearing on the many individuals with and without diabetes who are currently using an injectable drug for rapid weight loss or trying to get their hands on one. Demand for semaglutide (Rybelsus/Ozempic; Novo Nordisk), for example, is so high in the United States that it has been on the US Food and Drug Administration's drug shortage list for months.
According to Pagidipati, with studies such as the STEP I extension trial showing that patients regained two-thirds of their weight at 1 year after stopping weekly semaglutide injections, it will be important to understand how long weight-loss benefits can really last and which risk factors they impact most in the context of how much the pharmacotherapies cost.
"It's going to require following these patients for longer, and that hasn't been done for all of the obvious and very reasonable reasons, which is that it takes funding and effort," she noted. "If anything, what data like [the new meta-analysis] show us is that we need to be convincing funders, whether that's government or other, that these kinds of long-range studies are really important for patient health."

Disclosures
Hartmann-Boyce reports no relevant conflicts of interest.