Secondhand Smoke Exposure Associated With Increased Risk of Coronary Atherosclerosis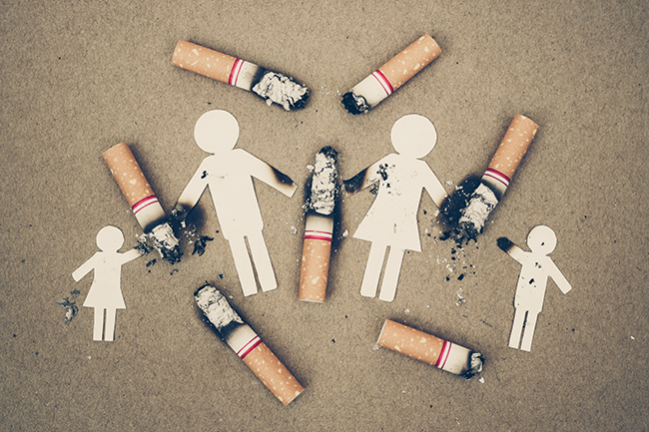 NEW ORLEANS, LA—Healthy individuals who have never smoked but who have been exposed to secondhand tobacco smoke are at an increased risk of developing coronary atherosclerosis, a new study shows. Among these never-smokers, investigators observed a dose-response relationship between secondhand smoke exposure and atherosclerosis as documented by CT angiography.
The researchers state that the "extent and importance of secondhand tobacco smoke exposure as a major global health issue cannot be overestimated." In their analysis, low-to-moderate and high amounts of secondhand smoke exposure remained independent risk markers even after adjusting for documented risk factors. Most importantly, in a fully adjusted model, secondhand smoke appeared to be a more powerful predictor of coronary atherosclerosis than traditional risk factors such diabetes, hyperlipidemia, and hypertension.
"It is really a strong predictor, which is a striking finding," lead investigator David Yankelevitz, MD (Icahn School of Medicine at Mount Sinai, New York, NY), told TCTMD. The data, along with other studies, are contributing to an evolved understanding of secondhand smoke as an important modifiable risk factor for cardiovascular and other diseases. "It adds to the overall idea that this is something that needs to be looked at in people's medical history," said Yankelevitz. "When you're thinking about identifying people at risk, it's really not asked that often."
Senior investigator Claudia Henschke, MD (Icahn School of Medicine at Mount Sinai), echoed the sentiment, telling TCTMD secondhand exposure remains underappreciated as a risk factor amongst doctors and patients, although she said physicians within the Mount Sinai Health System now question patients about their lifetime exposure to secondhand tobacco smoke.
"In the wider US, it's not a typical question that's asked, but it needs to be asked," she said. "Just like smoking is factored into the patient's workup, secondhand smoke exposure should almost be considered in the same way."
Deeper Dive Into Impact of Secondhand Smoke
Presented at the American Heart Association (AHA) Scientific Sessions 2016 here in New Orleans, LA, and published simultaneously online today in the JACC: Cardiovascular Imaging, the study included 268 healthy never-smokers aged 40 to 80 years old who completed a questionnaire assessing cardiovascular risk factors and lifetime secondhand tobacco smoke exposure. The individuals were enrolled in the Flight Attendant Medical Research Institute—International Early Lung Cancer Action Program between 2005 and 2014 and underwent CT angiography as part of the study.
Speaking with TCTMD, Yankelevitz noted they had published a study in 2013 showing that secondhand smoke exposure was associated with an increased risk of coronary artery calcification. After the publication of that study, researchers "decided to dive a little deeper to look at the extent of stenosis on CT angiography."  
The presence of any coronary stenosis, the extent of plaque or stenosis, and the presence of any calcified plaque were all significantly associated with secondhand smoke exposure. There was also a significant increase in the number of major coronary vessels with plaque or stenosis, as well as an increase in the mean number of segments per patient with any plaque or stenosis, with increasing secondhand exposure.
In a multivariate-adjusted analysis that accounted for documented cardiovascular risk factors, individuals exposed to low-to-moderate levels of secondhand smoke were approximately two times more likely to develop atherosclerosis compared with those who had minimal secondhand smoke exposure (OR 2.1; 95% CI 1.0-4.4). For those exposed to high levels of secondhand smoke, the adjusted risk of atherosclerosis was 3.5 times higher when compared with those exposed to minimal secondhand smoke (OR 3.5; 95% CI 1.4-8.5).
In contrast, presence of diabetes, hyperlipidemia, hypertension, and renal disease were not associated with a significantly increased risk of coronary artery stenosis on CT angiography. Male sex and increased age were both associated with a higher risk of atherosclerosis.
Yankelevitz said the results weren't too surprising, particularly since their previous study had shown a dose-response relationship between secondhand smoke exposure and coronary artery calcification (CAC). However, the present study included far fewer patients than the previous analysis, which involved more than 3,000 patients undergoing CAC screening. Despite the smaller number of patients undergoing CT angiography, the association between secondhand smoke exposure and coronary atherosclerosis was very strong, added Henschke.
In 2006, the US Surgeon General published a report on the health consequences of involuntary exposure to tobacco smoke, highlighting a causal association between secondhand smoke exposure and coronary artery disease mortality and morbidity.

Michael O'Riordan is the Associate Managing Editor for TCTMD and a Senior Journalist. He completed his undergraduate degrees at Queen's…
Read Full Bio
Sources
Yankelevitz DF, Cham MD, Hecht H, et al. The association of secondhand tobacco smoke and CT angiography-verified coronary atherosclerosis. J Am Cardiol Cardiol Img. 2016; Epub ahead of print.
Disclosures
Yankelevitz is a named inventor on a number of patents and patent applications relating to the evaluation of diseases of the chest, including measurement of nodules. Some of these, which are owned by Cornell Research Foundation (CRF), are nonexclusively licensed to General Electric. Yankelevitz is entitled to a share of any compensation CRF may receive from its commercialization of these patents. He is also an equity owner in Accumetra.
Henschke is also an inventor of patents and pending patents owned by CRF. As of April 2009, she has divested herself of all royalties and other interests arising from these.